IN A CITY which likes to brag about how much it celebrates Irish culture and history, there is arguably only a single event in town which actually does this.
And it's not really that huge event in March you're probably thinking of.
The Savannah Irish Festival, happening this weekend at the Civic Center, is one of the only places left in town to enjoy authentic Irish culture.
With the recent closing of the iconic Kevin Barry's Irish Pub on River Street — not to mention the ongoing commercialization of the massive St. Patrick's Day celebration next month — it is definitely the only place in town to hear traditional Irish music.
"There will be no live Irish music on St. Patrick's Day in Savannah this year. How is that possible?" asks Michael Corbett, one half of the duo Seldom Sober, who perform several sets at the Irish Festival this weekend, with guest bassist Johnnie Kennedy.
For over a decade, singer/guitarist Corbett and his bandmate, fiddler Colleen Settle, have played traditional Irish music as Seldom Sober throughout the Southeast, including a highly coveted spot at the recently shuttered Kevin Barry's – which was a key stop on the East Coast trad-Irish circuit.
"There's no place in the world that I've seen where you could find the kind of show where you can do what you do at Kevin Barry's," muses Corbett.
"There's a certain kind of show you do at a pub. And there's a certain kind of show you do in a theatre. Kevin Barry's was a combination. If we're in a theatre, you entertain the audience by talking to them. At Kevin Barry's we could talk with them. There were times when someone in the audience would make us laugh so hard we could barely contain ourselves," he says.
"We're never going to see that again, ever. In all of Irish music, Kevin Barry's was probably the most coveted stage to perform on. And it's a huge honor that we got to do it for as long as we did," he says.
Both agree that local Irish singer/musician Harry O'Donoghue, a staple at Kevin Barry's, was key to their success there.
"He came to a session at Murphy's, which is where our session was at the time, and that's how I got to know him," Settle says.
Corbett and Settle say that part of what makes Seldom Sober stand out is how they read each individual audience.
"Every audience is completely different. Whether it's the same pub every night, you have to know what to play to keep that audience interested. Instead of just going in and playing the same standard pub songs, we have such a huge repertoire that we can really change things up on the fly depending on who just walked in. There are a lot of pub bands that just go in and sing 'Wild Rover,' and churn the same things out instead of keeping their eye on the audience," Settle says.
"Even the crowd in the second half of the night can be completely different from the first half. We've had nights where it felt like we did two completely different shows. We're singing soft stuff to some people who seem to want it, and then an hour later we're singing 'Sweet Caroline,'" Corbett says.
"We could play easily for five hours without a break and without repeating anything. And we're always learning new stuff."
While Corbett and Settle have played at each Irish Festival since 2007, this will actually be their first there under the moniker Seldom Sober.
"We always bring new material to the Irish Festival and we have more new material than we've ever had before," Corbett says.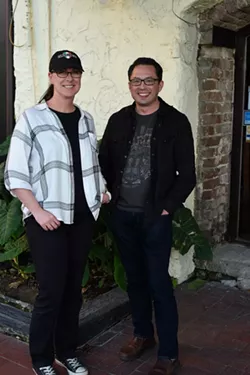 Seldom Sober's vast range of different experiences –weddings, receptions, house shows, pub sessions – has enabled them to build up a huge repertoire of hundreds of songs.
"We've built our repertoire so we can be very varied. We have songs you'd only hear us do at an Irish pub — drinking songs, rowdy songs. We have more thoughtful, less well known songs that we would do at a festival onstage. Slow, fast, old, and new," says Corbett.
While he says the Clancy Brothers were his original Irish inspiration, "our repertoire is not a Clancy Brothers repertoire. We pull from all over. People will ask, 'do you know any Flogging Molly?' And we say, no, we should learn some," Corbett says.
"We do learn things that aren't Irish. And it's mostly to keep the audiences interested. People will come in and ask for John Prine. No problem. If we've been playing Irish music for an hour, we'll take a Tom Petty song and put an Irish fiddle tune with it."
This weekend, Seldom Sober will play on two stages: the larger mainstage, and the more cozy "pub stage."
"They're two completely different worlds," Settle says. "We can do things on the pub stage that are more intimate, and on main stage doing more familiar upbeat stuff."
Corbett and Settle grew up immersed in vibrant Irish culture – he is from Boston, she is from New York.
"Colleen and I were both specifically trained as musicians to perform Irish music. What you normally find, especially in the South, is people who after 20-30 years gravitated to Irish music from something else," Corbett explains.
"It's great that Irish music attracts that kind of attention. But if you're really familiar with the music and hear them play, they usually don't know the actual techniques that Irish-trained musicians know," he says.
"Where you really hear the difference is with Colleen's playing. She has no classical training. Classical training does not equate with good fiddling," Corbett laughs.
"The people who learn classically, no matter how good they get at fiddling, they can't shake that," Settle agrees.
Settle says despite the traditional aspect of their music, they never get bored with it.
"There aren't a lot of restrictions in trad Irish. You can sit and watch ten different musicians all paying the melody, and we're all playing the bare bones of that tune that's been passed down for hundreds of years. But we're all playing it differently at the same time. Because you can do as a player whatever you want with the music. I can put in ornamentation wherever I want. There's a lot of breathing room and space to work with within the tradition," she says.
In addition to the Savannah Irish Festival, Seldom Sober will stay busy with regular gigs in Bluffton and other parts of South Carolina, as well as at the Savannah Airport greeting visitors.
On St. Patrick's Day itself, Seldom Sober will be playing in Orlando. Corbett says they wanted to play in Savannah, but didn't find much interest.
"Michael and I have worked so hard over the last 13 years to keep the culture alive and get the culture out there and expose more people to it," Settle says.
"But we had so much help from Kevin Barry's. Now that that's gone, I'm dismayed because I feel like I don't know what we're going to be able to do as the only Irish group in Savannah to keep the culture alive. To see that going away is heartbreaking."
Still, they both try to remain optimistic.
"We closed our last show at Kevin Barry's with an old Irish song called 'The Parting Glass.'" It's an emotional song about saying goodbye, but it ends on a tense chord that makes it sound unresolved, as if that's not really the end of the story. Seldom Sober has said goodbye to Kevin Barry's, but our story is far from over," Corbett muses.
"There will be an Irish pub again in Savannah, and I'm sure we'll be a big part of it. My nature is I'd like it to open up April 1," he smiles.
"We need it now," laughs Settle.
cs