THE FIRST THING I loved when I moved to Savannah a few years ago is that most locals like to enjoy a cold one, especially after a stereotypically hot day.
So, it was no surprise that Serving Brewing Company was a quick and long term success, especially after sipping down any of their thoughtfully crafted beers.
The story of Service Brewing began in 2012 when a local SCAD graduate, Meredith Sutton, gifted former Army commander and Iraq veteran Kevin Ryan a home brewing kit. A short two years later, they expanded their love affair to a partnership and a love affair with beer, opening Savannah's Service Brewing Company.
Meredith focuses on events, branding, and marketing, while Kevin handles logistics, operations, and recipes, but each also focuses on giving back to our community and veterans.
Year round the brewery sells their Ground Pounder India Pale Ale, or IPA, Compass Rose IPA, Rally Point Bohemian Style Pilsner, Scouts Out Honey Saison, and Battlewagon Double IPA.
The Compass Rose IPA is their "best selling year around beer on the market," says Kevin.
To create the signature India Pale Ale Service brews each batch with grapefruit, pear, passion fruit, and orange. Although the addition of fruit adds a touch of sweetness, the beer is extremely aromatic and balanced by both the hops and tangy kick of citrus. Out of all of Service's IPAs, the Compass Rose is Kevin's go-to IPA.
Rally Point, a session beer, is a great beer for drinking "year round...chefs love Rally Point after being in a hot kitchen all night. At the end of the day, that is what they want," Meredith explains when I ask for a summer beer recommendation.
The lower alcohol level and light refreshing flavor make it a perfect beer for sipping while enduring the sweltering Savannah summer heat. Rally Point Pilsner has become the "most popular beer in our taproom," Meredith tells me.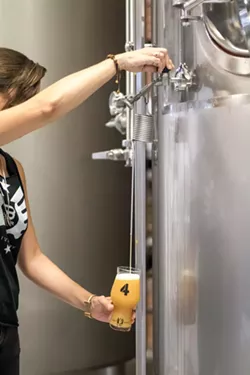 Kevin's favorite beer "is always the most recent beer [they've] brewed" because the brewery has a rotation of seasonal and limited release beers.
On tap for the limited releases list when I visited was the Gun Bunny Witbier, the Savannah Bananas Cerveza, the Old Guard Biere de Garde, and an Imperial Raspberry Blonde.
"Gun Bunny is a witbier that has Indian coriander seed, cardamom, tangelo peel, and mandarin orange, which is the reason it is summer seasonal," Kevin tells me while explaining how light and refreshing the beer is.
While I sat at the bar of the tasting room chatting with Mike, I tasted (or gulped down) one of their research and developing beers — the Cafe Macchiato Porter. The porter was rich in chocolate flavor with ideal amount of roasted espresso, and although created with deep decadent flavors, the beer was not heavy at all.
Service Brewery creates small batches — dubbed their research-and-development beers — taking inspiration from anywhere to create new and unique beers. This process allows the brewery to fine tune their process while offering exciting new things to the locals, but the beers are only available in the Taphouse.
One of their research and development beers brewed every year for the Ossabaw Island Pig Roast is the Ossabaw IPA. To create the beer, Yaupon holly from the Asia tea company is used in the brew, and the proceeds of the beer sales are donated to Ossabaw Island Foundation.
To celebrate their fourth year as a thriving local business, Service brewed a special batch of IPA that will be available at their Anniversary party this coming Saturday, July 21st.
I was lucky enough to try the Imperial Milkshake India Pale Ale after it was poured straight from the tank, and let me tell you that I have never felt cooler or more honored in my life. The hospitality of Kevin and Meredith was a perfect reflection of the way they run their business and treat their guests.
The special brew is a beautiful, milky, glowing shade of light amber, and the milky part is important. A growing movement in the brewing community is the milkshake style IPA which lends a cloudier, but not in a bad way, type of brew unlike the traditional clearer IPA. The result is a full bodied mouthfeel and a reduction in the hoppy bite that many IPAs have.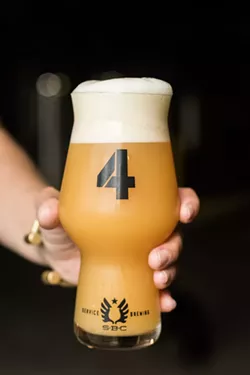 Milkshake IPAs are not only characterized by their hazy appearance but also the addition of fruit or vanilla. For their version, Service went with fruit and honey — not just any honey, but Savannah's loved and local honey from Savannah Bee Company. The choice in fruit, perfect for summertime, was passionfruit.
The fragrance is sweet, and when drinking it your mouth fills with the creamy flavor of passion fruit, next comes the honey, and the finish is a slight kick of hops. The beer is one that goes down as easily as juice, but be careful because it boats an alcohol content of ten percent.
If you do not catch the delicious hazy IPA at Service's anniversary celebration, you can find it around town, like many of their limited releases, canned and available to purchase.
The beer can containing the beer is as unique as the beer itself and will feature original art created by local artist, and friend to Kevin and Meredith, Will Penny.
This year, the anniversary party will be free of an entry cost and will kick off July 21st at noon. Not only can you drink as many Imperial Milkshake IPA's as you can stand, literally, but the party will include music, food, and more.
The first part of the day will feature food from Chazito's Latin Cuisine and music from DJ Jose Ray. As the day goes on musical guests the Hypnotics and CUSSES will play, and Big Bon will be there to fill your bellies. I hope to see everyone there.