Thirty years ago, realtor Peggy Gunn headed to Armstrong for a Flannery O'Connor-themed event.
She was looking for Dr. Robert Strozier, to whom she needed to pass on an important message: Flannery O'Connor's childhood home, which had been apartments for decades, was about to go on the market.
Strozier, Armstrong president Bob Burnett, and Professor Hugh Brown pooled money and got a personal mortgage to buy the home. Together with their wives—Helen Strozier, Mary Burnett, and Gillian Brown—they set to restoring the home, opening it as soon as the deal closed on Aug. 1, 1989.
Now, the Flannery O'Connor Childhood Home is a dynamic, thriving nonprofit that celebrates the life of the South's weirdest daughter. This Friday, they'll host their annual Peacock Party and 30th anniversary celebration at the Beach Institute. The guest of honor will be Gillian Brown herself.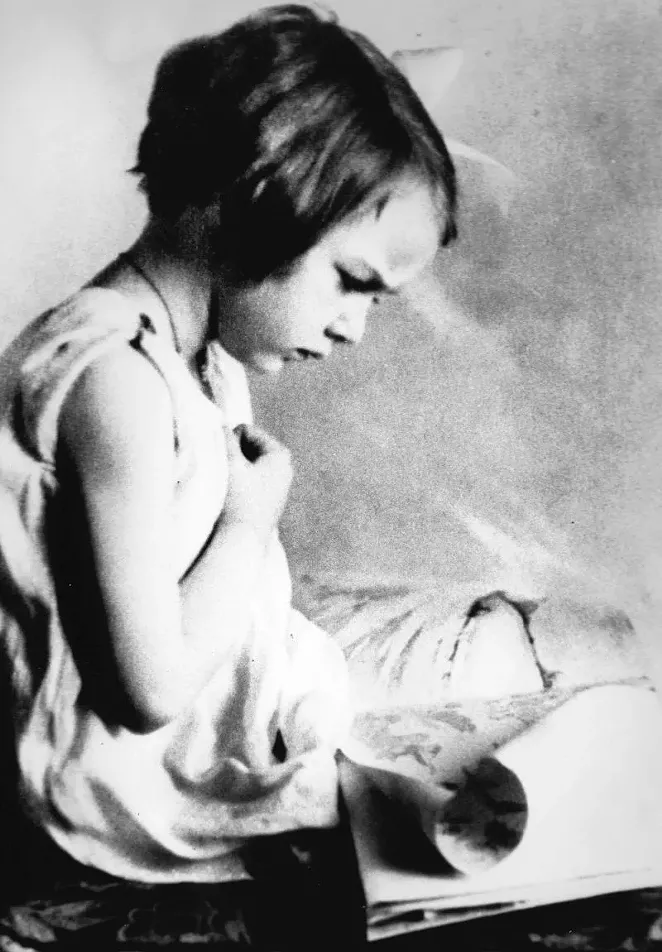 "I did not ask her, I just told her," laughs Cody Shelley, foundation manager.
Brown is the last remaining member of the six founding members and has been deeply involved in the home since the beginning.
"At this point, she is 81 years old and she is here every Saturday," says Shelley. "That is her day; nobody else does Saturdays. She never sits down. She is essential to what's happened here over the last 30 years."
Because of her wisdom, Brown is also essential to the Flannery O'Connor Childhood Home's new archive project that began this summer.
"We have a wonderful graduate-level intern from SCAD doing an advanced internship project," says Shelley. "She took materials that I've been collecting from people the last couple years and she created an archive for us. As part of that, she's digitized a series of oral histories that Hugh Brown and the other guys did in the early days, so we're getting them digitized to share. We're going to do one with Gillian to get her 30-year perspective on things."
Anyone who has been to the Flannery O'Connor Childhood Home will attest to the power of being in the home. Upstairs, the view of Lafayette Square is absolutely idyllic, and it was this view that informed O'Connor's worldview through her childhood.
"This little bubble, with the view of [St. John's] Cathedral, fully symbolizes the uniquely Savannah Irish Catholic Southern experience that Flannery had and created her into the writer and person she was," says Shelley. "She lives in a constrained, sheltered bubble here, but within the security that she is allowed to percolate and be the kind of odd duck she was. She has this special experience that launches her into finding herself creatively."
The home is also a stark difference from the opulence of most of Savannah's home museums.
"Savannah is so focused on the beautiful historic mansions and the antebellum colonial history that makes Savannah what it is, and this is a step outside of that, where people can relate in a different way," says Shelley. "It's a modest house—it's two bedrooms—and it's a more recent history. I drive home to people that if Flannery had lived, she would have turned 94 this year. She is not ancient history by any stretch."
With that perspective, it's important to read O'Connor's work through that lens, particularly when it comes to race.
"You'd be remiss not to acknowledge that Flannery talks about race and writes about race," says Shelley. "She writes about a very specific time and place, but in a way that is transcendent and prescient. Thinking about her writing and her approach to racism at the time doesn't necessarily line up with our contemporary thinking, but there are ways to translate that and use her to bridge these cultural divides because she's doing some really interesting things for the time, and we're really excited to be making the connection with the Beach Institute for that reason."
Continues Shelley, "I think she doesn't use her characters of color as tropes. The people of color she writes about are not devices. They are fully weighted and fleshed out and capable of good and evil in the same way white people are, and that's what she's interested in."
Those ideas were, of course, progressive at the time O'Connor was writing, so much so that she didn't have any book sales in her lifetime.
"People were shocked in the 50s and 60s by what she was writing," Shelley points out. "Academia and critics loved her, but the publishers couldn't even market her."
From the time O'Connor died in 1964 to the time her full collection of short stories was released in 1972, the country changed in significant ways. The civil rights movement changed the way Americans thought about race and, thus, O'Connor's writing about race.
"I don't think she was upset that she wasn't a bestseller," muses Shelley. "I think she cared that people understood what she was doing, and there were a lot of people that did."
Thirty years is a major milestone and, according to a plaque Shelley points out, not something the founders thought they'd reach. A letter from 1995 reads, "We're now in our sixth year, which is about six times as long as people thought we would last."
The endurance of Savannah's love for O'Connor has helped propel her childhood home into a thriving organization with a focus on hosting authors and fostering learning.
"This is a big year for us," says Shelley. "We've been growing and expanding and changing constantly. Change has always been a constant in this foundation."
cs