ART collections are more interesting than they may seem. I've always been fascinated by them. What motivates a collector? How do the works speak to the theme of the collection? How are the pieces acquired? What's the ultimate purpose of the collection?
Willis Hakim Jones has been collecting Gullah-Geechee artifacts and memorabilia for years now. His collection is the basis for the Beach Institute's current exhibition, "Africa and its Gullah-Geechee Connections," on view through Jan. 24.
Jones is also offering appointment-only collector's tours on Wednesdays and Saturdays through the duration of the exhibition.
A tour with Jones is certainly worth your time and money. He's a dedicated collector with a story behind every piece on display.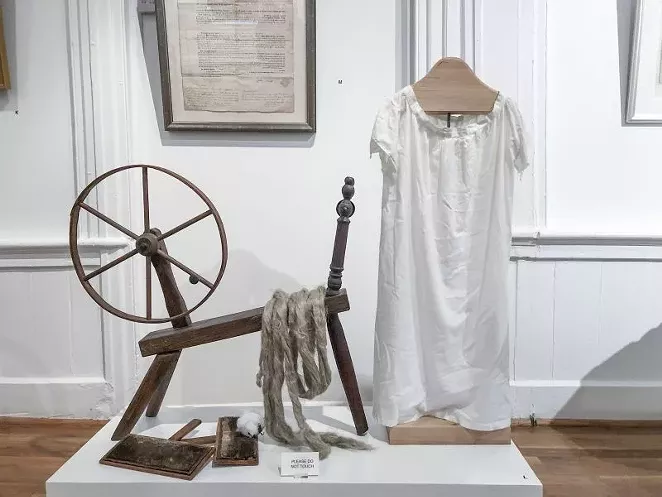 The exhibition on display is only about half of that collection, of which Jones has five.
When Jones was in college, he took several classes that spurred his interest in history, particularly black music in America. But he didn't begin collecting until years later, when a coworker asked him for a ride home.
"He said, 'Hakim, I don't have a ride home, could you give me a ride home from work?'" recalls Jones. "I agreed to do that and that one day, what should have been a week ended up being almost three years. He was annoying, and I was tolerant, and what I learned from him was the business of collecting."
Art collecting is a cutthroat business, as Jones learned from his friend. As he explains, any time you can buy something for hundreds and sell it for thousands, problems can arise.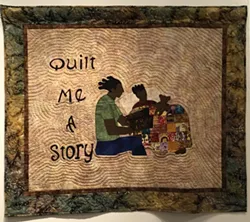 "He taught me the business side of collecting. I already had an introduction to the history of it, and he introduced me to one or two really big collectors," remembers Jones. "That's how I learned to do what I did, what I'm doing—it was just like one thing after another."
After years of collecting, Jones has curated an especially interesting collection of Gullah-Geechee artifacts that help tell the complete story of
"This is a snapshot and what I would call a prophetic journey of African-Americans, from Africa to America," shares Jones. "The reason I say it's prophetic is because, a lot of times, when you hear someone say that history repeats itself, it's in a negative connotation. But history repeats itself sometimes in a very positive way."
Jones' purpose for sharing this particular collection is to help round out the story of African-American history.
"I try to present a part of African-American history that's not talked about a lot," says Jones, "because there was a concerted effort by science and religion to degrade African-Americans, and the purpose for that was economics. You were brought here for one reason and one reason only: to work."
There's a lot about the African-American story that is left out, and Jones is passionate about making it known.
"The theme of this is the journey of African-Americans, but the part of that journey that hadn't been told," says Jones, "and that part is always taught that Africans came here uneducated, couldn't read, couldn't write, they were in an infant state and had to be taught everything. That's not true."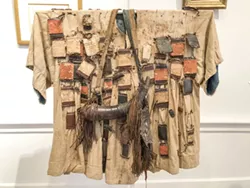 Jones' collection presents a well-rounded look at the journey of Africans to our region. The exhibition includes quilts by Aleathia Chilsolm and baskets by Jerydine Bennett-Taylor, as well as paintings and other incredible artifacts that need to be seen in person.
What Jones does really well in this collection is provide context for what's being presented. He pairs text panels with the objects, making it easier for visitors to understand what's going on.
Jones' tour is fun, informative and presented with humor and knowledge that make it a must-see.
CS