AS THE winds of Hurricane Dorian roared past Florida, everyone along the coast of Georgia was busy making plans to either evacuate, or shelter in place by stocking up on extra supplies and cocktails (as the good people of Savannah are prone to do).
While others were filling up their gas tanks, Rev. Kevin Veitinger and Father Michael Chaney were busy trying to encourage our homeless neighbors to evacuate, but many chose to stay.
The rationale of why someone without a home would stay may seem like a mystery to many, but those reasons can range from PTSD with a fear of confined spaces (evacuation bus and shelter), to not wanting to lose their only worldly possessions in their tent.
Plus, the stories of homeless people being evacuated to the State Fair Grounds and being locked inside of the animal pens during Hurricane Floyd still linger today.
Veitinger, Chaney, and crew spent Tuesday and Wednesday providing rides to the Civic Center for those who were wanting to evacuate, and providi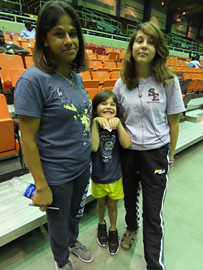 ng food for those who were sheltering in their tents.
When the government orders a mandatory evacuation, all of the homeless shelters and soup kitchens close down too, so getting meals to folks was essential.
As the winds started to roar a little louder, and the sky became more ominous, a few people who were planning to stay got a little nervous, and the doors of the Civic Center were opened at about noon on Wednesday as a shelter of last resort.
Anna Marie said, "I was hoping it would pass."
She and her daughters, Alli age 7, and Ava age 13, where some of the first to arrive after they hitched a ride to the Civic Center. Alli attends Garden City Elementary and proudly boasted that she plans to be the Mayor or a police officer when she grows up.
She is disappointed that school is closed this week because she is missing her favorite subject, math. Ava, who attends Mercer Middle School, was busy charging her cellular phone.
Bobbi Joan, age 83, also decided to take refuge at the Civic Center at the last minute; and so did a
mom with her infant son, named Almighty, who was ready for bed in his fire truck pajamas.
Why the Civic Center? "A couple of pastors told us," said Randy and Michael, who generally sleep close to the horse stables on Wheaton Street, about the City opening the doors of the Civic Center.
Kim and Mark who sleep wherever they can find space, said that they were informed about the shelter of last resort by the police.
Mark said, "it is better than being in that weather - I'm glad that they (police) told us about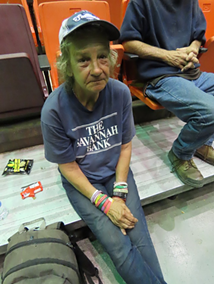 this."
Dennis, a recent widower, came because he was lonely at home, and he packed a few things in a cherished Mickey Mouse bag that his wife had purchased from an Avon catalog before she died. He joined a group of about 60 people at the Civic Center.
The accommodations were not luxurious, and there were not any cots for sleeping, but everyone who arrived received a bag from the American Red Cross that contained a washcloth, comb, razor, and other toiletries. Blankets were in high demand and ran out early, but some people brought their own, and one person even brought an air mattress.
There were outlets for people to charge their phones and snacks were provided for all. Clean bathrooms and showers were made available, and even fresh clothing if people needed.
Dinner was prepared for police, firefighters, and first responders working out of the Civic Center, and those who were sheltering there got to share in that hot meal of roast beef, potatoes, carrots, green beans, macaroni and cheese, salad, rolls, and dessert.
While we all know that those orange hard plastic seats in the Civic Center are uncomfortable, it was nice that anyone who wanted to come in from the rain was given a place to shelter.
Just like every other hurricane, there will be a lot of Monday morning quarterbacking, but the people that I met at the Civic Center on Wednesday evening were grateful to have the soon-to-be demolished roof of the MLK Arena over their heads.