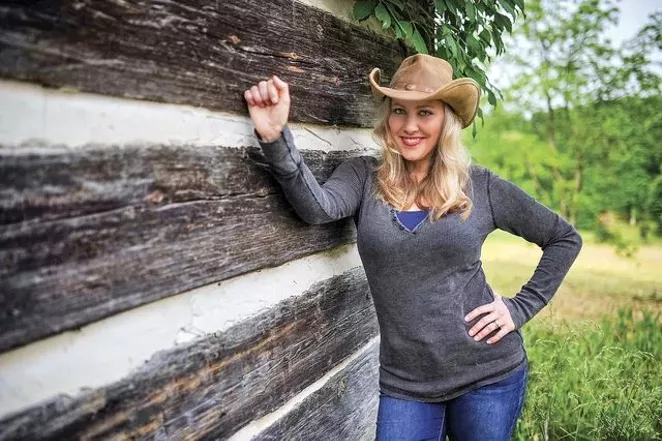 KATIE DEAL brings a tribute to the women of country music. A seasoned expert on the music of Patsy Cline, the Georgia native embarked on two sold-out national tours of the production A Closer Walk with Patsy Cline before creating her own tribute to the country legend, Katie Deal in Today, Tomorrow, & Forever: A Tribute to Patsy Cline.
In her newest show, Deal, the daughter of Ga. Gov. Nathan Deal, will honor the likes of Kitty Wells, Loretta Lynn, Dolly Parton, Tammy Wynette, and her beloved Patsy Cline. We chatted with Deal about her roots, her shows, and becoming Patsy.
Your vocal quality while singing Cline is dead-on. What was it like "becoming" her, as a singer and a performer?
First, thanks! I'm fascinated by her voice, so that's a huge compliment! When I first began performing Patsy Cline's music, it was within the context of a theatrical production. My approach was to study her as an actor would study an historical figure. I've always been marveled by signature vocal characteristics and inflections, how different singers can make unique sounds but I am also keenly aware that mimicry is only flattering when done with authenticity and care.
I respect Ms. Cline's work and strength so much that I've been very careful not to disrespect her memory by attempting to impersonate her. She was one of a kind and so am I. Impersonations are fascinating and I truly respect those who can interpret sounds and movements in order to replicate, like my friend, Johnny Counterfit.
In all honesty, I appreciate very much your choice of words, asking about "becoming" her. It bothers me a great deal on the occasion when I am called an impersonator. I cannot do what Johnny Counterfit does, which is classy and entertaining. In my opinion, the only way to honor an icon of Patsy Cline's stature is to portray her in a theatrical production. Instead of impersonating, which can quickly make a mockery of her, one should attempt to exude an essence of her character based on research mixed with what feels natural and authentic to you.
Have you learned anything in studying Cline's career and life that's inspired or guided your own path as a musician?
Yes! When the world first heard of Patsy Cline, it was because she recorded a pop song that she hated. But luckily for her and for us, she had a great producer who could look past all that she was currently to see what she could become. I'm so grateful that after much cajoling, she listened to Owen Bradley and recorded songs that would not only put her on the map but change the face of country music. The biggest lesson I've learned from her is that sometimes you just have to take a leap of faith and trust those around you. It may not always work out but it may just make you a superstar.
How did your one-woman show, "Today, Tomorrow, & Forever: A Tribute to Patsy Cline" develop?
"Today, Tomorrow & Forever" came about from exactly what I learned from Patsy: trust your potential and those who believe in you. I had taken a year off from performing when I received a call from a booking agency in New York City wanting to represent me in my Patsy Cline show. I told them that I didn't have one, that I had only ever portrayed her in the two licensed theatrical productions. They asked if I would be willing to write a tribute concert about her. Ironically, within the hour I received another call from a producer asking me to please come back to his theatre to do a show that fall.
I called my husband, Chris...he said, "Quit your job. We're writing this show and you've gotta take that gig."
But I was not interested in impersonating Ms. Cline and if I were to write a show about her music, it had to be special. So, Chris and I went to work. He chatted with Charlie Dick, Patsy's husband and former executor of her estate, got parameters from him on what was acceptable, and we decided to do something completely unique. My show is my story of how Patsy Cline changed my life. It tells of my first experience listening to her music, my first opportunity to portray her in a production, and my subsequent national tours portraying her. I also have some interesting personal details woven into my career story, as well.
Tell us about the Tybee Post Theater show, "The Women of Country Music."
At this point in my career, I feel very successful. I've had amazing opportunities, gotten to work with top-notch musicians and have surprised even myself at what I'm capable of accomplishing. When I was asked to perform an intimate concert at the Tybee Post Theater, quite honestly, I was terrified. I rely so heavily on my band that it's scary to take them away. But I saw this as an opportunity to strip down the music and really talk about the women and their incredible stories. The selection I've chosen for "The Women of Country Music: Unplugged" is music that either made it into my "Wildflowers" show or ended up on the cutting room floor. Each song and each artist I've chosen deserves a spotlight. My talented friend, Robert Taylor, we will be joining me to serve up an insightful acoustic dish of the most delicious stories and songs about the women of country music. I couldn't be more excited to share this with Tybee Island folks!
cs