PARKER STEWART has lived in Savannah for nine years.
In that time, he's lived on 35th and Barnard, then 38th and Barnard, now 40th and Barnard—"moving south," says the SCAD alum.
He's seen Starland grow and change, but a constant has been the beauty he finds in his neighborhood.
Stewart's solo photography exhibition, "Love Thy Neighborhood," opens March 6 at Starland Yard and is a collection of photos he's taken on his walks around the neighborhood. The "Cold Beer" sign on the corner of Bull and 40th, one of the defining features of the Starland neighborhood, also happens to be the epicenter for the photographs that Stewart has taken.
"This body of work is a culmination of things I've been seeing over the past eight years that I've lived in this neighborhood," shares Stewart. "It started as this idea of over time, there were things that I would drive by, walk by, bike by every single day of the week and observe them, see them, think about the time of day and the background. And I knew that I wanted to go back and photograph it someday, whether it was later that day or later in the week or years later. Just something about the way the light was hitting this building, or the way I've always noticed this person sitting in the same spot."
On his walks, Stewart always brought his camera along to document the scenes of his neighborhood. That, of course, led to a massive body of work with hundreds of photographs to choose from. The result is an exhibition of about 25 photos printed on archival vinyl and mounted to the inside walls at Starland Yard, as well as three large photographs in the window that faces Whitaker and 40th.
While paring down the work to fit in the exhibition, Stewart chose photos that presented a story of the neighborhood. It's not necessarily a narrative, but the photos show more of the nuance of Savannah, particularly this area.
"The work is macro and micro; it pulls in and out," says Stewart. "I'd say it's very romantic also. The idea of the body of work is poetic because it's subtle. It's as simple as the way you turn a corner and see a scene and keep walking, but you recognize that spot, that time of day, and you just thought to yourself, 'This is the neighborhood. This is what this place is.'"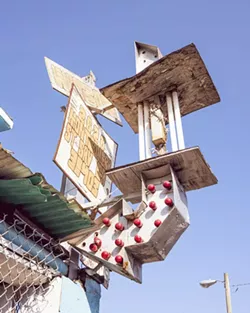 What this place is, though, is currently up for definition. There's a seemingly endless debate between people who want to preserve Starland and people who want to see it grow. In the middle of that debate, of course, is the Starland Yard. So, of course, it's a smidge ironic that Stewart's exhibition commenting on the beauty of Starland is in the bastion of its development.
"I love controversial places like that," he says with a laugh. "What's fun about the work compared to the situation is I'm not commenting on problems with change. I think that change is great. I've been here for eight or nine years and I've always known this change was going to happen. For the first six years here, every year it seemed like next year is going to be the year, then next year is going to be the year."
Stewart remembers that 2018 is when things really started to happen, and when the development for Starland Yard began with tree removal in the area.
"They took the trees down and everybody thought, 'Oh, boy, here goes the neighborhood,'" he says. "I agree with the sentiment of immediate change—you see a big beautiful tree go down and that's a big sigh. But it was always exciting for what was to come, especially as young creatives living and thriving in Savannah. We all need this stuff to happen. If one person in the neighborhood is successful, it means anybody else can be, too. Every amount of traffic or additional people who are coming to spend time in the neighborhood is better for us as a whole."
Yes, that means tourists. As Starland grows, it's gaining attention and becoming an alternate destination for the downtown crowd.
"While, yeah, I don't want Lone Wolf and Moodright's filled up with a bunch of yahoos from Ohio, but I'm still rooting for the success of all my friends' businesses," says Stewart.
The yahoos from Ohio that fill up Moodright's are inevitable, as long as this writer goes there, but one thing is certain: if you build it, they will come.
"Stuff's going to keep popping up constantly. I think what's important about these photographs is the record of where it is at this present moment," says Stewart, "because we know in three to five years, there's going to be massive condos built on Bull Street, the Save-A-Lot is going to be something else, and eventually the [Old Savannah City] Mission will be gone. It's going to really, really change soon. So in the past year, thinking about this project as a whole and digging through the archives, it makes me very happy that I started shooting all of this when I did."
The body of work in "Love Thy Neighborhood" is indicative of Stewart's approach to social landscape work.
"I definitely consider myself a fine art landscape photographer, but that kind of borders on the social landscape," he muses. "The Savannah work and this neighborhood work specifically, it's just kind of how I keep my eye trained. It's something that started as I like to walk around and make pictures and post them on Instagram and to a collection of work that needs to be seen."
The title of the exhibition is a nod to a photo series from a few years back that Stewart posted on Instagram and captioned, "Love thy neighborhood." The sentiment stuck for him, largely because Stewart really, truly does love his neighborhood.
"The work is an homage to this place that I love so deeply," says Stewart. "It's somewhere that deserves to be seen in all its glory and really appreciated."
CS