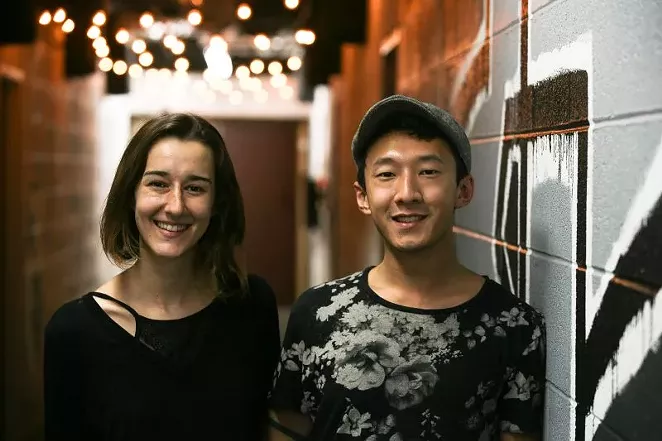 I'M NO guidance counselor, but if I were to offer any words of advice for young people, I'm pretty sure they would not be to drop out of college and start a bong company.
I obviously know nothing, since that seems to be working out pretty well for Darby Cox and Sean Geng. The 23 year-old co-owners of the online headshop Smoke Cartel have become one of Savannah's most remarkable success stories, growing a multi-million dollar company by tapping into America's firmly-established ganja habit. (One in 8 adult inhales on the regular, according to a Gallup poll.)
Launched with $600 in 2013 from Sean's living room, the company now employs several dozen people locally, including four full-time artisan glass blowers who torch candy-colored bowls, swirly-styled bubblers and cheeky original designs that ship around the world. (The Wake and Bake pipe, shaped like a frying pan complete with tiny eggs and sausages, slays with cleverness, no?)
Worker bees handle hundreds of e-commerce orders daily, and customer service reps attend to any issues 24/7. In addition to a retail space on West Victory, there are also a handful of other Smoke Cartel shops around the country, stocked with a curated selection of paraphernalia and the company's own unique brands, including the utilitarian UPC—"Until Prohibition Ceases."
The current administration's misguided stumble backwards into the war on weed hasn't slowed business at all. To keep up with increasing sales, Smoke Cartel recently set up headquarters in a 26,000 square-foot warehouse on the West side, with plans in motion to acquire another cavernous building next door.
The sight of more than an acre of delicate glass tubes overwhelmed me on a recent visit, mostly because I can barely step into my own kitchen without breaking something. I kept my hands to my sides, lest the millennial version of "bull in a china shop" become "clumsy mom in a bong barn."
"We're literally bursting at the seams," said Darby apologetically as I tiptoed carefully behind her through the mazes of stocked shelves and industrial-sized rolls of bubble wrap. "This is our third move, so we're hoping this will hold us for a while."
No matter how hard their guidance counselors might've shook their fingers, these are no lazy stoner kids, and their pipe dreams didn't manifest by accident.
Born in Beijing and reared in Pittsburgh, Sean grew up a tech wunderkind whose mentors told him not to study computer science in college because he'd be bored. Instead, they counseled him to stoke his passion for innovation, which led him to SCAD.
"Yale, Carnegie Mellon, MIT...there were a lot of smart people there, but they were all similar in a sense, y'know?" he shrugs. "I wanted to be around creative people."
After a couple of entrepreneurial forays into software and screenprinting, the sometimes-herbal partaker hit upon a venture to meet the worldwide demand for quality glassware.
"I saw the opportunity while shopping myself, when I ordered something that took two and half weeks to arrive and then I got the wrong thing," says Sean, who cites Dale Carnegie and Mr. Rogers as his childhood heroes. "I figured I could set a higher standard."
The self-taught programmer used his skills to set up a banging commerce site, and he's been winning friends and influencing people ever since. But first he had to convince his girlfriend-slash-business partner, an occasional toker who nevertheless wasn't too keen on becoming a professional enabler of the Devil's lettuce.
"At first I was really against it. Then we went to a trade show and saw what it was doing for medical patients, and that changed my mind completely," recalls Darby, adding that the couple was so young at that first professional convention that they had to use a fake ID to book a hotel room.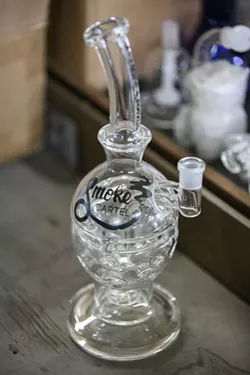 Raised in the hippie haven of Asheville, NC, Darby was an advertising major at SCAD with a side hustle of creating terrariums before her beau brought her the Smoke Cartel business plan. Within a year, she had ditched her class load to become the company's full-time operations manager.
"The ball started rolling faster, and I decided focusing on the business was a better use of my time," she explains, petting one of several well-behaved hounds hanging out under her desk. (Per company directive, every day is Take Your Dog to Work Day and everyone gets a homecooked lunch. Also, Thich Nhat Hanh is required reading.)
Sean dropped out soon after, tweaking his systems-based interface to accommodate every aspect of the company, from ordering to shipping to payroll. His algorithmic magic is also what has made Smoke Cartel the largest purveyor of cannabis accoutrements on the entire Internet for the last two years.
"Well, we vacillate between one and three," corrects Darby modestly.
America's perception of marijuana as a pernicious evil is rehabbing fast, its medicinal and/or recreational usage already legal in half of the 50 states. As an industry, it is expected to create more than a quarter of a million job by 2020, according to Forbes magazine.
The Smoke Cartel kids have positioned themselves to grow with the times, and they're bringing Savannah along with them: They want to stave the brain drain of talent that leaves for larger markets and recently announced their intention to sell shares in their syndicate in the next few months.
"We like putting people to work," grins Sean. "We want to grow so that we can keep people here."
Smarter than most people twice their age and young enough (did I mention they're 23?) to hold fast to their progressive ideals, the power couple is aiming to strike the sweet spot between capitalism and community.
Vocal advocates of Georgia medical marijuana legislation and supporters of the movement to decriminalize small amounts of weed in the city limits, they are passionate about social equality and justice reform and readily offer encouragement to budding entrepreneurs.
At a recent Start-Up Grind gathering hosted by SEDA's Patrick Bentley at Bull Street Labs, Darby and Sean discussed how reinvesting back in Savannah is the way to address the city's crime and poverty issues.
"We truly believe Savannah is going to be the next big hub for start-ups," Darby told the 25 or so attendees. "We want to nurture the climate for entrepreneurs and help them succeed. People need to see that there are other options to success."
Sean agreed that the city is ripe for more brave innovators and brilliant dropouts, adding, "Savannah feels like one big team."
There are surely old school types out there who think taking economic development advice from a couple of young upstart ganjapreneurs is just reefer madness.
But how many other local businesses did six million dollars in revenue last year in a blazing industry projected to create more jobs than manufacturing?
Maybe they should put that in their hand-crafted Sherlock pipe and smoke it.
cs