THIS OCTOBER, forget ghosts and goblins—there's something way scarier at the Davenport House.
Yellow Fever 1820 is the historic house's special programming for October and traces the outbreak of yellow fever right here in Savannah.
"We've been researching and trying to figure out a good way to tell this story for years," explains director Jamie Credle. "How it got started was there's always so much discussion about ghosts in October that we put together a program that we thought would be constructive and entertaining, and more frightful than spirits."
Truly, the chain of events leading up to the outbreak is scary stuff.
"We talk about the preface to what was happening in the city and one of our techniques is taking the steamship, the S.S. Savannah, from its inception through that two-year period, from when it was glorious and wonderful through the economic panic, the fire, and then the epidemic," recounts Credle.
The fire Credle references took place on Jan. 11, 1820, when over four hundred buildings burned to the ground. Hundreds of people lost their lives, and more became homeless.
"Locals had to figure out how to house these people, and then you've got burnt-up buildings and homeless people and people coming into the city to help rebuild who did not have seasoned immune systems," says Credle.
The result was the Yellow Fever Epidemic that shook the city. People started getting ill around March, but the spread of the illness reached epidemic proportions around September. The conditions were so bad that the mayor recommended people leave the city if able until things started to get better.
"You hear about all that in about a ten-minute preface, and then you divide up into groups and go into the museum house and see four different scenarios," says Credle. "Everyone sees everything, just in a different sequence."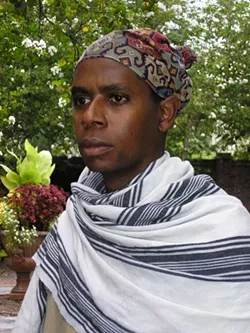 One sequence features Jamal Toure, who performs as a free man of color and shares what life was like for black people during the outbreak.
"Africans were just as susceptible to yellow fever as white folk were," Credle points out. "They just didn't keep statistics."
Another sequence features Dr. Mary Lavinder.
"She's one of the most remarkable people that nobody knows about," Credle asserts. "She was Georgia's first female doctor. She studied obstetrics and helping become a midwife because she wanted to help people. She did not let the mores of the time keep her from doing what she thought she needed to do."
Credle notes this is the point where it gets gory, as Dr. Lavinder's practice included bleeding, blistering, and purging, all fairly gory procedures that early doctors used to balance the human body's humours.
The other two portions of the tour include a male doctor performing another treatment and a drawing room, where actors discuss what happens to the soul after death.
"If you're interested in ghosts, this is where the ghosts really are," Credle shares.
The tour is a unique, quick look at Savannah's lesser-known history.
"It's a tight little show, about 45 minutes, that gives people a wonderful authentic Savannah experience," she says. "Most of the people are volunteer actors—we're not career professionals, but we focus on the sincerity of telling the story. People get to see the house lit by candlelight, and we think it's a fun thing that's a nice historic addition to our October programming."