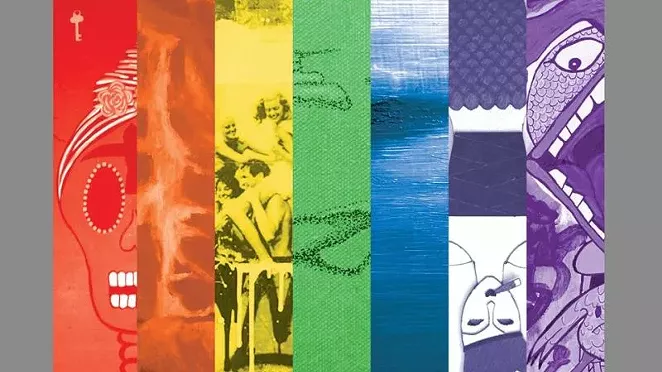 THERE'S a little extra color on the walls this week at the LGBT Center.
Location Gallery hosts "ROYGBIV," a rainbow-themed exhibition, in support of PRIDE. Seven artists produced work in the seven different colors of the rainbow, focusing on the range between colors.
Besides being given a color, the artists were free to produce whatever work they wanted, resulting in a diverse show with everything from collage work to paintings of mountains.
"We talked to people and said, 'yeah, you are definitely in the yellow family,'" laughs Peter Roberts, gallery director.
The exhibition opened Oct. 12 and will remain up through the end of PRIDE, Oct. 28.
The seven exhibiting artists are Bryce Griffis, Jason Zimmer, Melody Postma, Karen Abato, Bert Johns, Chela Gutierrez, and Roberts himself. All artists in the exhibition identify as LGBT, an intentional move by Roberts.
"I think it's inspirational and aspirational," muses Roberts. "We have a lot of troubled kids coming in here, questioning people, and I think it's a good thing for them to be immersed in."
"Someone who doesn't really understand walks in the door and goes, 'Oh, these are all gay artists, I'm in a space that I can really feel comfortable in,'" adds Lynn Bowling, board member of the LGBT Center.
All gallery profits from the show will be donated to the First City Network specifically for the Center. Formed 31 years ago here in Savannah, First City Network is the oldest LGBT organization in Georgia, and both Roberts and Bowling hold it close to the heart.
"It was a group of exceptional thinkers," explains Bowling. "There still are, it's always been. But at that point, there were no gay rights—"
"There were no resources except bars," adds Roberts.
"—and this group started the thing. It's grown and it's shrunk, and now I think we're on a really good path," says Bowling.
When it comes to gay rights, Roberts asserts, "Same sex marriage is the tip of the iceberg." Older generations of LGBT people struggled and fought for their rights and their lives.
"It's always fun to talk to some of the kids, because they're like, Whoa, and we're like, 'Yeah, that was our reality,'" Roberts notes solemnly.
"[Bowling's] generation was Stonewall. My generation was the AIDS epidemic. When I was a teenager it was sex, drugs, and rock and roll. And by the time I was old enough to do those things, it was AIDS, punk, and addiction. For a while, it was a funeral a week."
"I have a Louis Vuitton phonebook from the '70s that 90 percent of the people in it are gone," says Bowling.
"Once a month I look through it and just think about everything I lost. It's a big wakeup call. And it's part of the reason I wanted to get involved here at the Center. I think this gallery is important because it keeps it out there, the whole idea that people are normal and part of this group."
Representation is crucial in underrepresented communities, making this exhibition the perfect combination of art and inclusivity.
cs