AS SAVANNAH'S music scene continues to rapidly grow and thrive, a handful of venues are fighting to keep bands on their stages after receiving cease-and-desist letters regarding noise complaints.
Ryan Graveface of Graveface Records and Curiosities calls it "an age-old Savannah debate."
Audio engineer and longtime Savannah resident Chris Evans says it's a relatively new epidemic.
The City of Savannah confirms that it has received a significant uptick in noise complaints in the last three to four months, mainly north of Victory Drive.
Now, both Graveface and The Wormhole have launched individual crowdfunding campaigns to keep live music alive in the Starland District.
The Wormhole, locked in a dispute with the city since 2012, launched an Indiegogo campaign in April to cover soundproofing and renovation costs.
Just one block south on Bull Street, Graveface is fighting a cease-and-desist issued by the owner of the condos surrounding his shop.
His Indiegogo campaign will cover lawyer, contractor, and soundproofing fees to continue hosting all-ages performances.
Members of the local music community, like Danielle Leonard, who operates a DIY venue and label, Bomb Shelter Records, have stepped up to back the efforts of Stafford and Graveface, viewing the issues from a broader platform.
With fellow music lover Apple Xenos, Leonard created the Facebook page "Don't Silence Savannah" and began collecting input from musicians and fans on their experiences within the Savannah scene.
"We are aiming to raise awareness of the venues at risk and of how this will ultimately impact so many members of our community," says Leonard.
"This is so that we create a hub of information made by individuals about the role the music scene plays in their life and what they think about it being jeopardized."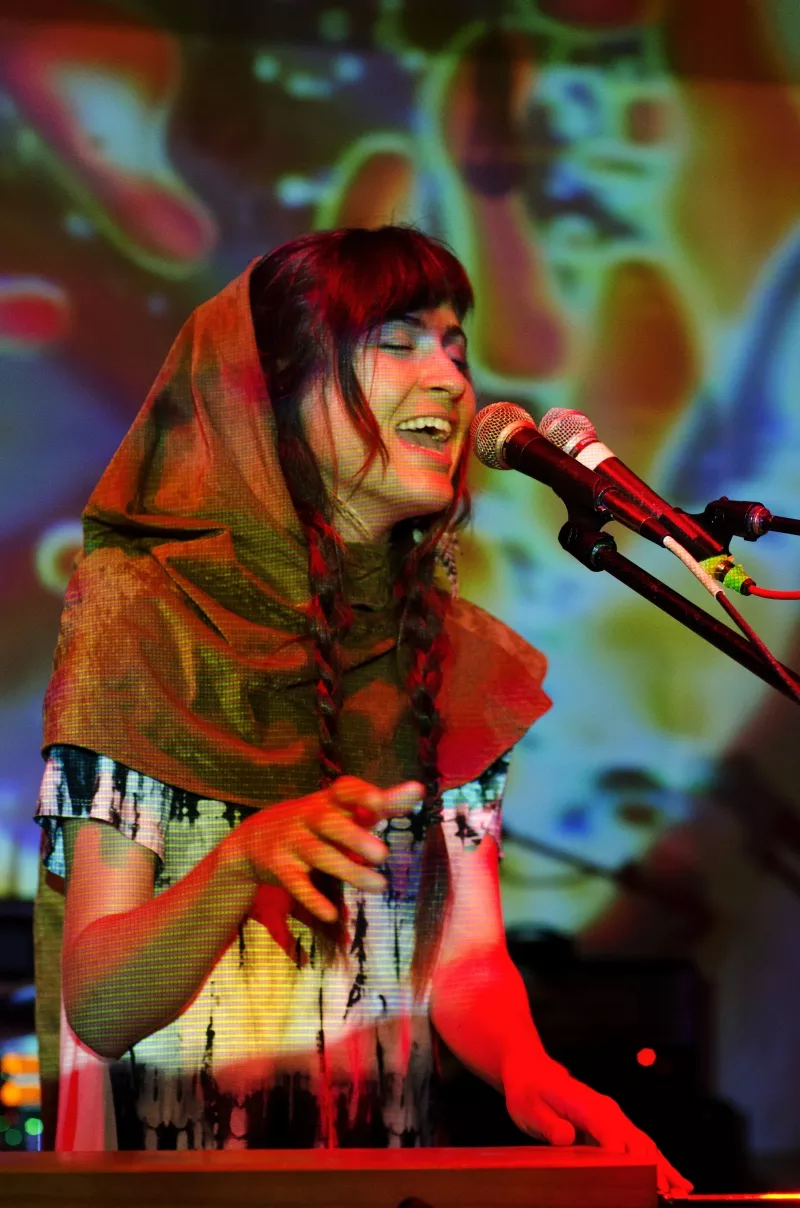 To understand exactly what's being jeopardized and what currently is permissible by the City of Savannah requires scrutinizing the noise ordinance.
"There's a city-wide ordinance that addresses noise for everything," explains City of Savannah Public Information Office Director Bret Bell.
"Construction work: That's one that talks about the decibels. It can't exceed a certain decibel limit."
For residential areas, the ordinance states that a sound can't be above 50 decibels (dB) between 7 p.m. and 7 a.m.
Carlton Gibson, a lawyer who has worked with several Savannah venues in noise disputes, points out that an average conversation exceeds those guidelines (the American Speech-Language-Hearing Association averages a "typical conversation" at 60 dB; "moderate rainfall" is averaged at 50 dB).
However, the ordinance is two-fold for venues.
"There's a higher standard for bars and restaurants and other places, as well, that's specifically for those kinds of establishments," Bell says. "No sound can be audible from the walls of that establishment."
"We tend to measure from residential property lines," Geoff Goins, City of Savannah Zoning Administrator, elaborates.
"We try to go across the street, see what type of sound level we can hear from this property line or another type in area. It's not always literally right outside the door."
Amy Stafford of The Wormhole believes this creates a grey area for interpretation.
"The city's come out before and measured and said we're in compliance, and then they said in court that we weren't in compliance," she says.
"Even when they told me before, when I walked out there, that we were in compliance. They said at the times that the door opened, that it went above a level. However, it's supposed to be a sustainable sound. When they were here, they said it's fine. They said, since neighbors still complained, they had to bring it to court."
Savannah's Noise Ordinance mandates that "the measurement of all sound levels shall be made as close to the property line of the receiving land use as is practical."
Other cities, such as neighboring live music hub Athens, have more specific guidelines for measurement.
According to Athens-Clarke County Noise Ordinance (ACC Code Section 3-5-24): "Generally, noise is prohibited if it is audible: 300 feet from property line: Sundays-Thursdays: 7 a.m.–11 p.m. Fridays & Saturdays: 7 a.m.–midnight, 100 feet from the property line: Sundays–Thursdays: 11 p.m.–7 a.m. Saturday & Sunday mornings: midnight–7 a.m."
"Just like with the enforcement of any law, judgement comes into play," Bell explains of the City of Savannah's approach. "It's not like, literally someone hanging outside, and if they hear sound coming out, they automatically get a ticket. The goal is to strike that balance that allows businesses to operate while maintaining quality of life."
Gibson sees a need for better, clearer guidelines.
"Number one, for the city, and for everyone to be able to recognize," he says. "It's also a matter of better zoning and better permits. You need to have better regulation of permits being issued in residences...you need to have better regulation to allow coexistence of music venues and lounges. It comes down to common sense on both sides."
"I would like to see somebody go over it," says Evans, Lead Audio Engineer for the Savannah Music Festival, of the current noise ordinance, which was written in 1977.
"I'd like to the city at least have someone who knows how it should be written say, 'a lot of this stuff is 40 years old and needs to be updated,'" Evans says.
"This is the 21st century. When it was written, a lot of technology being used back then was '50s and '60s technology; here we are in 2015, and we're still going by those same rules," he says.
Over at The Wormhole, Stafford plans to build a double entrance to trap the sound; it will also allow the venue to create a ticketing booth and help control traffic flow on busy nights.
Graveface says he'll invest in professional soundproofing equipment (the venue's used budget-friendly, DIY approaches in the past).
Indiegogo funds will also go toward ripping out a wall separating the front and back of the shop to make more room for audiences.
Graveface finds his situation particularly frustrating given that the sender of the cease-and-desist is invested in the Starland community—the condos are often advertised as desirable due to their close proximity to Graveface and the neighborhood's thriving arts and culture scene.
"I can't stand the two-facedness of the whole thing," says Graveface. "They want to live in an area that's 'vibrant.' But they want to control the vibrancy."
Graveface says he's never had an issue with the city directly.
"The city has been supportive," he says. "When my door is closed, you can barely hear there's a band playing. It's really just the neighbors that could be offended by the sounds," he says.
"Is it the city merely doing their job because those idiots are complaining in the first place?" he speculates. "I know that's the case with my issue."
Evans, who runs sound for a variety of festivals and events, was slated to engineer Savannah Stopover's acoustic shows at Moon River before neighboring News Place condo residents issued complaints.
"What ticks me off is someone buys a condo in the downtown area—you're gonna hear some music, some horns, people screaming and yelling," says Evans.
"I think that's what confuses me the most: they don't realize that they're living downtown, and part of living downtown is being next to businesses that make quite a bit of noise."
"I hate the old cliché of the haves against the have-nots," Evans continues.
"But if you don't have money and clout and power, you can't get anything done; if you do, you can do anything you want."
Stafford suggests it's time that venue owners start working together for change.
"Ultimately, the ordinance does need to be redefined so that people opening a business can be protected and have something to go by to be in compliance," she says.
"In fact, that's one reason I'm so upset about this: I did all my due diligence. I went to the SBDC (Small Business Development Center) board to make sure that I could have this business here in this location. I went to City Council. I did everything I was supposed to do to be licensed for this location."
Bell suggests that a lot of conflict can be settled by being open and discussing with neighbors.
"With all issues, we find that increased communication always helps," he says.
"As you're looking to open a business, or in the process of opening a business, find out who your neighbors are. Knock on the door. Explain the business model. Work with them on solutions," Bell says.
"We here at the City want live entertainment to thrive—we really do. We want live music throughout our city, but we also want babies to be able to sleep at night."
Gibson says that he advises his clients to soundproof when they receive complaints.
"It is more worth your time and money to properly ensure that your venue doesn't offend people, than to pay attorney's fees and be tied up in court," he says.
Contributors to the Wormhole's Indiegogo fundraiser can earn perks ranging from a DJ session to VIP multi-passes.
On May 30, the venue will hold a party to raise additional funds in the last hours of the Indiegogo campaign.
As of press time, the campaign had raised $3,635 of the $10,000 goal.
Graveface said he would have set the fundraising goal at $1 if he could.
Instead, he set it at the minimum $500.
$2,651 has been raised in eight days; it runs until June 5.
CS