JANISSE RAY, author of Ecology of a Cracker Childhood, was inducted into the Georgia Writers Hall of Fame in early November.
The ceremony was held Nov. 9 at the Richard B. Russell Building Special Collections Libraries at the University of Georgia in Athens.
Ray was "honored for works that tell stories relevant not only to Georgia, but to the nation and the world," wrote Ed Tant of the Athens Banner-Herald.
She joins such luminaries as Joel Chandler Harris, Sidney Lanier, Carson McCullers, Margaret Mitchell, W.E.B. Du Bois, Flannery O'Connor, Alice Walker, Caroline Miller, Terry Kay, Ferrol Sams, Ralph McGill, Raymond Andrews and Celestine Sibley.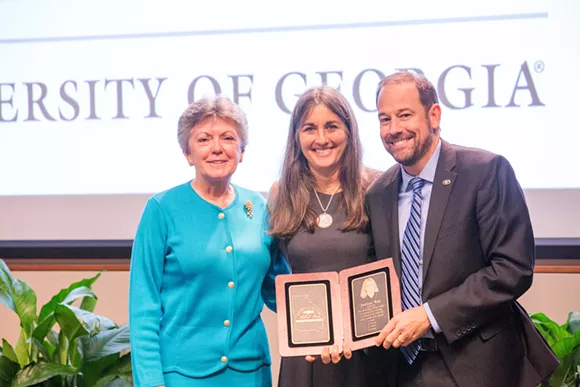 Ray has published six books, beginning in 1999 with the acclaimed and highly popular Ecology of a Cracker Childhood, a memoir of growing up on a junkyard near Baxley in the longleaf pine forests of the South. Her latest book, The Seed Underground, is about heirloom seeds.
She has received many honors, including two honorary doctorates, one from LaGrange College and one from Unity College. She won an American Book Award, Arlene Eisenberg Award, Nautilus Gold Book Award, and two Southern Bookseller Awards (nonfiction and poetry), among many others.
Ecology of a Cracker Childhood was a New York Times Notable Book and was chosen as the Book All Georgians Should Read.
Ray currently lives on an organic farm in southern Tattnall County with her husband and young daughter. She is currently at work on a collection of essays about rural life.
The other living writer to be inducted in 2015 was Taylor Branch, Pulitzer-Prize-winning author of a trilogy that chronicles the life of Martin Luther King , as well as other books of civil rights history.
In addition, two authors were posthumously inducted: Vereen Bell, an accomplished Georgia novelist and short story writer killed in World War II who is best remembered for Swamp Water, a novel published in 1940 and set in Okefenokee Swamp; and Paul Hemphill, a Southern writer of many books focused on blue-collar subjects such as country music, NASCAR racing, college football, and racial equality, and who was also a columnist for The Atlanta Journal.
Over 250 people attended the November installation, including parents Franklin and Lee Ada Ray, brother Dell & Rita Ray, and nephew Carlin Ray, all of Baxley. Sister Kay & Tom Amsler and nephew Ian Amsler of New Bern, NC, were also present.
According to its website, the Georgia Writers Hall of Fame recognizes Georgia writers, past and present, whose work reflects the character of the state — its land and people.
Ray will now serve for three years on the Hall of Fame board of judges.