BEFORE THEIR WEDDING, most couples register for a set of everyday china, maybe a nice blender.
But Francis Allen and Leslie Lovell aren't most couples.
First off, they already have plenty of appliances. And as avid art lovers and longtime activists, they never pass up an opportunity to support Savannah's artistic and social justice communities.
So instead of gifts for their wedding last April, Allen and Lovell asked their guests to donate to a noble project: The construction of a few tiny house-shaped boxes around the city filled with free books.
"We didn't know what to expect, but people were so generous. We ended up with enough to build ten or twelve of them," says Allen with wide-eyed wonder.
Known as Little Free Libraries, the concept that encourages folks to "take a book, leave a book" sprouted in Wisconsin in 2010 and has blossomed into a network of more than15,000 charming book nooks around the world.
Often sourced from recycled materials and hand-painted by local artists, Little Free Libraries help promote literacy, brighten neighborhoods and cross socioeconomic boundaries with the simple act of exchanging books.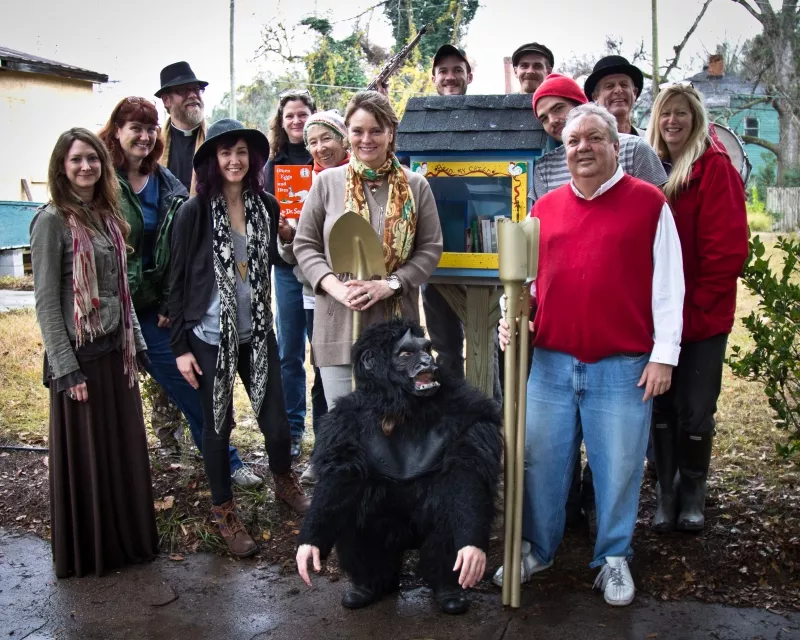 "It's about outreach," confirms Lovell with a nod. "What we hope to do is make the books accessible to everybody."
That mission is in line with the other interactive, art-based community projects (or community-based art projects, take your pick) the couple has contributed time and resources to over the years: The Unchained Tour featuring local storytellers, See SAW's "Before I Die" public art chalkboards, the covered-dish extravaganza Slideluck.
Allen and Lovell also have ties to the Flannery O'Connor Childhood Home, where the author of Wise Blood and A Good Man is Hard to Find made the newspapers as a kid for teaching a chicken to walk backwards. The house museum on Lafayette Square is just around the corner from Roots Up Gallery and the Artful Kitchen, the folk art and edibles shop that the couple opened together in May.
Since any conversation about books in Savannah ought never be more than three degrees of separation from Flannery O'Connor, the author's spirit found its way into their plans.
"I was sitting in the gallery, looking at [local artist] Panhandle Slim's portrait of her, and I started thinking about how much she meant to this area," recalls Allen, a Statesboro native whose mother was a sorority sister of O'Connor's.
"I knew we could do something to tie it all together."
He approached the board of the FOC Childhood Home Foundation, and in the squint of an eye, their Little Free Library wedding gifts became the Flannery O'Connor Book Trail.
"The most basic and fundamental essence of our mission begins with people discovering the work of Flannery O'Connor. Even before that, there is a belief in the transcendent power of reading," says FOCCHHF president Christine Sajecki, who describes the couple's Little Free Library project as an act of "radical generosity."
"This is such a direct way to reach people with that very idea."
The contributions have continued: Longtime board member and enthusiastic book pusher Joni Saxon-Giusti offered to stock the little libraries with O'Connor's works, courtesy of her independent bookstore The Book Lady.
Dare Dukes, executive director of the afterschool literacy program DeepKids, has pledged copies of the organization's original writings as well as ongoing stewardship of the libraries by local students.
The significance also jumped from local to regional: While several book boxes will be erected in Savannah, the trail will now lead out of the city by way of Highway 25, with book stops in the Georgia towns of Statesboro, Swainsboro and Wrightsville.
The route has been incorporated into the Southern Literary Trail, and its stations will be maintained by various book clubs along the way.
The 168-mile literary pilgrimage will end in Milledgeville, where O'Connor went to college and died of lupus at nearby Andalusia Farm at the age of 39.
"I love the idea of crowdsourcing and how this may drive visitation to the farm," enthuses Andalusia's executive director Elizabeth Wylie.
Wylie oversees the 544-acre pastoral paradise that O'Connor describes lovingly in a book of her published letters, The Habit of Being, and also hosts a flock of birds bearing the author's signature symbol, the peacock feather.
"We hope to introduce Andalusia to our local and regional audiences, and this project is a wonderful way to make the connection between Flannery's writing and the sense of place here," says Wylie.
"When you read her letters, you can see: There's the tree line that she's writing about."
The book depot at Andalusia is expected to be complete in the spring of 2015. But like O'Connor's life, this literary sojourn starts in Savannah.
The first Little Free Library on the Flannery O'Connor Book Trail was installed on a recent Saturday morning at on Gwinnett Street near East Broad at Starfish Garden, another one of Allen's community-inspired endeavors.
Artisan woodworker Jeremiah Jossim has provided the tools and carpentry skills for these small-but-solid little houses of books, and the premiere example has been brightly decorated by artist Coco Papy.
The drippy weather didn't deter a small gathering of the project's devoted contributors, including Allen and Lovell, Saxon-Giusti and the chest-beasting gorilla that's ubiquitous at every FOC event. Andrew Hartzell and members of the Rolling Thunder Band welcomed the crowd with a bit of joyful noise, and Episcopalian Father Michael Chaney provided an appropriately pious invocation.
"The ritual is important," Chaney expressed in a conversation earlier that week. "Flannery O'Connor was profoundly spiritual. Her work was required reading for me in seminary; it speaks to the human condition."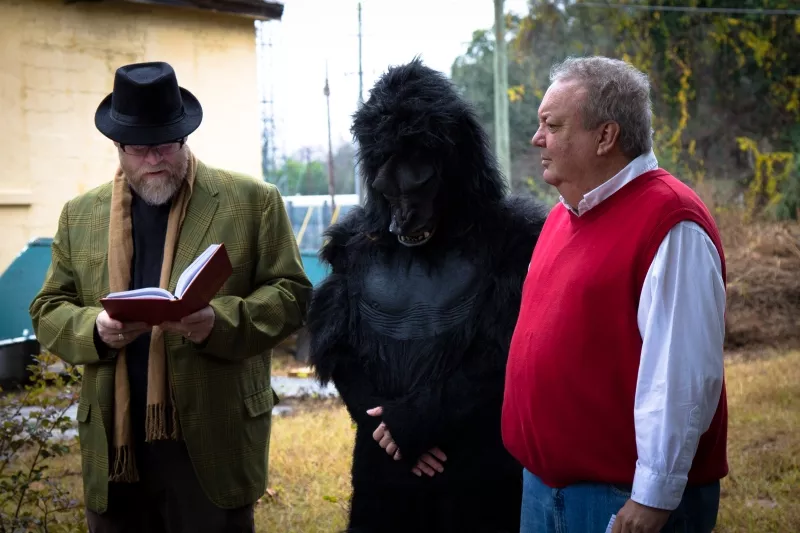 No required reading here; just an eclectic collection of donated books. Several of O'Connor's works were tucked into the cozy shelves that also boasted Virginia Woolf's Mrs. Dalloway and James and the Giant Peach by Roald Dahl. The useful tome How to Grow Your Own Food was squeezed between The Great Gatsby and The Woman Who Saved an Island, the latest work by local legend Jane Fishman.
The idea remains that patrons are to add a book for each one taken, but the happy couple behind the FOC Little Free Libraries just wants everyone—especially those without access to a book to call their own—to be able to walk by and discover a story that changes his or her life.
"The idea is to put them where kids, and their parents, don't have a lot," explained Lovell as she squeezed her husband's shoulder.
"If you can reach even a couple of them, that's what's most important to us."
cs