The American Legion Post 135 will host their fourth annual Warrior Lift Golf Classic at 1 p.m. June 19 at the Southbridge Golf Club.
There are still spots open for the tournament, which will be an 18-hole scramble with teams of four golfers. "It's a lot of fun," said James Evans, chairman of the tournament. "It's not one of the competitive, stressful tournaments that you hear about. People are just out there to have fun, let loose, eat, drink, hang out with friends, meet new friends." Evans said last year, the feedback received was that people just had a really good time at the tournament. "… they didn't show up to play and then go home," Evans said. "They came, they socialized, they met new friends, they had a fun round of golf, no stresses in the world. It was just a really fun event to be at and it's going to keep getting better and better each year." The money raised through the event goes to the Post's elevator fund.
"We've partnered with local businesses for three years in a row to raise money for our new elevator for our historic Post home at 1108 Bull St.," said Jennifer Fortenberry, second junior vice commander for the Post. The event is sponsored by Hooters, who will supply players with sliders, chicken wings and tater tots, and Greenfire Pizza in Pooler, who will supply players with pizza after the tournament. Service Brewing, Southbound Brewing and Sweetwater Brewing companies are sponsoring the tournament through their beverage contributions. There will also be a raffle, with prizes such as $200 to Custom Hustle tattoo shop, a beer basket from Service Brewing Company, gift certificates for glass blowing, ghost tours and more. The raffle will be open from 1 p.m. to 2:30 p.m. and is open to anyone who would like to purchase at ticket, even if they're not participating in the tournament. The winner also does not have to be present to win. There will be trophies given our for last place team, first place, second place and third place, the longest drive, closest to the hole on hole four and there will be hole-in-one sponsorships on all the par-3 holes.
"Come on down, see what we're doing and be a part of it." — Jennifer Fortenberry, second junior vice commander for American Legion Post 135

tweet this
American Legion Post 135 hosts numerous events in their ballroom space at their location on Bull St. Veterans and community members alike are welcome to rent out the space to gather with their friends, family or host any sort of event which may need a beautiful ballroom setting. The space had been limited, however, as the Post is accessible via very steep stairs. Alas, the Post installed a new elevator to alleviate that limitation. The elevator aids in the ease of access to family members or visitors with disabilities to the post's ballroom which is rented out for events such as weddings, conferences and community events.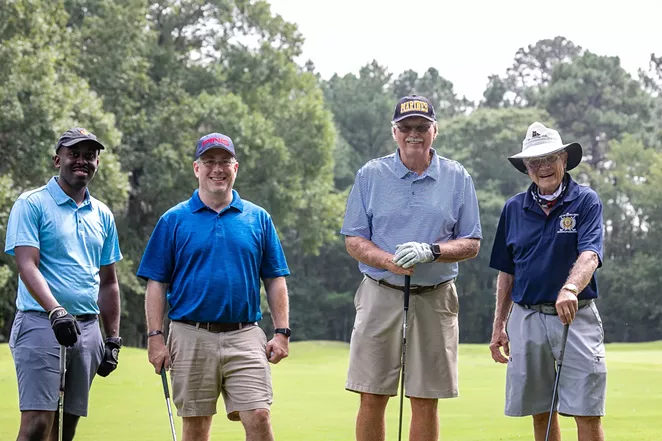 Evans, who is also the Senior Howmet Veterans Network Chairman and Procurement Operations Manager, has had a hand in helping donate to such veterans organizations as Nine Line Apparel and the Pat Tillman Foundation. He said the event is a good opportunity to support the American Legion and their role in service to the community. "Come on down, see what we're doing and be a part of it," Fortenberry said.