In 2019, Clinton Edminster, the owner of Starlandia Supply, realized more could be done to support community and public art in Savannah. In addition to selling art supplies, he started Starlandia Foundation, an initiative that provides legal and financial support for creative endeavors.
"It was created to support the Starland mural project, which completed eight murals by local artists on the walls of the Starland Dairy," Edminster said. "So the foundation was able to raise money through private donations and from a grant from the city, and we were able to execute that project."
The murals, located right across the street from the art store, became not only a public display of art, but an example of future possibilities. A year later, in 2020, the Starlandia Foundation completed the Fence Project, an initiative where local artists painted on pieces of canvas that were then moved around to different construction sites throughout the city. While temporary, the goal was to bring more public art to Savannah.
Now, Edminster has brought on Sam Rush, Starlandia Foundation's newly named arts administrator, in an effort to jumpstart more public art and community art projects. Rush moved to Savannah three years ago and shortly after started working at Starlandia Supply. Rush brings a strong background in nonprofit management and years of experience as an artist and organizer in the New England literary arts community. In this new role, Rush is looking forward to connecting with local artists.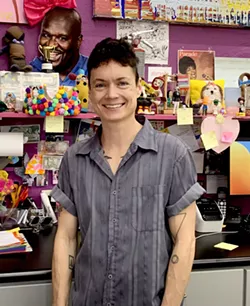 "I think the thing I'm most excited about is trying to create more opportunities and really channel resources towards community artists. I think SCAD is such an amazing influence on the city and there's so much art happening in the city, but there's a lot of art and there's a lot of creativity and a lot of artists that are outside of SCAD and so I'm just excited to create more opportunities for community artists, whether or not they're connected to the SCAD system."
The first step, Edminster said, is to take stock of what already exists in the city. "What Sam has been really busy working on right now is taking a snapshot of what's there, what resources does the city have? What are the current policies around community art and public art? What's the status of local artists in town? What's the financing look like? And what is the availability of walls and business owners that are interested in helping, get public art out there?"
Next, Rush said, the foundation will be looking at pursuing more mural projects. "That's something that we want to connect ugly walls to people that can make them beautiful. So that's one part of it." The second part is a community grant program where individuals and organizations looking to do community or public art projects can apply for $50 to $200 in store credit at Starlandia to purchase supplies.
"It should be a really cool, simple way to enable people to do projects. I know as a person who makes art myself that $50 to $200 can really be the difference between having an idea that you're really excited about and being able to make it a reality," Rush said.
Edminster believes the city needs to start taking public art seriously. "I feel like I've been saying that for, I don't know, 15 years or so."
Now may be the time. According to Savannah's recently released
2024 proposed budget
, $60,000 will be invested to develop a public art master plan for the establishment of a public art ordinance. It comes as one of the city's key investments in recreation, art and culture.
"We're really eager to help reimagine ways that the private, the public sector, and nonprofit organizations can work together to encourage more public art," Edminster said. "Because it just still blows me away how little public art we have in town with the resources that we have, with the talented community that we have, [and] with the wall space that we have. It seems that something has yet to click, and I think we kind of need to figure out collectively what is it that hasn't clicked yet and address it."
A healthy community, Rush believes, is one that allows people to be creative. "I think that part of building a healthy community is allowing people to engage with that part of themselves, engage with creativity and engage with beauty and engage with ideas. So I think that we can really be part of that."
For more information on the Starlandia Foundation visit:
https://www.starlandiasupply.com/foundation