THERE ARE those who believe that Savannah's Starland district is a multi-dimensional vortex, an attraction point for some of the weirdest, wackiest and most wonderful elements of the city.
With curious creative portals like Graveface Records, Sulfur Studios, two phenomenal vintage boutiques in House of Strut and Gypsy World—not to mention a venue called the Wormhole—such a premise is an easy quantum leap.
No one perpetuates this theory more than Clinton Edminster, Starland's most visible interstellar ambassador.
"I basically traverse the same couple of blocks all day long, and there is so much creativity packed into this spot, I don't even know how it's physically possible," muses Edminster, who's helped raise the neighborhood's profile with Art Rise's First Friday Art March and sits on the district's business association, The Star Council.
He opened the reclaimed art materials emporium Starlandia Supply in 2015, and its unlikely meteoric success has allowed him to expand its orbit to the building next door. After signing the lease in December and taking a sledgehammer to the connecting wall, the Starlandia Space Station debuted Jan. 6 as 700 square feet, of well, empty space.
Well, not completely. Plush purple and pink curtains line the walls and windows, and there's a small stage in the corner. But unlike its sister planet's mission to recycle stuff, the Space Station's purpose is in its potential.
Unsurprisingly, Edminster defines it in the context of the space-time continuum.
"The Starlandia Reclaimed side is an exercise in the organization of things that take up space, like art supplies, yarn, paint, etc.," explains the cosmic-thinking capitalist.
"The Space Station gives us a chance to organize time. Time for music, time for rehearsals, time for learning, and most importantly, time for the community to come together and share thoughtful experiences."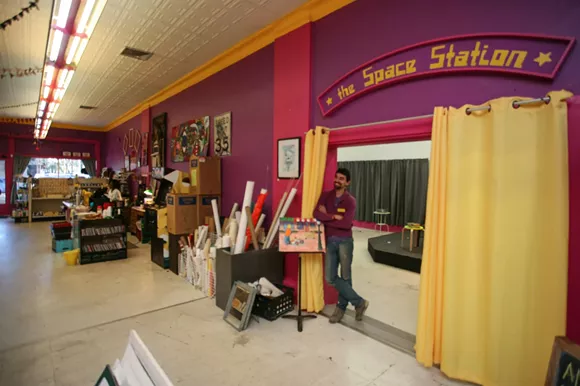 A roster of weekly workshops are already in full effect, including art classes, music lessons with Samba Savannah and creative writing safe spaces for teens and seniors.
"It was really important to us to reach out to older citizens while we were brainstorming the schedule," says Heather MacRae, Starlandia's deputy commander, of lasering in on specific populations.
"We have plenty of seniors who want to be included in the creative community and access affordable art supplies and programming."
The tiniest creatives also get their slot at the station on Thursday mornings with the local debut of Do-Re-We, an early childhood music program based on the philosophies of early 20th century Hungarian composer Zoltán Kodály.
Taught by local soprano and voice teacher Becca Flaherty, the 10-session, 45-minute classes employ shakers, tambourines and other instruments and are organized into separate times for infants up to 12 months, one year-olds and toddlers from 2 to 3 years old.
"It's a passive learning stage when they're babies, but they are actively learning. There's a lot of brain developing going on." says Flaherty of the international curriculum.
"At one, they're at the 'I wanna do it myself' stage and are able to keep a steady beat. At two and three, everyone is an active participant and develops a repertoire of games and songs that families can use at home."
Do-Re-We's interactive song-and-dance sessions are geared towards parents and caregivers looking for creative stimulation for their kids as well as connection with other adults in similar child-rearing stages. The Space Station's proximity to cafes and the Bull Street Library as well as Starlandia's wonderland of cheap crafts provides opportunity for new parents to forge the "village" it takes to raise a child.
"Ever since my first visit to Starlandia, I thought it was the coolest business and community building idea I'd ever seen. It's a perfect place to launch this," says the mother of three.
"My hope is that moms and dads will get together after class for coffee and create those vital networks."
The Space Station is also doing its part to fill the black hole left by the closure of Muse Arts Warehouse, offering up the Space Station for performances and special events. Upcoming shows include regular offerings hosted by sound artist Jeffrey Tosh, an evening with local loud punks Dad Joke, a talk with writer Roberta Hopkins and B.I.G The Improv Musical.
Edminster will also host a live weekly talk show from the Space Station stage on the Starlandia Facebook Page, inviting all manner of local commentators, celebrities, characters and activists to weigh in on a constellation of various topics. The first installments featured Connect A&E editor Anna Chandler and Savannah Children's Choir director Roger Moss, with many more Savannah stars to enter the gravitational pull.
It was Aristotle who first observed that nature abhors a vacuum, and Edminster plans to fill the void with art exhibits, theater pieces, community gatherings, corporate meetings and birthday parties.
"The idea is give people a platform to try things they haven't done before," says the Space Station captain, wearing his signature uniform of thrift shop purple sweater and sequined leopard belt.
"This universe has no limits."
cs