Locals and tourists alike know that Savannah summers can be pretty hot. Ninety-degree days are common, with heat indexes reaching into the hundreds on particularly sweltering days. To cool off, many people seek the relief of a nice pool on a sunny summer day.
There are several public pools around town. But if you're looking for a little luxury to accompany your pool day, you can find it at one of Savannah's many upscale hotels. There's just one issue. Most local hotel pools are only open to hotel guests. But fortunately, there are two top hotels offering pool access to the public, namely The Alida and Thompson Savannah. If you want to beat the heat in style, consider purchasing a day pass for pool access at one of these luxury hotels.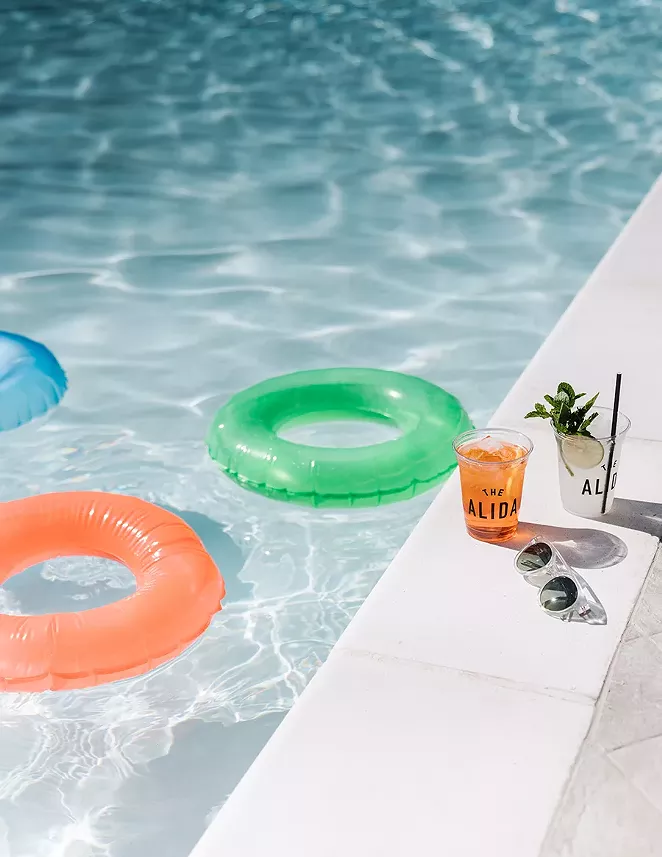 The Alida
Enjoy a summer daycation poolside at the Alida. Located at 412 Williamson St., The Alida is a boutique hotel with a beautiful oasis featuring a heated wading pool, slatted wood cabanas and open fire pits.
The pool is open daily from 8 a.m. to 11 p.m. You can get a pool day pass for just $19 during the weekdays for both adults and children. Infants swim free. On weekends, the price for a day pass increases to $40.
The Day Pass includes pool access of course, along with fitness center access, fire pits and complimentary wifi, so you can be the envy of all your friends and followers on social media.
Monday through Thursday, you can enjoy food and beverages from The Alida's Rhett restaurant and Lost Square Rooftop Bar. And on Friday through Sunday, you can take advantage of the poolside food and drink service from The Alida's Pool Bar.
If you've got a group of up to four people, you should consider purchasing a cabana. Starting at $99 on weekdays, the cabana package includes all of the amenities associated with the day pass, but you'll also be able to enjoy a private shaded cabana with premium sofa seating. You'll also get complimentary bottled water.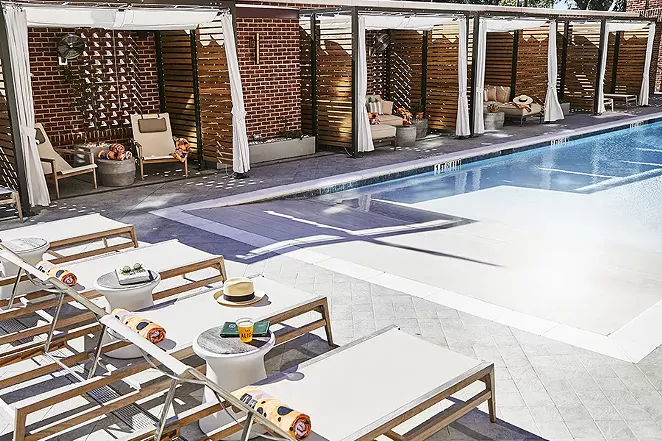 You can enhance your cabana experience with an add-on package. For just $25 to $30, you can get your choice of a crudite platter, hummus and pita chips, tortilla chips and dips, or a fresh fruit platter. The cabana price increases to $300 - $350 on the weekends.
The Alida is offering a special Sunday Swim series this summer where guests can enjoy live entertainment from DJ Fancy Parker from 2 to 5 p.m.
There will be inventive cocktails, slushies and bites available at the pool bar.
The Sunday Swim is open to adults ages 21 and up only. The Sunday Swim day pass is just $20 while cabana rentals are $280. To reserve your Alida day pass or cabana, visit resortpass.com and search for the Alida Hotel.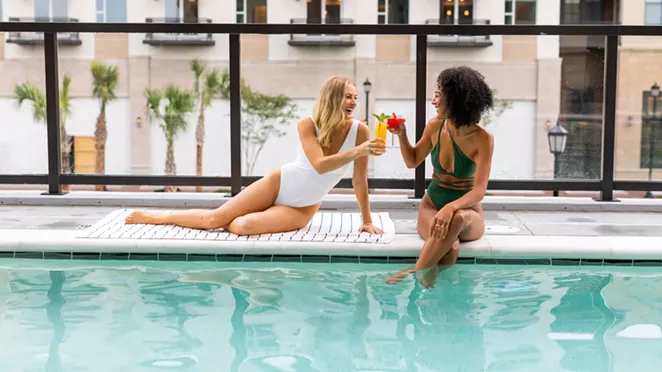 Thompson Savannah
Thompson Savannah is a fairly new luxury hotel overlooking the east end of the Savannah River at 201 Port St.
Boasting modern design and premium amenities, Thompson Savannah is also offering pool day passes, making it the perfect locale for a relaxing summer daycation. The pool is open daily from 10 a.m. to 10 p.m., and it's only open to those who are 21 and up.
Monday through Thursday, the day pass is $25 dollars. It increases to $50 Friday through Sunday. The day pass includes access to the outdoor heated pool and the fitness center. There are poolside lounge chairs available for you to soak up the sun in.
You'll also get towel service and complimentary wifi.
Friday through Sunday, you can enjoy poolside drink service from the pool bar. And additional food and beverages are available throughout the week from Bar Julian, Fleeting Restaurant, and the lobby bar. There is street parking available but garage parking is available for a fee.
Thompson Savannah offers two cabana rental options for up to four guests. The daybed cabana starts at $160 on weekdays and includes a shaded cabana with a ceiling fan and premium comfort lounge chair seating. It also comes with complimentary water. The regular cabana packages start at $180 on weekdays. It includes all the amenities of the day pass along with a private shaded cabana with premium sofa seating and bottled water.
Friday through Sunday, cabana prices increase to $210 for the daybed cabanas and $230 for the regular cabanas. On Saturdays and Sundays, both cabana packages come with a dedicated server to attend to you from 12 to 6 p.m. To book your pool day at Thompson Savannah, visit resortpass.com and search for Thompson Savannah.