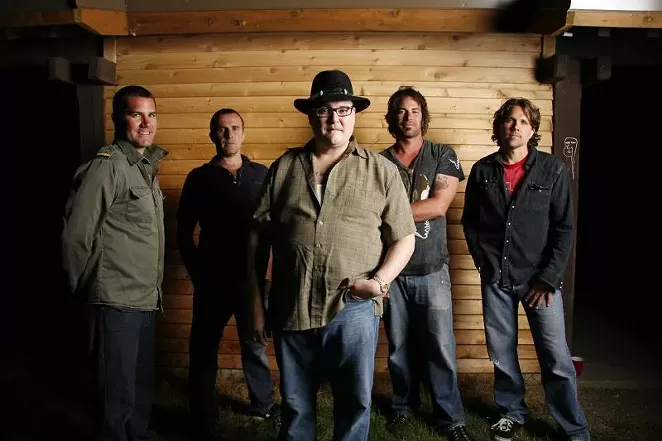 FOR 31 years, the Princeton-born Blues Traveler has entertained audiences around the world with a stellar live show and admirable musical chops. The group that started in a New Jersey garage has evolved through high school, music school, dive bar gigs, and major festivals, courting new fans with their unique fusion of blues, psych rock, folk, soul, and Southern Rock.
Emerging on the Top 40 charts with "Run-Around," the breezy, now-it's-stuck-in-your-head debut single, and following it up with the catchy "Hook," Blues Traveler earned a Grammy Award in 1994 and even broke a record for most weeks on the chart.
With the eruptive harmonica riffs of John Popper, guitar licks of Chan Kinchla, bass stylings of Tad Kinchla, Ben Wilson's keys, and percussive rhythms of Brendan Hill, Blues Traveler shows off decades of musical camaraderie and friendship.
And they're still keeping it fresh—in 2015, the band released Blow Up the Moon, an album they wrote and recorded in collaboration with various musicians including Jewel, JC Chasez, The Dirty Heads, Hanson, Bowling for Soup, and more.
We caught up with Chan Kinchla to talk about their tour with Los Colognes, the band's musical growth, and what they're working on next.
So Blues Traveler is essentially your high school rock band!
We've been touring for 30 years. We're citizens of America! The first incarnation was in '85, then I joined in '86. This is originally Brendan and John's band, just a little high school blues band. Then I joined and we started doing more rock originals, then my buddy Bobby joined. He was more of a Deadhead, Jimi Hendrix, Zeppelin, mishmash. Then by '87, we all graduated and moved to New York City.
You literally grew up together in this band. Do you consider that a strength?
That's kind of why I think we get along—we manage to stay together. We have a lot of bonds. We grew up together. Our bass player died in '99 and my brother took over, he's obviously connected as well.
John had gone up to New York the year before, we went up and started playing. A couple of us went to the New School which, at the time, had just opened. They had a really cool alternative jazz school. I went to NYU.
We tried to support ourselves in the city while getting going, but the great thing about New York in '87 was it was pretty much the Wild West. It was coming out of the crazy bankrupt '70s. In the Lower East Side, they'd just lifted the cabaret law where you had to have a special license to have more than three people onstage. So we got up there and they lifted that law, so every little bar and dive was having music. We weren't getting paid, but we were playing every little shithole on the Lower East Side. Glorious shitholes! ...I guess that's a loaded term now, huh?
That seems like a really well-rounded music education—music school in the day, gigging in the city at night.
It was a great scene. The Lower East Side bar bands we learned from...we were just 18-year-old kids from the 'burbs, we were kind of watching how they did it, how they worked the crowd. And The New School, they had rehearsal rooms. Brendan and John were going there, so we were just having Blues Traveler rehearsals in there. I remember the first time we rehearsed, we played 'til the cops came. In New York City! We were pretty stoked about that.
We were hanging out with all these more traditional jazz musicians, all the students that were our friends, and at the same time were playing these kind of seedy bars with real working musicians.
That first year, we were just playing talent nights...eventually we would get Monday nights at this total dive on Second and 13th. Literally no one there. We'd play to a drunk homeless guy and the bartender. But we could play all night, working things out, making things up. The hustle and bustle, teeming energy of New York...it couldn't be better for emerging artists, that immersion.
And, in New York fashion, it did get us signed. Then we were in a van circling the country with a U-Haul behind us, playing tiny little bars in Savannah, Georgia to ten people! Touring—that's a whole 'nother animal.
Was it better touring in those early days or now as an established band?
I loved it all. When you're first traveling around the country in a van with your buddies and you're 19, 20 years old, it's awesome. Now, we got a tour bus. The longer we do it, the more I appreciate it. It's fun in a different way now...not as crazy as it was in '88, '89, '97. We were on tour probably 200 dates a year and it was just total mayhem. But it was a blast!
Blow Up the Moon was based on collaboration. What brought up that idea?
It was good for us. It was our 25th anniversary, and we wanted to release something interesting for that. We thought we'd do an album with interesting collaborations with different bands, something that people wouldn't expect. We did something with Plain White T's, 3OH!3, Dirty Heads.
It all started going so well, we kept doing them! We'd just crash into each other in a cool studio and see what we came up with. Really fun process. We learned a lot about what makes us cool and some interesting things other groups do. It was a great experience.
It was as far away from being in Blues Traveler as we could get, and I think that inspired us. Because with our new record coming out—it's been a couple albums since we've done all Blues Traveler songs, and these songs came out of nowhere. We needed that motivation for it to click.
What's the word on the new album?
It's coming out in spring and it's going to be called Hurry Up and Hang Around. I think we've officially agreed on that title! It's out in spring and it's old school Blues Traveler.
A lot of folks are excited to see Los Colognes on tour with y'all.
We did a whole fall leg with them! It's a really kind of complementary thing. They're more ambient, groove-based, which is beautiful. We're more in-your-face. They sit in with us, they're total musicians, and we really appreciate it. We love being out there with them, and Savannah's one of my favorite towns in the South.
CS