It's no secret that alternative fashion is having a moment. Thanks to TikTok, the announcement of the "When We Were Young" festival, and Pete Davidson stepping out with the Kardashains, people can't seem to get enough of it.
Lucky for us, Savannah has a great skate shop, Clockwork, on Broughton St.
Branch out from your pair of fitted chinos or jeans and try a pair of loose-leg pants this spring. This black denim pair is extra cool with a subtle print. Pair them with a funky graphic T-shirt, or even a casual collared shirt. For the shoes, throw on your favorite sneakers, like these textured Vans.
If loose jeans aren't your style (or if it's just too hot in Savannah for full pants) try a pair of jorts. That's right, jean shorts are in. A simple T-shirt, a hat, and a great pair of sneakers will complete your casual weekend look.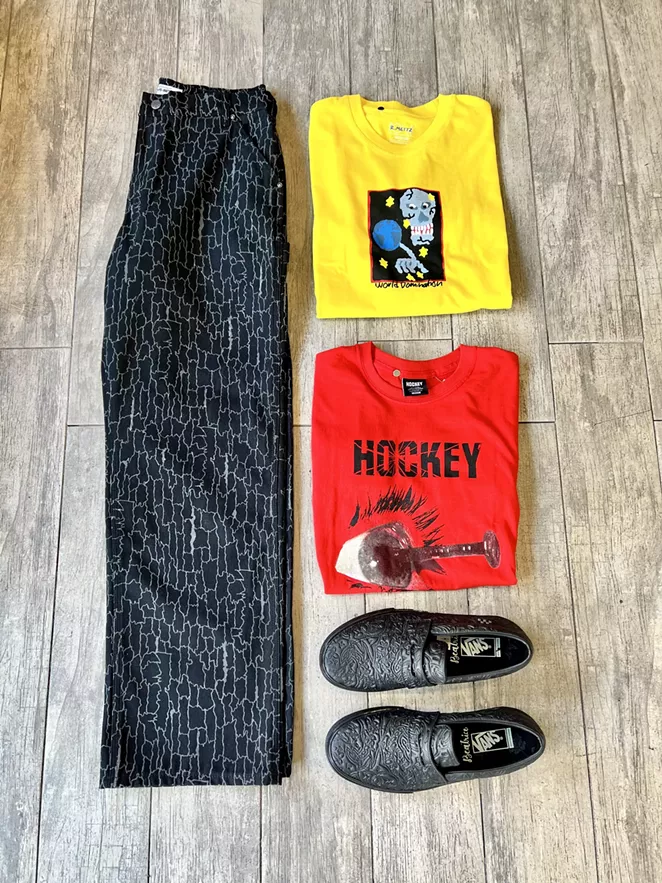 Black jeans, jorts, graphic tees, hat, and all sneakers available at Clockwork (321 W Broughton St.).
Sneaker culture is also growing in Savannah—so much so, that the Savannah College of Art and Design (SCAD) added a brand new sneaker minor.
Check out Clockwork, Pennykix, Off the Wave, or HallofSneakz for hundreds of cool kicks.