Sulfur Street Fair, presented by Sulfur Studios, is back on June 3 from 5 p.m. to 9 p.m. for their first Friday festivities. Over 15 artist vendors, Sweet Spice Food Truck, live painting, and performances by The Saltwata Players, Performing Artist Collective of Savannah and more will gather on 39th Street between Bull St. and Desoto Ave. for an evening of activities.
Opening on June 2 in their Main Gallery will be Past Presence: Commemorating Juneteenth our 2nd Annual exhibition commemorating Juneteenth. This exhibition features artists from across the country whose work takes into reflection their own personal history – present or past – as it relates to the Black experience in the United States.
"It is important to continue to educate people on our country's history - even with Juneteenth now being a national holiday, many people do not know about its significance. It's important to share this history and provide a platform for artists to express their thoughts, feelings, ideas and personal connection to Juneteenth for healing to be possible," said Emily Earl, executive director, Sulfur Studios.
These artists explore themes of ancestry, modern media narratives, vulnerability and resilience. Past Presence is a declaration of PRESENCE of artists claiming space and demanding to be heard. Artist that explores and share deep moments while being bold as an in the USA in 2022 - 165 years after the enslaved in Texas were informed of their freedom.
"For this exhibition we've done something new - we've made video interviews and prompted each artist to talk about their work and the meaning of Juneteenth for them. It was incredibly moving to go through these videos, particularly as a whole, and be able to see the variety of responses and the great impact that Juneteenth has had on a multitude of artists," said Earl.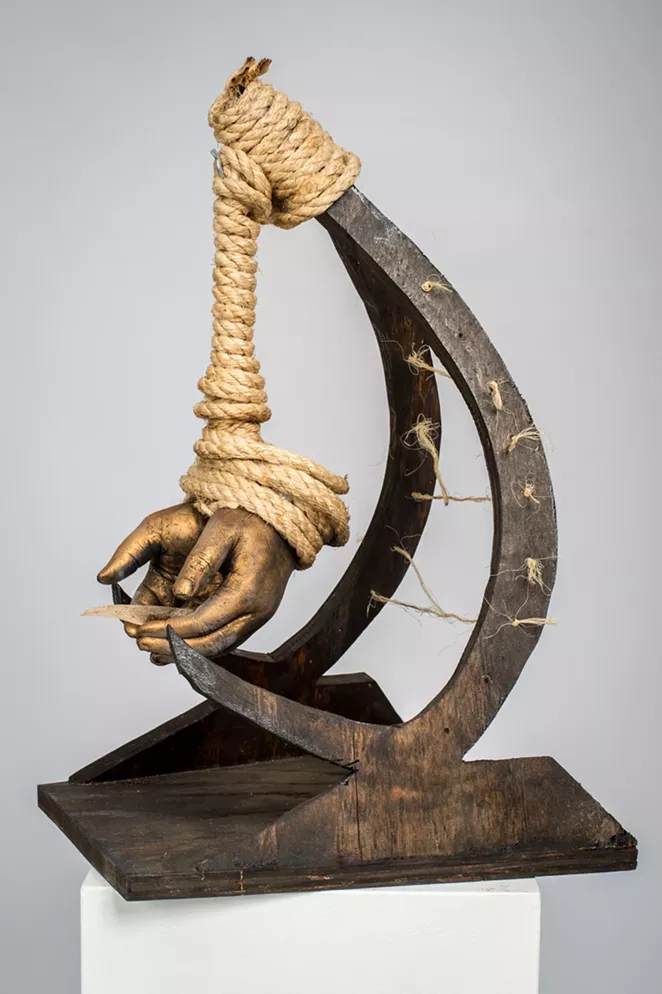 This exhibition was juried by several artists, educators and curators from Savannah: Amiri Farris, artist and educator; Antonia B. Larkin, artist, curator and Visual Arts Specialist at the Savannah Cultural Arts Center; Lisa Jackson, Education and Community Outreach Liaison at The Savannah African Art Museum; and Billie Stultz, Founding Director and Head Curator at The Savannah African Art Museum.
Participating artist in the exhibition are Viyanca Bennett, Jasmin Cage, Memphis TN, Abiodun David, Chicago IL, Danisha Edwards, Jacksonville FL, Tiara Unique Francois, Dallas TX, Kayla Grayson, Felicia Greenlee, Seneca SC, Frank Marshall, Savannah, Tyriq Maxwell, Savannah, Victor Montague, Washington DC, Calvin Wayne Parker, Savannah, Tameka Phillips, Savannah, T. Owens Union, Napoleon Wilkerson, Savannah, and Livia Weiss.
"We think it's important to open the lines of communication about this period of America's history and allow artists' voices to be heard. These videos will be playing in the gallery and are also accessible on our website and youtube channel," said Earl.
The next Artist in Residence will be Tiara Unique Francois out of Dallas, TX. She will be working in the Residency studio from June 7 thru July 2. She also has several pieces in the Past Presence exhibition. Her Artist Talk will be on Saturday, June 11 at 2 p.m.
"She'll discuss her work and do a photo shoot with anyone who'd like to participate these photos will be used as reference materials for her paintings made during her residency," said Earl.
The Street Fair vendors for this month are Maxx Feist Art, Moon Child Studio, Saorsa Soaps, Sweet Champloo Creations, Le Pouf Art, ChelPaints, Peanut Butter Shrimp Newspaper, Anya Driffill, Fear No Arts Media, Maine Trade Co., Hannah Manning Chan, Humana Ceramica, Isak Dove Art, BeadsbyClovis. There will be live painting by Zay Hutchins, Margie Marie, and Nae'Keisha Jones.
"I get to do two of my favorite things, paint and be in the community," said artist Nae'Keisha Jones.
Also on June 3 will be the finale of our ON::View Artist-in-Residence Timothy Harding's month-long project. Harding has been pursuing a project centered around the construction of a painting stretcher bar system as a site-responsive object.
Past Presence, Commemorating Juneteenth will be on display thru June 25th, and then on June 30th Sulfur's next exhibition Our Golden Coast, will have its first day open to the public. More info at sulfurstudios.org