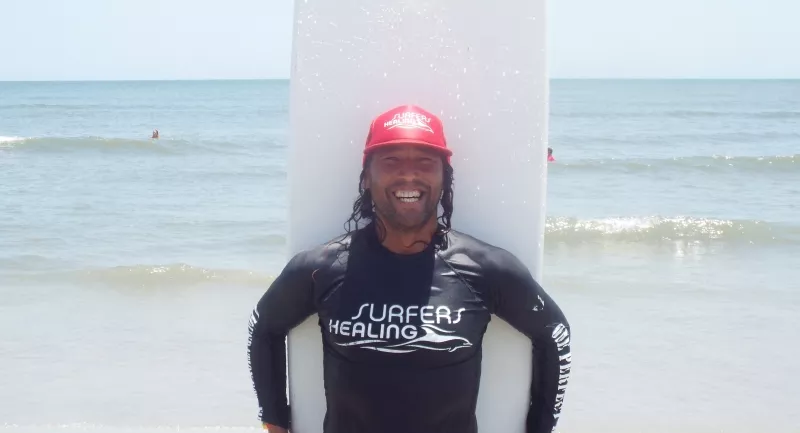 WHEN Atsushi Yamada arrives at work, people stare at him like he's crazy.
If his sticker-covered 1968 VW bus doesn't turn heads, what comes out of it will.
Yamada teaches surfing on Tybee Island. And his green Shaggy van hauls surf boards.
"You're putting those boards... in that water?" the incredulous sneer.
This isn't the north shore of Oahu. It's not even Daytona Beach. These are not waves!
Still, Yamada swims out. His students swim out. And what happens next is magic.
In this calm pool, these surfers jump onto their boards and ride what nature gives them today in short, shaky bursts of 10, 15 and 20 seconds.
"You forget about time," he says. "Those 20 seconds could be a lifetime."
The incredulous, sunning tourists now take pictures and smile.
"You never know until you actually do it," he says. "Never underestimate the ocean."
Today's lesson? Anything is possible. Ride what you have.
The gregarious instructor, called Sushi because of his first name, started Tybee Island's Happy Surf Camp Aloha three years ago to teach lessons like this.
Confidence, teamwork and respect for the outdoors are big themes when he dries off, cools down and shares a chat with me for my podcast at his Kensington Park home.
"I love to be in Mother Nature," he says. "Now I'm lucky enough that I can pass on my passion to the next generation."
Yamada doesn't care about the size of the waves. He's just happy to feel the ocean under his board. He first connected with nature like this while snow skiing in his native Japan.
"I still remember the first time I skied through the trees at a very young age," he says. "I still can feel the wind."
He says he felt the same thrill when he first got up on a surf board. He was 16 years old and an older "cool kid" in school took him south of Tokyo and then a mile out to sea. His "crazy mentor" then left him there alone with only a surf board to get back to shore.
"I felt I was very, very small," he says. "It made me more humble and more appreciative."
In Japan, he taught skiing, won regional skiing and soccer awards and earned a black belt in judo before leaving for Guam, where he met his future wife and became a father.
The family soon moved to Hawaii, near the famous Sunset Beach surfing Mecca. And if being a mile out to sea humbled him, that was nothing compared to being "new."
"Hawaii can be the most uncomfortable place to be if you're not respected by locals," he says of the tribal surfing culture. "You have to prove yourself to let them accept you."
Sushi quickly earned his waves and enjoyed the best rides of his life in Oahu. But his in-laws called. And he moved here, to the Atlantic Lake, to be near family in 2001.
But he doesn't let our ocean's relative calmness get him down. He fills the space around him with laughter and possibility. It doesn't surprise me when he says he coaches soccer with Savannah United.
"Every time I spend time with children, I just get so excited," he says. "They make me feel very alive."
He shouts at them "Go!" His voice booms over the beach's din. It's the kind of voice that would make even me believe that I could surf in this water. He teaches adults, too!
So look for his VW bus if you need an attitude adjustment this summer. The van is carrying more than just surf boards.
cs