WHAT DO you get when you combine cinder blocks, house paint, traffic cones, lawn chairs, and trees still in containers from the plant nursery, with a small group of civic-minded volunteers? A safer, friendlier street. At least temporarily.
That was the outcome of an effort organized by Starlandia art supply proprietor and Thomas Square Historic Neighborhood Association President Clinton Edminster. "Starland Street Experiment: Imagining Kinder Streets" — which deployed temporary crosswalks, curb extensions, signage, and street furniture on Bull Street between 38th and 41st streets — is an example of "tactical urbanism."
This approach describes "a city, organizational, and/or citizen-led approach to neighborhood building using short-term, low-cost, and scalable interventions to catalyze long-term change," according to "Tactical Urbanism: Short-term Action for Long-term Change" published in 2015.
Edminster said the project was "designed to demonstrate to our neighborhood a variety of traffic calming techniques."
He said, "I believe that most people don't consider traffic engineering a domain that they have permission to think about — it's always someone else that makes those decisions. Our purpose was to showcase the effectiveness of crosswalks, curb extensions, and signage — all things that exist on other streets in Savannah — and to get our neighbors excited about the possibility of a kinder street: kinder for drivers, cyclists, and pedestrians."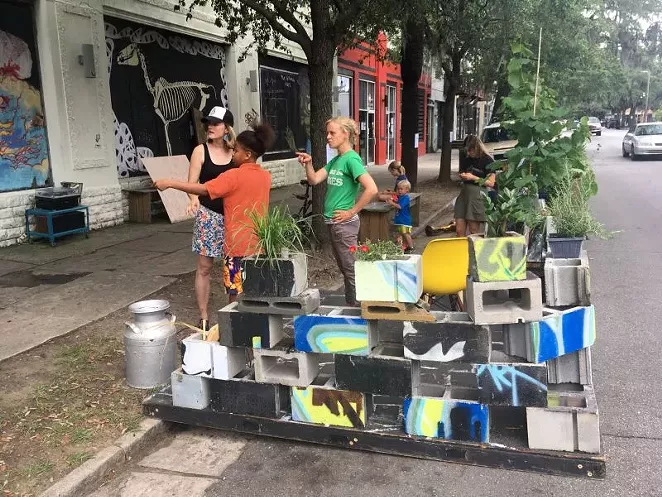 The results were unveiled on May 19 when residents and visitors were able to dine at street side tables, more confidently cross the street using temporary cross walks, and enjoy a cool glass of lemonade while relaxing in a "parklet," a small park created in a car parking space.
Edminster also led a tour for the Congress for the New Urbanism, a conference bringing more than 1,600 urban planners, architects, and advocates to Savannah.
Edminster said people have not been shy about sharing their comments.
"We have received a tremendous amount of public feedback. Being open to both positive and negative reactions is crucial to this process," he said.
Interestingly, Edminster said the negative responses were especially helpful.
"In one of our demonstrations we had negative reactions about the parking spots that were removed in order to create a safe crosswalk," he said. "We looked at our plan and realized that there was an opportunity to redesign the crosswalk so as not to remove any parking spots."
The crosswalks, which were painted with latex paint so they could be easily be removed with a pressure washer, were designed using guidance and input from the City of Savannah's Traffic Engineering Department, which Edminster described as "incredibly valuable."
By using designs based on established standards for traffic control pavement markings, the demonstration could reflect what is "realistic and possible," he said.
By the time Caila Brown finished painting the second of the two crosswalks, she had become something of an old hand at it. It took about 45 minutes to apply and another 15 or so to dry.
Brown is chair of the Savannah Bicycle Campaign board of directors and Complete Streets program coordinator for Georgia Bikes. Her involvement with the project is related to her work for Georgia's statewide bicycle advocacy organization.
"Tactical urbanism projects that focus around transportation needs can provide test environments for long-term change like protected bike lanes, safer crosswalks, and connected sidewalks. They allow the community to have a greater say in what is invested in — and needed — in their neighborhoods," she said.
Brown said the advantages of tactical urbanism undertaken by volunteers in cooperation with city staff are clear.
"From the government's perspective, tactical urbanism projects are usually more cost-effective and rely less on staff time and more on volunteer hours to complete, allowing the city to focus on long-term impacts and planning," she said.
When residents are involved, the result is even more powerful, Brown explained.
"The people in our neighborhoods can see the real impact when they lack crosswalks, sidewalks, and bike lanes in their community, and they are uniquely positioned to best advocate for the change they need to flourish," she said.
Brown said she started receiving comments as soon as the paint was dry.
"Business owners have remarked to me in the week after painting the crosswalks that motor vehicle speeds have slowed, people are able to safely cross, and people enjoy being on the sidewalks in that section of Bull Street instead of rushing to their next destination," Brown said.
On May 19, residents from Bingville, Ardsley Park, Baldwin Park, Parkside, the Victorian District, and the National Landmark District were able to observe and be a part of the experiment. As a result, Brown said tactical urbanism won't be limited to Starland for long.
"Savannahians from other neighborhoods are asking how to create similar projects in their communities and I am excited to see how we can support their efforts to create safer spaces," she said.
cs