For five years, the Savannah Clay Community has helped advocate for clay artists in our city.
This year marks the fifth installation of "Sip: A Ceramic Cup Show," the Savannah Clay Community's biggest event.
Held at the Whitefield Center, the exhibition's opening reception is Friday, Mar. 6, in conjunction with First Friday. The exhibition holds its closing a week later, on Mar. 14, so time is of the essence with this unique show that features a vast amount of work.
Jessica Broad, coordinator for the Savannah Clay Community, says that there are about 190 cups in the show from 120 artists. Each year, the community puts out a national call for entries—one of the few places in Savannah that holds nationally juried shows—and this year they received 354 entries. It was a big job for their guest curator, Jason Bige Burnett, to pare down all the submissions.
"Every juror has a different set of criteria, and of course they're looking at three-dimensional objects in a photo," says Broad. "From what I can tell, and from what his comments were, he was looking for people who were being experimental. He was more interested in people who were pushing boundaries and looking like they were having fun with the medium."
This is just the third year that the Savannah Clay Community has featured a guest juror. Prior to inviting guests, the show was juried by a panel of three local artists, but that proved to be difficult for several reasons.
"With three people, it was awkward to come to a decision on the cups because three people voting on over 300 cups is a bit overwhelming," says Broad. "We were choosing people who have name recognition, so it was a way of generating more entries. It was also for our community, because we have been inviting those artists to come and do a workshop with us as part of the process."
It's so valuable to learn from an established artist like Burnett, who's the founder of Mr. Benny's Pot Shop in Kentucky. The whole exhibition is a learning experience for any visitor, regardless of clay background, to see the variety of uses that clay has.
"One of the greatest things about this show is that it shows you the huge range of possibility about what a ceramic drinking vessel could be," says Broad. "Everything from a really simple, basic cup to things that are pretty much sculpture that you just happen to be able to drink out of. All kinds of forming methods, everything from wheel throwing to working with clay slabs to slip casting to 3D printing—all of that is explored. Every range of firing possibility for clay, pretty much everything you can do with clay."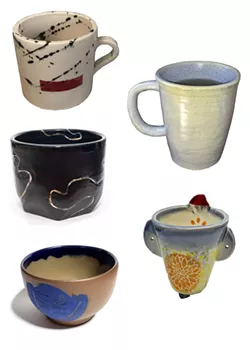 "Sip: A Ceramic Cup Show" is the biggest event for the Savannah Clay Community, whose mission is to support and promote ceramic arts in the city.
"The original mission of the show we stuck with is to support artists and support the community," says Broad. "When the cups sell, 80 percent of that goes back to the artists, 10 percent goes to the Emmaus House, and 10 percent comes back to us to help support next year's show."
The Savannah Clay Community got connected with the Emmaus House after a fundraiser and have worked together ever since.
While "Sip" is a nationally juried show, it also features the work of about 30 local artists. That also does a lot to help raise the prominence of clay artists in our community.
"I feel like people have been coming to recognize that we're here more since the Clay Community started and us having more exhibitions," says Broad. "Last year at the opening reception for 'Sip,' more than 200 people came to the opening, which was very, very nice."
The Savannah Clay Community got its informal start in 2011, when Broad organized a show at the Department of Cultural Affairs gallery about Savannah clay artists. At the third event, they decided to make it more formal, and the community was born.
"Mitzi Davis was our ceramics studio technician at SCAD, and she was getting a graduate degree in arts administration," remembers Broad, "so as part of her graduate master's thesis, she started 'Sip: A Ceramic Cup Show.' All the formalized structure of the Savannah Clay Community was part of her graduate thesis. She got all that started and then went off and got an actual job, so I took over for her!"
With the help of her assistant, Kristin Maniscalco, Broad has organized an exciting show that celebrates clay as an art form and all the possible uses of clay, particularly in drinking vessels.
CS