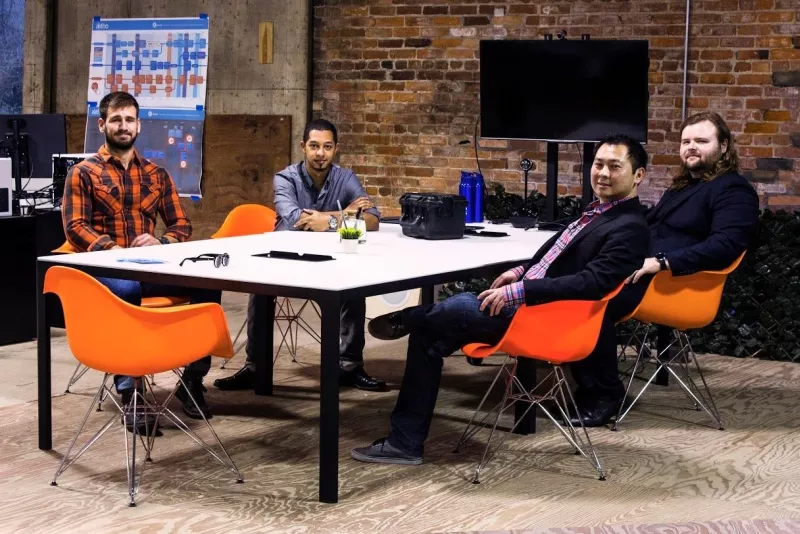 I'M NOT the kind of person to share much of my life on Facebook. But I'm an ostrich like that.
Savannah inventor Ian Nott is more like an eagle.
The 24-year-old has been flying in business for a few years and knows that people today crave the "shareable experience."
"It's something that they can take a photo of or a video of and ultimately get out to the world to get those 'likes' and share it," he says.
Likes and shares? Okay. But cool videos? Wow! If a kid skids down a mountain on a bike, sails across a valley on wings or rolls like thunder on skates, I'll watch it twice.
Nott designed a product for those active adventurers with a penchant for posting. It takes the shakes and calms the camera so online audiences know what a wild time you had.
"If you're running down a rocky trail and you're trying to hold your camera, any other camera device is going to look like your running down a rocky trail," he says.
Nott's invention relies on mechanical stabilization technology. You attach a camera to it. And, like a Gimbal system on a Hollywood movie set, it smooths out the picture.
"It looks as if you had set up a track, a dolly and a boom crane and really thought through that shot, when in reality, you're just having fun," he says.
Nott has been having fun with cameras for a few years. You might have seen him around town with his "drone" cameras. They fly above the crowd and capture a bird's eye view.
Eagle is the word for him. The remote-controlled flying videos are how he began down the road of startup maven in the field of adventure cameras. They were his college crush.
But federal air safety authorities and liability insurers don't make great dancing partners. So he took the best from his winged camera idea and came up with a new business plan.
"In just a year's time, it went from just basically sketches on a napkin in terms of what the product might be to raising hundreds of thousands of dollars, building a great core team of designers, getting the office space set up and just really rocking out," Nott says.
His invention doesn't have a name yet. But he calls his company Aetho. He's set up at Creative Coast. His co-founder is in San Francisco. And lot of folks are betting on him.
That's because he's standing at the crossroad of a number of different trends. I already mentioned social media. But another big one is the democratization of filmmaking.
His jibless jib works with the GoPro camera. Cheap, sturdy and small, it's put high quality and high definition into average hands.
Not a bad product to marry. But, as I alluded to right up front, video is only a side interest of mine here.
I like to ask about the creative process, the entrepreneurial spirit and how a college student goes from "drop out" to "drop product" in a very short period of time.
"It's doing away with those late nights at the bars or hanging out with friends or whatever that thing is that you might do every week and just keeping your nose to the grindstone," he says. "Every day you wake up thinking of this and how to keep it moving forward."
So there's my problem. Karaoke! Nott's grindstone aims to have his camera stabilizers for sale by this holiday season. Expect a jillion likes and shares when that happens.
CS