FRESH OFF her seven-year stint in Brooklyn, Tamara Garvey is back in the city she loves. Her exhibition at Gallery Espresso tthrough December is her first solo show.
Garvey's work is whimsical and cute, and she loves creating that feeling of delight through her work. She hides Easter eggs of cute drawings in her work as a reward for getting up close.
We talked with Garvey last week about selling yourself, the persistence of pen and ink, and the Savannah-Brooklyn comparison.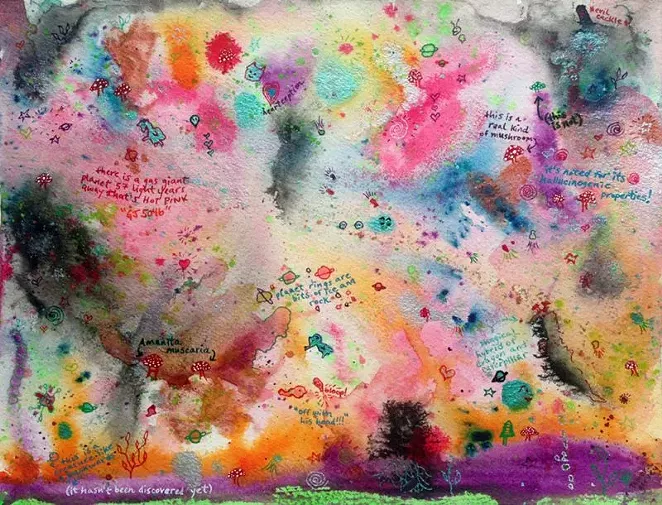 How did you get involved with Gallery Espresso to have the show?
Garvey: The cool thing is, when I first moved back to Savannah, I was hustling and networking and sending emails. I sent one to Gallery Espresso with a few images. Jessica [Barnhill] contacted me and was like, "Hey, we had a cancellation," and she was replying to my email from a year ago. That was heartening. I think with art and a freelance business, you're planting seeds around business-wise. You have to be a little assertive and always hustling. You're putting things out there, and it might not happen immediately, but it's the little seeds you plant.
I read somewhere that, if someone is new to your name or brand, it takes seven times of seeing it around somewhere before they purchase something.
What made you decide to head to Brooklyn?
Garvey: I lived in Savannah and went to SCAD here for a couple years. I was really happy here and figured I would come back, but I wanted to try Brooklyn out. I showed in Telfair's Art Fair and sold some art, and I thought, "Maybe I should try somewhere bigger. Okay, New York. Ramp it up a notch." When the idea occurred, it felt intimidating, but that's maybe exactly why I should do it.
I knew I wouldn't be there forever. I said I was going for two to three years, as long as it takes to build my career, which in retrospect is hilariously naïve. I ended up being there for seven years.
Savannah draws a lot of comparisons to Brooklyn, and I'm curious if you agree.
Garvey: It was funny, when I first moved thee, every time I went to a house party I would always come across people who went to SCAD. There's such an exchange of people between Savannah and Bushwick!
I will say, after moving back from being seven years away, I see the difference [in Savannah] pretty starkly. It has gotten more Brooklyn-y because there are more bougie restaurants [laughs].
I can also imagine Starland has changed pretty drastically into the artistic hub it is now.
Garvey: It's this mash-up of cute upscale and student-y things. Things like Starlandia [Creative Supply]—it's such a brilliant idea to have a used shop of art supplies. Everywhere should have that.
When I lived here before Starland, even at the time, I was always reading that Starland was the new up-and-coming student neighborhood. Even by the end of my [first] five years here, it hadn't quite taken off. But now, it has. You can walk around and find a lot of businesses and a frame shop. The further north you go, it's really different, but there's not a lack of small businesses, just that they are a little bit deeper into the historic district.
Did you see any differences in Savannah's tourism?
Garvey: I work part time at shopSCAD and I sell my prints there. Savannah is a lot more touristy now, so when you're walking the streets, it might be busier, but the upside is I sell a thing. That was a huge part of why in New York I could sell things. I sold at a craft market and there was a huge volume of people to sell to. To be back in Savannah and see there's a higher volume, you get the best of both worlds. It's a beautiful, charming, easier pace of life, but there are a lot of people here breathing in and out and they're going to shop here.
Tell me about your artwork.
Garvey: Everything I do, even the ones that have a Photoshop background, everything has pen and ink. Pen and ink is my jam. I always do the old-fashioned pen in ink jar method. It has this feeling that I love, this old-timey Ben Franklin "I'm writing a love letter by candlelight" feeling. Physically, when you find the right paper you love and you have a good ink line, everything is such a nice feeling. You're like, "Man, I'm rockin' this line."
Everything at Gallery Espresso is all pen and ink paintings, and it's all different subjects. Some of them, I like to do abstract color all over the place and look for things that look like characters and have a little world of characters talking to each other. With some, I have a real object, look up a fact about it and put in a factoid about that. One of my pieces is a mash-up of useful information about mushrooms.
An overarching theme to what I do is looking at everything with a child-like sense of delight and whimsy. Everyday things can be very charming. It's fun and it's delightful. My art is for the people who like it when they're flipping through and they make a sound like, "Oh!" There's a detail there. That feeling is very important.
The way I paint, it starts from being further away on a large scale, and then as I'm finishing up, I draw the lines. That's how it works to the viewer, and as you get close, it's almost like reading a book. You're rewarded for getting closer—you find fun things.
It takes a lot to impress people and people can be jaded, so there's something to it if you can do something simple and make people happy.
cs