Savannah food-lovers will be excited to hear that a new American bistro restaurant is soon to emerge. Connect Savannah's first "Taste of" Savannah event on March 25 will feature Ardsley Station - a new restaurant that will be taking over 102 E. Victory Drive in the void of the former Atlantic restaurant. The event has sold out, as many want to taste the food of this yet-to-open eatery. "We're very humbled to be the first ones to do it, being that we're new in town," said Tyler Kopkas, Ardsley Station co-owner. Kopkas said Ardsley Station is slated to open in the spring, approximating mid-April. For now, Taste of Savannah guests get a sneak peek of what's in store. "It's exhilarating," Kopkas said. "I'm looking forward to meeting all of the people that are going to be there. I'm looking forward to getting to know the people in my community more. The food is going to be incredible, but the food is bringing the community together and that is the aspect that is going to make us successful."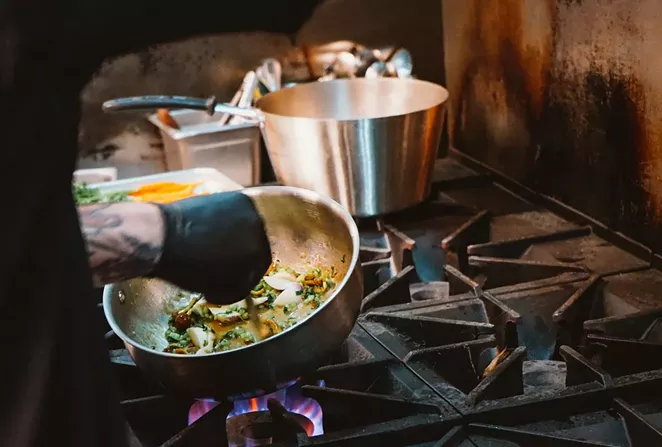 Ardsley Station is kicking off its introduction to the Savannah food and drink team with sparkling rosé and a red blend paired with a Short Rib Slider, Chardonnay with crab cake and a Sharma baked chickpea dish and more. Kopkas said that the restaurant will be a place in the neighborhood to get a great glass of wine, a small plate of roasted veggies, charcuterie or something more substantial if you plan to stick around for dinner. "It's more or less casual refined food made with the best ingredients made available to us along with an incredible wine list and craft cocktails," Kopkas said.
Kopkas and the other co-owners, his wife Kara, and her aunt and uncle, Steve and Mary Paschall, chose American bistro for a broader based campus of foods to offer while working with the local farmers. "We will be working with lots of local farmers here in Savannah and in the southeast to South Carolina, sourcing incredible products from the smaller farms," Kopkas said. He said he, his wife, and their aunt and uncle would have conversations on vacation over wine about how great it would be for them to one day open a restaurant. At that time it was just a dream, but eventually, that talk turned into action when Kopkas and his wife moved to Savannah less than a year ago. With the help of his aunt and uncle-in-law who had already lived here prior, the team of four made it happen.
"This is what I've been thinking I've been wanting to do my whole life, " Kopkas said. "I think with COVID-19 a lot of people have had time to do some self-reflection and figure out what they really wanted to do with this life and what their goals and dreams and aspirations actually are and they get to embrace that. Definitely, for me, that was a driving force." Kopkas said he has received great feedback from the community in regards to the restaurant opening. Even the former owner of the Atlantic restaurant, Jason Restivo, has been helpful in the transition and implementation of Ardsley Station. "It's important to me and my team for people to know that we're going to be a very authentic restaurant from front to back," Kopkas said. "It'll be in our language and the way we do things every day."
Visit ardsleystation.com for updates and restaurant information. They will be located at 102 E. Victory Dr., Savannah.