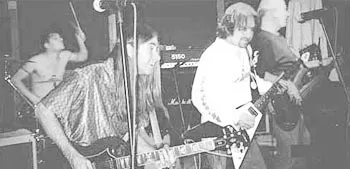 All-Ages Punk & Metal Show
This cavernous, isolated venue about 45 minutes from town is the largest regional space (besides restaurants) where folks under 21 can see live music. This event includes the thrash of Dorian Gray, the guitar-pop of Enter The Collector, and Warped Tour act Thieves and Villains plus Memphis May Fire and Glennville locals Like The Phoenix. For directions, see www.myspace.com/studiobga. Wed., 7 pm, Studio B (Glennville).
American Gun
Righteous, old-school guitar-based roots-rock with a raw, punk-ish edge that should appeal to fans of The Placemats, Chuck Prophet or even Jason & The Scorchers. Opening for Lucero (see Music Interview). Sat., 11 pm, The Jinx.
Big Engine
Popular Jacksonville, Fla. Southern and classic rockers (covers and originals) featuring a founding Molly Hatchet member. Fri. - Sat., 9:30 pm, Scandals (Tybee).
Bluesonics
Long-running local electric blues/R&B party band, in what many feel is their best lineup ever. Sat., 9 pm, Jazz'd Tapas Bar.
Brittany Bosco
Local neo-soul vocalist, who's part of a growing collective of hip-hop and funk artists centered around The Savannah Soul Project and The Dope Sandwich gang. Sat., 9:30 pm, Tantra Lounge.
The Tony Clarke Project
Modern jazz fusion group anchored by a talented touring drummer and percussionist who makes his home in Savannah. Fri., 11:30 am, Johnson Square + Sat., 9 pm, Mansion on Forsyth Park.
Thomas Claxton
Intense, acoustic covers of modern and classic rock hits, plus original material from the frontman of The Long Awaited. Wed. & Sun., 7:30 pm, The Warehouse + Thurs., 7 pm, Augie's Pub (Richmond Hill). *
Mary Davis @ Co.
Pleasant, laid-back acoustic cover trio (soul, pop and shag hits). Thurs., 7 pm, Tubby's Tankhouse (Thunderbolt).
Hazel Virtue
Reconstituted lineup of this popular regional alt.rock band based around singer/songwriter Eric Britt. Fri., 10:30 pm, Churchill's British Pub.
The Jonas Brothers
I realize at almost 38 I'm not the target demographic for this group of adolescent "rock stars," but I know prefab crap when I hear it. This is a crass, corporate-driven illusion marketed to impressionable guys and girls in heat. Still, parents will doubtlessly be lining up for tickets so their children can see the next Bonaduces pretend to be The Strokes (by wearing vests and ties). Wed., 7 pm, Johnny Mercer Theater.
Lurid Miscreants
Tybee-based metal trio featuring "The Ragman" on guitar. Thurs., 9 pm, The Britannia (Wilmington Isl.).
Jude Michaels
Well-known covers (and originals) played on a variety of acoustic instruments with the aid of digital looping. Sat., 10 pm, Molly MacPherson's Scottish Pub.
Mr. Wiley
Young, local psychedelic jam band. Fri., 10 pm, Loco's (downtown).
G.E. Perry & Strange Brew
Hard-hitting blues-rock (covers and originals) led by a longtime area guitarist and singer. Fri., 10:30 pm, The Warehouse.
Diana Rogers
This veteran pianist spent decades entertaining folks in swanky NYC clubs and bars. Now she's made her home in Savannah and is doing the same. Fri. - Sat., 7 pm, Vic's on The River.
Super Vinyl
The last area show till Fall from this local cover band specializing in rarely-played classic rock nuggets by the likes of Hendrix, STP, Neil Young and Cream. Fri., 9 pm, Jukebox Bar & Grill (Richmond Hill).
Voodoo Soup
Terrific, funky, acid-rock and soul cover act that turns the idea of improv on it's ear. Wed. & Tues., 9 pm, Fiddler's Crab House (River St.) + Sun., 10 pm, Mercury Lounge.