NOW IN ITS tenth year, TEDx Savannah hits a record-high number of speakers, and each one is sure to inspire.
"The idea is to spark really deep discussions and generate ideas that maybe we haven't heard of before," says Laura Lee Bocade, on the board of organizers for TEDx Savannah.
TEDx Savannah is an offshoot of TED, the nonprofit that's been around for three decades. Dedicated to ideas worth spreading, TED talks are 18 minutes or less and have been given by everyone from Bill Gates to Jane Goodall.
"[TED] started out as a four-day conference in California," explains Bocade. "The tech boom was happening, and they saw on the horizon how much design has to do with tech and education and engineering. They wanted to bring in the design element, so TED was born."
As TED has evolved, its scope has expanded to include more speakers than just in the tech sphere. It's also branched out into subsets like TED-Ed, focused on education, and TEDx, which is in hundreds of cities across the world.
"TEDx supports individuals or groups in metropolitan areas to support a TED talk in a local community with the same quality," says Bocade. "In this community, the things most of us are passionate about, we talk about a lot—we talk about this stuff to people."
This year, the theme of TEDx Savannah is Southern Moment.um, a choice that Bocade explains is purposely broad.
"We don't want to prescribe what it means," she says. "It can be interpreted as a moment, or as momentum, or as 'moment—Um, wait a minute.' Each speaker is encouraged to use their unique perspective to speak to the topic as it speaks to them."
The 19 speakers bring a wealth of experience to the TEDx stage. Over 90 applicants were culled by the board of organizers in a process that Bocade describes as no less than magical.
"What happens to these individuals, from the beginning of the process to the end, is just amazing," raves Bocade. "In the end, if you're in the audience, you're going to say, 'I can't believe the blanket that's been created by these completely separate individuals.' The program comes together and at the end of the day, it's the absolute complete package. I don't know how that happens every year. There's no way that one human being or 10 could create this. This is the way life is—fascinating things happen in this life that are just outside of our purview, and that's why people have been with us from the beginning continue to come because there's nothing like it."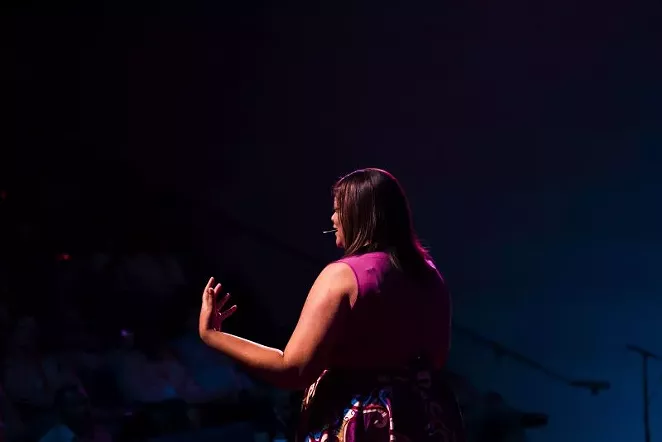 From Greg Parker, founder and CEO of Parker's gas stations, to Jalin Alexander Graham, a music student at Savannah Arts Academy, to Patt Gunn, a beloved Gullah-Geechee storyteller, the collective net cast by these speakers leads to a truly inspirational day.
"There's that old saying—'If you didn't get anything out of this, you didn't bring anything to put it in!'" laughs Bocade.
Friday sees a jam-packed lineup of live speakers, performances, and videos. Bocade advises that the event isn't intended to be on a drop-in basis and that attendees should stay for the duration of the day.
"It'll surprise people because most of our speakers are from the local area," says Bocade. "There are people speaking that people will know, and they might think they know what person or what they're going to say, and we always surprise people. It's also the ability to form connections .We want to build into the day. We do breaks where we can talk with each other. The connections that are made last for years—we hear about this all throughout the year."
TEDx Savannah is sure to help build out that sense of community through the day.
"Savannah has always been a melting pot," says Bocade.
"That's how our colony was started, it's what Oglethorpe envisioned, and I think that's what you'll see."
CS