TANYA SOLOMON combines good old fashioned stage magic with an entertaining, light-hearted comedic style. The veteran of Bindlestiff Family Cirkus brings her "Truth Assassin" show to the Jinx this week for an evening of sleight of hand, illusion, and comedy.
We spoke to Tanya last week.
How does one become a performing magician in 2018?
It's funny. I didn't get into magic until later in life. I wasn't even a performer at all until I was 30.
You could say I literally ran away with the circus. I began doing the Bindlestiff Family Cirkus sideshow, eating fire and all that stuff, and I moved to new Orleans for a little while.
I wanted to stop doing the sideshow – frankly I wanted to do something less dangerous! Then I met the great Harry Anderson, who had a magic shop in New Orleans. So Harry Anderson taught me magic! Magicians don't just take on any students, so that was a big deal, and it got me started.
By 2012 I was hardcore into magic. I've spent years developing this show.
How far do you stray from the traditional type of magic act?
A lot of it is riffing off of classic magic. There are some entirely original presentations, and some of it is my version of classic presentations.
It must be challenging working in a format with such an established repertoire going back so many years. It's not like the laws of physics change.
No one comes up with new tricks out of the blue. We're all using stuff that's been around for decades, or centuries, or thousands of years. There are images from ancient Egypt of what looks like the Cups and Balls trick.
And there's not what you'd call a lot of brand new technoclogy. Technology can be used for tricks, but I put more emphasis on presentation, and how to reach the audience.
No magician is doing all original material. I learned from Harry that not only do you have to be good at magic and you have to have an effect that will startle people and do it skillfully. But at the end of the day it's not about magic, it's about showmanship and performance.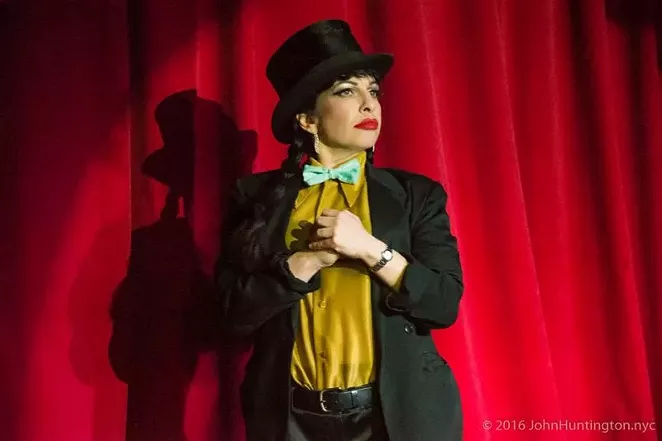 Do you have to deal with the stereotypical loud jerk who is trying to spoil the tricks for everyone else?
I always start from the assumption that the audience knows it's a trick. I didn't go to Hogwarts! But there is an implicit challenge between the magician and the audience. There's a really fun game that comes out of that. That can turn into entertainment.
I'm also looking for ways to really surprise people who think the trick will go one way then it goes another way. I like to pull the rug out from under them and get that pure moment of WTF.
That's why I call my show 'Truth Assassin.' Of course I'm tricking you — it's part of the fun.
But I try to be as respectful of the audience as possible. The worst thing a magician can do is be condescending.
Are you an illusionist? What really is the difference?
Illusionism in magic basically means working with big boxes. Boxes and large animals. I'm what's referred to as a stage magician.
Is there much improvisation that can go on in a magic show?
No! The biggest challenge is to maintain the script while running another script in your head — talk about multi tasking!
The way to master that is to perfect the skills so you can do them in your sleep. Any kid can go to a magic store and learn the secret to a trick. But to really present it takes a lot of work – like a musician, you practice and practice until it becomes second nature.
How often do you take the act on the road outside Brooklyn?
This is my first full national tour – just me and my pup. But if anyone messes with me he will bite their heads off! I'm going back to my DIY punk roots. I don't need a producer or an agent. I booked this tour myself and am promoting it myself. I sometimes just wish I had someone else to drive!
You played in Savannah with Bindlestiff back in the day.
I'm really looking forward to being back at the Jinx. Years ago I played there when it was the Velvet Elvis, with Bindlestiff Family Cirkus. It was one of the best spots we ever played. The people in Savannah were so into it – they'd come all dressed up in costumes.
cs