The 23rd Annual Low Country Home & Garden Show starts this Friday, January 20 and runs through Sunday, January 22, 2023, at the Savannah Convention Center on Hutchinson Island. The annual event features free admission, and organizers promise attendees will get inspiration, solutions, and great deals for home improvement and outdoor projects.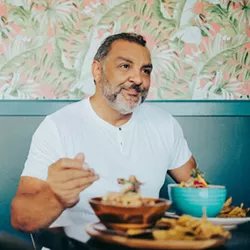 As an added feature this year, guests can sample local cuisine and learn cooking secrets from some of Savannah's best restaurants. Show hours are Friday, January 20, 2-6 p.m.; Saturday, January 21, 10-6 p.m.; and Sunday, January 22, 11a.m.-5p.m.
Some of the 2023 Low Country Home & Garden Show features:
Builders and Remodelers, Kitchens and Baths, Outdoor Living and Patios, and a Huge Plant Sale by Tim & Dave's Nursery. There will also be Pools, Spas & Sunrooms; Windows, Doors & Gutters;
Alternative Energy Solutions/ Garage, Storage and Organization; Flooring, Concrete; Painting;
Gardening; Raised Beds and Landscape Ideas, and a Gourmet Marketplace Featuring Wine Tasting.
Attendees can get advice on interior design dilemmas and learn the latest trends from Interior Designer Michael Siewart ("Signature Mike"). They can also enjoy celebrity appearances from Jesse Blanco of Eat It & Like It and Connect Savannah, as well as celebrity chefs providing demos all weekend long on the Eat It & Like It stage.
Children and families are sure to love the new 6,000 square foot Family Fun Zone, including:
Badminton, Corn Hole, Jenga
Chatham County Parks and Recreation Fun Wagon
Hands on Crafting and Cookie Decorating
Face Painting
Other highlights include:
Pet Zone with Pet Adoptions, Obedience training and treats
Free Giveaways Each Day
Free Plants courtesy of Tim and Dave's Nursery
Free Paint Buckets courtesy of Floor and Décor
For more information, please visit SavannahHomeandGardenShow.com.
Low Country Home & Garden Show Cooking Stage Line-up:
Friday, January 21 (Hours 2PM-6PM)
2:15PM Jesse Blanco prepares Chicken Tortilla Soup
Eat It & Like It Host Jesse Blanco shares one of his favorite bone warming Winter Recipes, Chicken Tortilla Soup.
3:30PM– Finches Sandwiches and Sundries preparing snacks for the weekend / One of Savannah's best sandwich shops, Finches, stops by to show you how to make some snacks for your weekend get together.
5:00PM The Art of the Mocktail— Experienced and Innovative Mixologist Sidney Moses Lance shows you that not all of the best drinks at your next party need to contain alcohol.
Saturday (Hours 10AM-6PM)
10:30AM Tony Seichrist owner The Wyld Dock Bar.Perfect Fried Shrimp
The Wyld Dock Bar is home to some of Savannah's best fried shrimp. What are the secrets to great shrimp at home? The Wyld owner Tony Seichrist will share all of his secrets with you and show you how it is done.
Noon Derek Simik, Executive Chef 700 Drayton and Reno, The Mansion on Forsyth Park. One of Savannah's Newest Southern Italian restaurants faces Forsyth Park. Chef Derek joins us to prepare some of his favorite Italian classics.
1:30PM –Elena Mouzakitis Hughley, Owner and Exec Chef of Elena's Enchanted Kitchen Catering. Specializing in Greek and Mediterranean favorites will join us to share some of her most popular dishes and some of her grandma's Greek secrets!
3:00PM - Fun with Plant Based Proteins – Clay Ehmke, owner of The Haunt, one of Savannah's more popular plant based eateries stops by to share some of his bounty and tips on how you can make plant based cuisine as flavorful as possible without compromising integrity.
4:30PM – Eat It and Like It's Jesse Blanco – Black Bean Soup. Jesse shares his not so secret recipe for black beans that he prepares every Christmas Eve for family and friends.
5:15PM– The Perfect Cup of Coffee 912 Brews Savannah's Newest Coffee Shop will be on hand to talk about how to get the most out of your cup of coffee at home.
Sunday (Hours 11AM-5PM)
11:30AM – Brunch with Eat it and Like It's Jesse Blanco. Jesse shares some of his favorite brunch bites. Perfect for your next lazy Saturday morning with the neighbors.
1:00PM – The Art of the Mocktail - Anthony Scarpulla with Vici –Savannah's Newest Rooftop venue preparing mocktails for weekend entertaining and a few surprises.
3:30PM Dessert time! Wrap up a great weekend with a local chef preparing one of their classic Savannah desserts!