THE AVETT BROTHERS have been on quite a musical journey of evolving their sound over the past decade, going from a trio playing acoustic guitar, banjo and stand-up bass to what is now a seven-member lineup that can build considerably on the group's scrappy, stripped back acoustic beginnings.
The big shift came with the 2009 album, I and Love and You. Produced by Rick Rubin, it found the Avett Brothers retaining their acoustic foundation, but broadened their instrumental and stylistic reach to the point that the group could no longer be considered simply folk nor acoustic.
The next two albums, 2012's The Carpenter and 2014's Magpie and the Dandelion, continued down that path. And now, Seth Avett, who started the group with his older brother, Scott, in 2000, feels the new Avett Brothers album, True Sadness, represents another leap forward for the group.
"This one's a major one in terms of me reframing what I think the Avett Brothers sound like," Seth Avett says of True Sadness.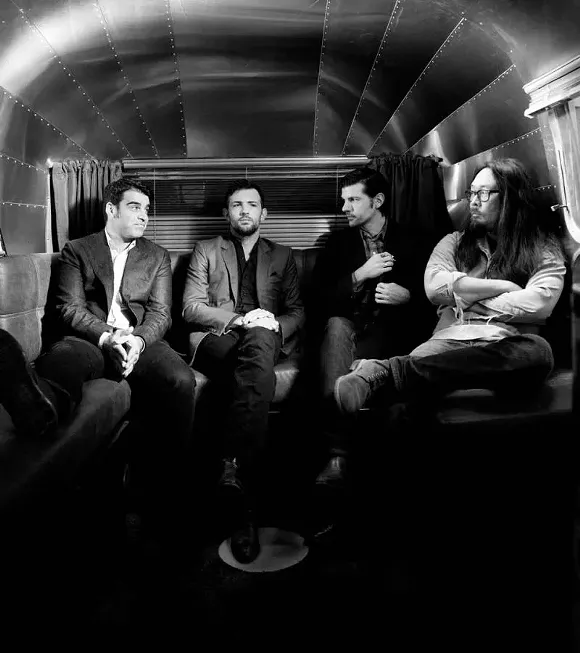 "You know, it's a funny thing. For an artist, they really love to be surprised by some thing they're making that doesn't sound like them. Whereas a lot of times the listener is like 'I don't want to hear, like if I want to hear calypso, I'm going to listen to a calypso artist. I don't go to the Avett Brothers to hear calypso music.' And I get that. But I hope, what I feel like is happening is we are opening ourselves up further, further and further in the aesthetics, to have no boundaries while hopefully staying heavily rooted in what makes us us, which is by and large some version of story telling, I think."
Recorded with the current seven-member touring band (bassist/fiddle player Bob Crawford, drummer Mike Marsh, keyboardist Paul Defiglia, cellist Joe Kwon and fiddle player Tania Elizabeth), the songs on True Sadness touch on a myriad of styles.
There's stomping pop delivered with bass, drum and a ragged choir on the first single, "Ain't No Man." "You Are Mine" takes jangly folk-rock and gives it a jolt with a big, fuzzed up bass line and sprinkles of keyboard. "Fisher Road" is a gentle and pretty finger-picked acoustic ballad. "There Is A Sea" sounds like it was written for an epic western or sea-faring movie soundtrack.
Even with that variety, True Sadness sounds very much like an Avett Brothers album, mainly because many of the songs ("Roof Over My Past," "Mama," "Smithsonian" and "No Hard Feelings") still have the acoustic folk and rough-hewn rock foundation that defined the early music of the group.
Seth Avett agrees with that assessment.
"You can't change your beginning. You can't go back and change where you're from. It just is what it is," he says.
"Our skeleton is the acoustic guitar (played by Seth) and the banjo (Scott) and the stand-up bass (Crawford, who joined the Avetts in 2002), and our stories and our romanticism and me and Scott's voices. That's what we are at our core. So I think as long as we don't disgrace that or completely turn our backs on that, I think it will come through."
Like the previous three albums, "True Sadness" was produced by Rubin (whose work with the likes of Johnny Cash, Slayer, Tom Petty and ZZ Top, to name a few, has made him one of music's most respected producers).
The friendship and familiarity that has developed between Rubin and the band made for a great environment during the making of "True Sadness," Avett says.
"There's just this friendship and there's this great mutual respect," Avett says. "So it really sort of freed us up to have a lot of fun and have a lot of experimentation with just a good friend. I think it makes for better work because there are no nerves in it."
The two Avett brothers remained the songwriters on True Sadness, but Avett says the other band members, more than ever, brought their influences and ideas to the table and had a big hand in how the songs grew from their bare bones beginnings.
"We have, I think, a very good, very natural sort of rhythm within our communication where Scott and I are able to present our visions for a song," Avett says.
"You just have faith in the players and you don't have to micro-manage everything...I think we all have enough experience where we can come to a great agreement, normally without saying anything at all."
That sort of chemistry has been developed through four-plus years of touring. And while shows of recent vintage demonstrate that the seven-member lineup is plenty potent live (a recently released concert disc, "Live, Vol. Four," offers a good example of the group's live sound), Avett feels the group has plenty of room to grow as a live unit.
"We have not really fully embraced what is possible here with this band. I mean, seven people with more than a few that are multi-instrumentalists, there's a lot that can be done," he says.
"I know we've embraced it a little. But over the last couple of years, we've worked up kind of outlaw country songs, a Harry Belafonte song, we did a Beyoncé song for a little while. Sometimes it starts feeling like we really could be presenting something with a lot more breadth than we have so far," Avett says.
"Now, we're committed to our original material. That in and of itself is going to be kind of a stew of a lot of things. But man, it's so fun to dig into something that seems really out of our comfort zone and then realizing we can actually present it because of this band."
Some of that growth could happen as the group revisits songs both new and old on tour and explores different ways to perform the material.
"Right now, it's that very exciting time, which only happens for us once every few years now, where we're starting to share, like really share in earnest, all of the new material from the new record. That just has a way of injecting some life into the whole set," Avett says.
"We subscribe very heavily to like the Dylan mentality where no song, it's not settled how you play the songs," he says.
"Like one night it might be, whatever, a ragtime song, the next time it might be folk. If the night and the personality of the night, the audience and the feeling is calling for something different, you don't fight it. You try to go with it."
CS