THE CITY'S bustling with college students' return, there's a briskness in the night air, and, as you stroll downtown, the sounds of trombones, guitars, and drums waft on that gentle and so desperately anticipated evening breeze.
It's the annual Jazz Festival, marking that wonderful time of year cozied between summer and hectic October, launching "festival season" as we know it here in the Lowcountry.
For absolutely free, any and everyone can head to Forsyth Park with a blanket, lawn chair, and picnic basket to experience first-rate jazz, blues, and fusion live and in person. With its democratic, communal nature, it's one of Savannah's best-loved cultural events, a tradition for many locals and a boon to the tourism industry.
"You go out and look at the crowd, the Jazz Festival cuts across all demographic lines," observes Skip Jennings, Coastal Jazz Association (CJA) board member.
"From Hitch Village to The Landings, people love the Jazz Festival! Walk through the crowd, and you'll see a very diverse group of people."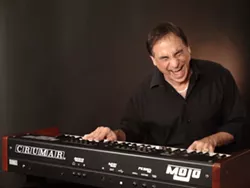 This year's roster is as varied and delightful as ever, with six full days of entertainment for the whole family.
Fans of the Hammond B3 organ sound will want to check out Tony Monaco's performance. "Tony Monaco's about the hottest thing out there on the Hammond B3 organ," Jennings praises.
This year's guest of honor is undoubtedly Fred Wesley, an American legend best known for his work with James Brown and Parliament-Funkadelic.
"He's like, the funk trombonist, and that's what he's really known for," explains Jennings. "He's done mostly funk stuff, played with Dr. John and other people...he's also a hell of a jazz payer, too. Just a capital guy, too, nice as he could be—just a really warm, nice human being, and a music legend, too."
Young blues king Jarekus Singleton, undoubtedly one of the most exciting performers at this year's Savannah Music Festival, returns for another great show; his spirited riffs are dance-ready and contagiously fun.
Despite a fresh roster of talent, 2015's festival brings some changes.
"It's usually three nights in the park, and we're cutting it down from being in the park to being in the Mansion," Jennings says.
"We'd usually be doing four acts, starting at 6—this year, we're only doing three acts, starting at 7. Same thing Friday—Friday Night Jazz in the Park, we're doing four acts this year instead of three."
Every year, the City of Savannah grants the Coastal Jazz Association $5,000 for the outdoor performances; the organization has to match it. This year, they didn't make it.
"We're trying to put on a happy face," says Jennings. "The problem is, we've just had trouble getting enough funding within the community."
"It's a bit smaller, but a whole lot less expensive," he says, looking on the bright side. "When you start adding up all these costs—we say this every year—it's free to come, but takes a lot of money to put on the festival."
Major changes in Savannah, both culturally and economically, have impacted the festival's ability to match the City's donation.
"There's not as much money coming from industry," Jennings explains, "because there's not much local in terms of industry as there used to be."
The loss of bassist Ben Tucker, killed in a traffic collision in 2013, has drastically changed things, as well.
CJA wouldn't exist without Tucker—the Association was actually conceived after Tom and Connie Glasser, Judy Lancaster, Isadore Karpf, Randy Reese, Bruce Spradley and trombonist Teddy Adams attended a jazz appreciation course taught by the legendary local.
"It's been two and a half years since Ben died," Jennings says. "He had a lot of connections, and everyone loved him. He was able to raise money. We're not able to replace Ben."
Jennings encourages businesses and individuals to support year-round programming and the 2016 Jazz Festival.
"If you own a business, we would love to have you be a part of the Jazz Festival," he says. "Sponsor the festival, sponsor an act, buy an ad in the program."
Members of the Coastal Jazz Association are granted free entry to concerts throughout the year. At $50 a year for individuals and $75 a year for couples, that's a great deal to catch twelve months of world-class jazz performances.
"We would love to see more businesses step up and get involved with us, supporting us," Jennings says. "This whole event promotes good feelings among everyone in Savannah in a way that very few other things do." cs