Lauren Teague, the DeSoto Hotel's Director of Food & Beverage and Executive Chef, is ebullient, vivacious, full of laughter, and deeply creative.
"Many years ago, when I was a younger woman, I wanted to be a star!" she begins. "And like all stars you go to New York City. Eventually you realize you're just one of thousands of girls auditioning. And what do you do? You wait tables. And then one day, you stop going to dance class and auditions."
Really enjoying her work in restaurants, the would-be professional ballerina regrouped and enrolled in the Culinary Institute of America "because it was the first time they were going to have a four-year Food & Beverage Manager program." As part of her course requirements, she had to take culinary courses. "My mother laughed," she says, "I could not boil water!"
It was 1996, and she was one of two girls in her class of 150, and there were no women chefs in the school. But thanks to an inspirational professor who taught a course on butchery, the trajectory of her studies shifted from front-of-the-house management to cooking. "He put this half pig in front of me, and it was the most amazing day ever. I loved it!"
Following an externship in Arizona where she met her husband, also a chef, Teague graduated with High Honors, and together, their careers took them all over the States. Ten years ago, they came to Savannah for Chef Lauren to accept her first Executive Chef position at the Andaz Hotel, and her creativity flourished…
Andaz means "personal style" in Hindi.
Teague and two other executives were charged with creating the story and style for the hotel – the vision for the china, rooms, food, artwork, and the fabulous – and sorely missed – art salons where local artists, theater companies, musicians, and other creatives would be celebrated and introduced to both hotel guests and locals.
"My General Manager at the time (now the GM at The Thompson) was the most open, forward-thinking person."
These immersive, fun salons featuring Teague's themed food and drink pairings became true Savannah legends.
Chef Lauren left the Andaz when given the opportunity to start a neighborhood restaurant from the ground up. Working with Ida Rush George and Jason and Jennifer Restivo, they created the incredible, and again, sorely missed, Atlantic Neighborhood Eatery.
After two years she moved home to help her dad in Pennsylvania —her mom had recently passed away and he had fallen and broken his shoulder—returning after several months to take the Executive Chef position at the Kimpton Brice Hotel.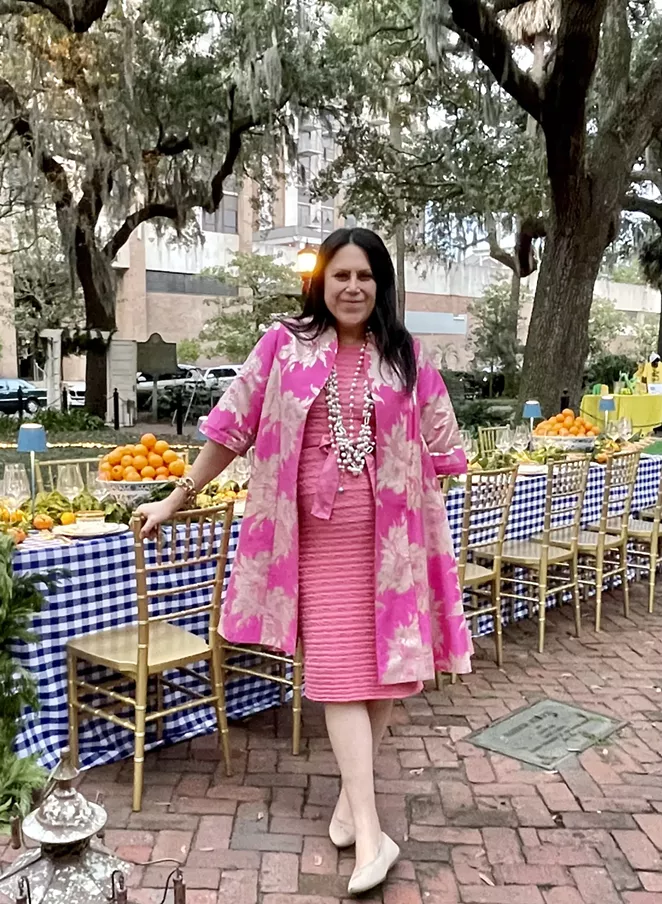 "I was very blessed. I had a great GM, and it was so tiny there were only about ten of us; It was family."
With just a 40-seat restaurant and one small banquet room, she had the creative freedom she craved.
After Covid hit, Teague was extremely grateful that she and four others were kept on (she worked in the laundry for a while), but after a new management company took over she made the decision to move to the "old battleship" of the historic DeSoto Hotel.
Originally opened in 1890, "she is a big old beauty," she says. "She has some challenges. No one loved this building for a long time, but we are going to leave it better than we found it."
And in a full circle moment, Mitch Linder, her old GM at The Brice, became GM in August, allowing her artistry and imagination to again be given free reign.
In order to attract excellent chefs and staff, Chef Lauren had to sell her vision for the hotel. She tells me the story that inspired the cuisine in the main restaurant, The 1540 Room: "In 1540 DeSoto came to America. He would have sailed the world and acquired saffron and turmeric and all these beautiful spices. So basically, we do this melding of Mediterranean, North African and Asian food with foods from the South. It's delicious! Chef Collin Clemons uses 920 Cattle & Company, Gannon Organics, Vertu Farms, and other local purveyors. And then I have Andrew Noye, our sommelier, who gets wines from Armenia and other obscure places where DeSoto would have travelled."
Chef Lauren now oversees 62 employees, creates food for Edgar's Proof & Provisions ("the best burger in town") and the lobby's Buffalo Bayou coffee shop and, of course, caters numerous events for the hotel's busy banquet department.
On December 4, her hallmark innovation and originality shone at a private event hosted by the Savannah Convention and Visitors Bureau on Madison Square. Fifty East Coast meeting planners were invited to explore the city for four days, and Chef Lauren had the privilege of organizing the first gathering.
"I love throwing a party," she exclaims. " It's like hosting a salon! I started thinking about people I know and how I could create a Savannah garden book party." She envisioned guests entering the square through white doors to visit book-inspired stations where themed food and beverages would be served.
One part of the square was reserved for the author of High Drama Tablescapes, famed hostess Alexandra Trujillo de Taylor, HRH the Duchess of State (who I wrote about on October 5).
Showcasing her expertise and flair, Alexandra set an exquisite table for 20 guests, and befitting the Duchess, Chef Lauren served champagne, deviled eggs and a divine seared scallop with caviar on a potato pancake.
SCAD President Paula Wallace's memoir, "The Bee and the Acorn," was on display directly in front of SCAD's buildings – the Savannah Volunteer Guards Armory, now Poetter Hall, and the 1926 Scottish Rite building.
"My brain thinks fusion when I think SCAD," Chef Lauren says, "so I prepared this purple tequila passion fruit drink, chicken and chorizo meatballs, and a black bean burger" to riff off their art-school-vibe.
Another area of the square was inspired by books about Savannah native and Girl Scouts of America founder, Juliette Gordon Low.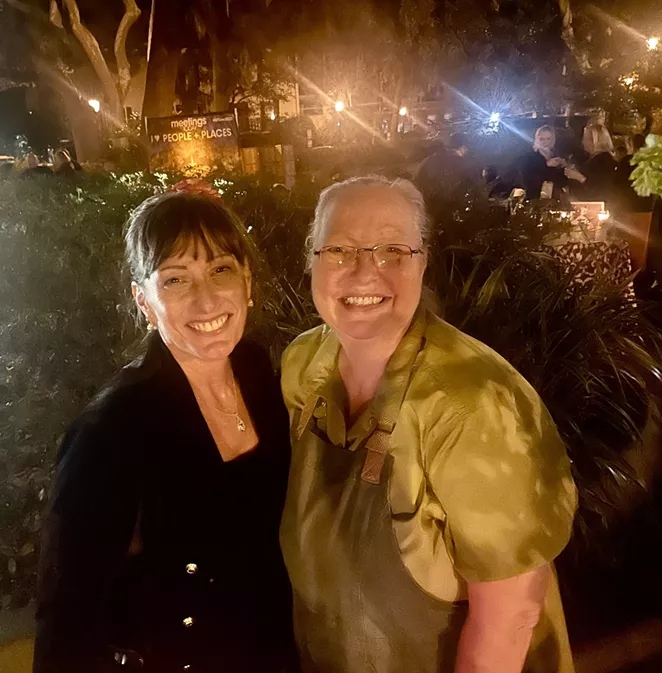 Here Teague served braised lamb while attendees participated in an activity – writing cards to servicemen and women which will be included with the thousands of boxes of cookies Girl Scouts annually send to overseas miliary members. (Who knew?)
Local author Jessica Lebos, who will soon publish her second collection of Savannah Sideways tales in The Camellia Thief and Other Stories, inspired Chef Lauren to create food and drink that was "old fashioned with a splash of panache."
A surprisingly delicious sardine with saffron aioli and roasted tomato on grilled bread was accompanied by the BEST old fashioned cocktail crafted by Proof and Provisions' mixologist Shannon.
Meanwhile, on the other side of the William Jasper monument at a station dedicated to Savannah baker Cheryl Day, author of The Back in the Day Bakery Cookbook and the Treasury of Southern Baking, Teague served braised southern pork belly with smoked apple butter on Day's famous fresh baked biscuits, along with her bacon jam and cheddar empanadas.
Sweet tooths were satisfied at the final station of the night which highlighted the Savannah Ghost Pirates and Savannah Bananas. While picking up copies of Bananas owner and marketing guru Jesse Cole's "Fans First," guests enjoyed banana cream sodas and banana splits made with (what else?) Leopold's ice cream … Surely by now the event planners have pieced together some of the elements that make Savannah so unique!
Disappointed you could not attend? Locals are encouraged to participate in Chef Lauren's latest creative endeavor – the Twelve Days of Christmas at the DeSoto, which started December 12.
"On the first day, Twelve Drummers Drumming, I'm going to have our own drumline marching around the hotel…For Seven Swans-A Swimming, we'll throw a pool party with inflatable swans…For Two Turtle Doves, Chef Collin will teach a couples' cooking class," Teague enthusiastically explains. (Find full details on the DeSoto's website.)
These are the types of events that fill Chef Lauren with joy. While she recognizes that "This hotel has a reputation for being very traditional" she has the creative vision to affirm, "We're going to be the cool kids on the block again."
What an absolute pleasure to meet this warm and genuine woman who inspires fealty and devotion to such a degree that three quarters of her staff have worked with her in the past.
"Someone once told me, 'Rule the day. Don't let the day rule you,'" she tells me. "The way that you are is the way that the people who work with you will be. We just need to relax and have a good time."