THERE'S A new theater company in town, and their name is The Diversified Collective. The group was founded by SCAD alum who wanted to see a more inclusive, diverse, and boundary-shattering theater experience take place in Savannah, and they're kicking all of that into full gear with The Metromaniacs.
The play is a modern take a French farce comedy from the 1700s, adapted by playwright David Ives.
What the collective has done with it, however, is break down the barriers of gender and race that are often written into plays and focus their casting on a more diverse and undefined approach, rather than more standard and binary casting choices.
Ahead of the company's debut performance, opening at the Cedar House Gallery on Jan. 10, we spoke to director Rachel Ussery and producer Luisa Nolasco about doing The Metromaniacs for their inaugural production and why the work they're doing matters in theater.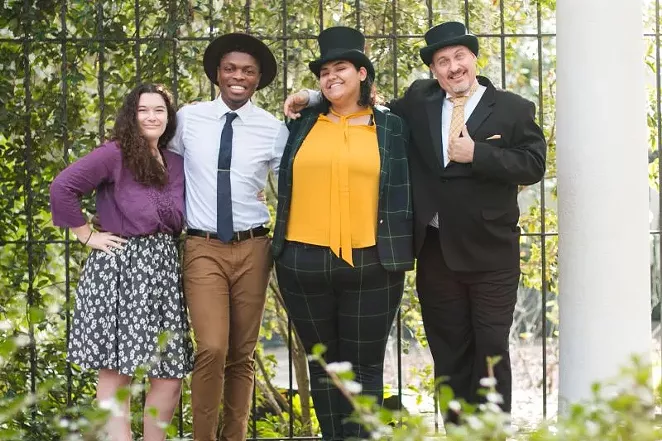 Y'all must be feeling a range of emotions right now! What's the feeling like at the moment, with the first show about to be underway?
Nolasco: I was talking to someone yesterday and I said, "It's like having your first kid." You have all of these expectations and you plan everything, but things don't always go exactly as you planned. It's going to be your child, though, so no matter how it all goes you're going to love it.
Ussery: [This show] definitely has a mind of its own. The way that it has developed over time, working with the actors and developing the characters, and watching everybody bring it from the page to real life has been super incredible and really crazy!
I bet! How does one go about starting a theater company? Walk me through the process of starting with the initial idea and then getting it to this point.
Nolasco: I recently graduated from SCAD, and I'd been having this urge of wanting to create a group of actors and artists coming together to put up something that's meaningful to them. That's why we use the term "collective." I always wanted to build a group where the main philosophy was to change the way casting is done, and the way storytelling is perceived with diversification. Not putting a wall within your casting or thinking that a character needs to be a certain way because that's what the majority prefers.
I wanted to create this principle with The Diversified Collective because I'm from a diversified background. I'm not American; I'm from a different country and the United States embraced me. Everyone in our cast is of different backgrounds, and that's the beauty of theater. With The Metromaniacs, it was a play that I had in my back pocket for a few years now but felt I needed to find the right people and the right time to do it. I'm so grateful to have that, because it is a hell of a ride of a play. We're planning for people to just enjoy going to the theater, but it really is like a marathon. It's based on classical theater, so it does open a side of theater that a lot of people are scared to go to because it's maybe not their thing.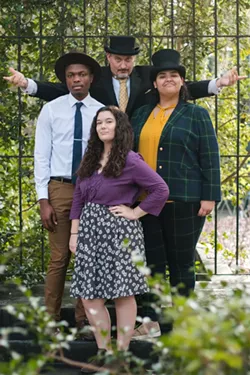 When it comes to creating diversity in casting, how did you go about creating that environment for people of different backgrounds?
Nolasco: The first thing with The Metromaniacs is that the only thing they say about it is that it's set in France in the 1700s. When you think about it you'd think, "Oh, everyone in the cast should be white," if you think about what France would look like in the 1700s.
My first thought was, "Which characters could women play that are male characters?" We didn't want to be stuck with gender as well as race. The cast is seven people, majority male. But we didn't want to do that—that's the beauty of acting, too. You get to play parts that aren't you. We're not gender-bending the characters, we're just having women play male parts.
We also have a dad that is white and a son who's black, and we have two people who are supposed to be family but they're of different ethnicities. It doesn't have to be coordinated a certain way for the story to make sense.
Ussery: It's more important that each actor has the best essence and background to tell the characters' stories. Some of the people who would probably be cast as straight white males are probably played better with an Eastern Asian female voice.
Nolasco: It's taking pretext out of the equation and saying, "We're just going to listen to these actors and see how they fit."
Do you feel like this is a way to maybe show younger playwrights that they don't have to abide by certain rules or stay boxed in to a more binary or closed-minded approach to creating characters?
Nolasco: Absolutely. It's empowering to the younger generation. One of our actors plays a very wealthy woman who's so full of life. For someone in the audience who's of that background, seeing themselves represented like that could help them feel like they can write or act. It opens up the idea of, "Just because I look like this doesn't mean I can't act, or that I need to stick to one way of storytelling."
I like seeing myself when I see movies and theater. I want to see myself in the stories. Race, ethnicity—it doesn't play for us. It's just the story [that matters].
Ussery: I think it's not only good for people of color who want to enter the arts, but it's also just good for the industry to have more voices until it's become normalized. It's a generational thing; if people grow up seeing a diverse group of people on the stage or the screen, they'll just assume that's the way life is and be more open to writing stories that are different and diverse.
I'm reminded of the show Schitt's Creek, and how they navigate the main character's sexuality and his relationship. They made it a point on that show to not include any kind of homophobia or negative perspective on it. They simply normalized it, and nobody around it questioned anything because it just is.
Nolasco: Exactly, it just is. There aren't any questions being asked because there's no need for questions to be asked. That's what we're trying to do; we want to help to introduce that concept into the industry so that we all can be normalized. I think introducing that more and more would let younger generations understand that they don't need to be afraid of who they are. They just need to embrace and celebrate it.
cs