THE CITY OF SAVANNAH partnered with the Downtowner app last May, in an attempt to provide more transportation options to ease parking congestion and pressure downtown.
The Downtowner service is mainly intended to provide a free, night-time shuttle option for workers in the downtown food/beverage and hospitality industries.
The existing DOT Shuttle was originally set up to deal with daytime users and early evening users, but couldn't realistically be extended later.
"We couldn't expand the DOT Shuttle past midnight," says Sean Brandon, Director of Parking and Mobility Services. "We decided this might solve our issues. The Downtowner is designed to address late nights in particular, although it starts at 5 p.m. It goes from 5 p.m.- 5 a.m. every day."
Brandon says the genesis of the idea came from researching how other cities addressed the dilemma.
"We had been looking at a few cities that had been experimenting with on-demand transit systems, Tampa being the largest of them, and decided this might help to solve our issues," he says.
"We have 800-1000 sought-after parking spots downtown, and way more people than that trying to get to them. Our pricing for parking is set so that you can pay a little bit or nothing, but you will be much farther from the core of the city," Brandon explains.
"In exchange for doing that, we take it as our responsibility that you have multiple options for getting into the core of the city, whether that be bussing, on-demand services, and the bike improvements we've made. We want to make sure we've maximized all of our options."
The Downtowner works like this:
If you're within the boundaries of Park Street and the Savannah River, MLK Jr. Boulevard and East Broad, you can call for a Downtowner and move about within those boundaries free of charge.
The fleet currently consists of two electric Chevy Bolts, with an additional pool van for busy times.
If it sounds a lot like Uber or Lyft, you're not wrong.
"All of our vehicles operate much like Uber pool," says Brandon. "We try to arrange people to be picked up from generally around the same area, and drop them off in around the same area."
If you're outside the boundary, however, there still are ways to use Downtowner.
"We have quite a few people who live right on the outskirts of the boundaries, who, rather than drive, just walk to the boundary and then call for the Downtowner," Brandon clarifies.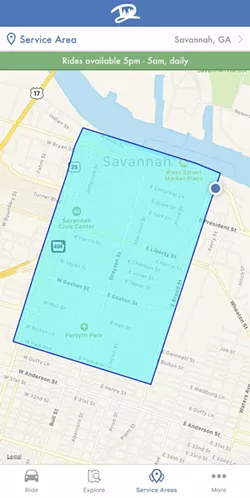 "What we know anecdotally from the drivers is that it is a whole mix of people during the early evening hours, and that's perfectly okay. What we know is as the night goes on, the later it gets, the more it starts shifting to workers," Brandon says.
"During the weekdays, the peak is normally around 10 o'clock, or something like that, but typically on the weekends, when we know a lot of workers get off their part-time jobs, is when the peak is closer to 2 in the morning. So you have an initial peak in the early evening, and then a second peak that happens as workers try and get off from work to their car," Brandon explains.
This first peak in usage may come from other users, however. Brandon is clear in saying that anyone can use the service, even tourists.
"Whatever services that are offered in Savannah, just because of the sheer number of tourists, it will be used by them — and that's okay, as long as we're meeting our original intent to assist late-night workers."
This high amount of usage has some setbacks. "We started our average ride time around five minutes, now we're closer to ten. And that's okay, but we don't want it to go up much more than 10 minutes."
This app does fill the gap of a much-needed service, and Brandon says it's seen great success so far.
"Over 11,000 people have made accounts," he says. This amount of ridership means great success for the Department of Parking and Mobility Services.
As far as the future of the app, Brandon says, "Ultimately, that's a City Council decision, but I would say given the ridership currently, it would be renewed."
The highly affordable nature of the app may not be at risk, either.
"Either free or as close to free is always our goal," Brandon accounts.
cs