It wouldn't take a three-day audit on my time to know how much we invest here in everything that's new on Savannah's food scene.
It's significant. Deservedly so. I've mentioned in this space more than once that–at any given time–we could count a dozen or more new eateries that are planned to open here in our city at some point in the not too distant future.
It is also fair to say that this is probably the fastest growth in Savannah's storied history. And all I am referring to is restaurants.
That's saying nothing about the number of hotels and apartment complexes being squeezed into every nook and cranny they can find in and around our Historic Landmark District.
The good news is the skyline is unlikely to change dramatically for reasons I will leave to someone else. The bad news is the landscape is absolutely changing right before our eyes. Very dramatically if you ask some and they aren't too thrilled about it.
"It's just not the same down here anymore." Is how Steve Llewelyn put it when I talked to him a few weeks ago about his decision to close his Soda Pop Shoppe on Bull Street downtown.
The building has been in his family for years. How many of you remember Blimpies Subs on the corner of Bull and State years ago? That was in Steve's family as well.
"We don't see the same people," he said.
He's right. As big money comes to develop some of the properties that had been ignored downtown for many years, you are getting a lot of people choosing to move their offices out of downtown.
That means fewer lunch time chats over a chicken salad sandwich with the attorney down the street that you've known for years.
Instead, they are being replaced by visitors from Ohio or Tennessee who are only interested in the cheapest eats they can find.
And they'll still complain about prices. I've seen it happen. Don't get me started.
Michael Meeks set up his shop, Goosefeathers Café and Bakery near Ellis Square close to two decades ago. He's done very well with it. It is one of downtown Savannah's most popular breakfast spots.
The line out the door will tell you that. He's been dreaming of his plot of land in Metter for a few years now. A couple of years ago as we were climbing out of '2020', he said something to me that I've heard a few times since.
"It's a young man's game down here now"
Mr. Meeks finally sold Goosefeathers this month. He's moving out to Metter. "Golden Years" he calls them. Gerald Schantz on Tybee Island did the same. Last year he sold the very popular and eclectic Pig and Shrimp shack he created out there. Zunzi's is now taking over.
There are several other examples of what we are talking about here. But you get the picture. Or do we need to bring up Krispy Kreme on Skidaway Road again? I sure hope not.
Have we bummed you out enough?
Yeah, I get it. The irony is, I'm about as excited about what is happening in our city as anyone can be.
For every Michael, Steve or Gerald out there, there is a new wave of young, hungry, passionate people looking to do great and creative things here in Savannah.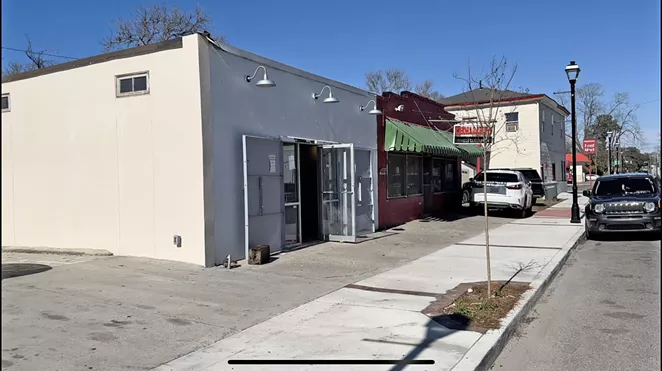 Clinton Edminster, a fixture on our civic scene in Savannah, is as we speak, weeks away from building out a very no frills café on Waters Avenue near Victory Drive. A corridor that is on the uptick after being largely ignored for decades.
Two young men from Los Angeles, one of them a Hunter Army Vet, have built out a gorgeous rooftop venue at MLK and Charlton with their own two hands. VICI Rooftop is beautiful. You should take a look. Brunch is coming there soon.
On Broughton Street, a celebrated New York chef, Christopher Meenan, is building out a grab and go café and bakery.
Dottie's Market should be open this Spring.
And, of course, there are more.
That doesn't make everyone happy. I most certainly get that.
If I had a nickel for every time someone said "I miss old Savannah."
From my seat though, change is good. Growth is good. Progress is good. Without it, we'd still be waiting for a guy to pull up on a horse twice a week with correspondence from your long lost relative in Garden City.
Count me among the crowd who is excited about what is happening in our city. I've seen it from almost the ground up since arriving in 1999. I live downtown. I see the 'visitors' regularly. Yes, I'm irritated when they stand in the middle of the street taking pictures at Chippewa Square without any regard to vehicular traffic. I get it.
But I am also glad they are here. Spending their money here in one of the most picturesque neighborhoods in America. That is a fact.
Is that going to help some of you feel better about what is happening in Savannah right now? Probably not.
And that's OK.
As long at the people in charge of responsible growth do what they are tasked with doing, I think we are going to be just fine.
What's in store for Savannah in the next 5-10 years is going to be wonderful and I can't wait.