THIS WEEKEND, comedians from across the United States descend upon McDonough's to take over the cozy pub's stage and leave Savannahians in stitches.
We've seen festivals that emphasize comedy 'round these parts in the past, but The Hostess City's never hosted something quite like the inaugural Savannah Comedy Festival.
"The full purpose of the Comedy Fest is to bring in what we think are awesome, cutting-edge comedy shows," says co-founder John Brennan.
"I'm such a comedy geek, and I think Savannah has a really fun comedy scene of great local comedians," fellow founder Brianne Halverson says. "But I wanted to bring more people in from outside Savannah. I'm such a fan of Stopover and Savannah Music Festival, and we wanted to do something like that for comedy."
To kick off their first fest, the organizers have called in a multitalented crop of funny friends and cohorts from all across the comedy world. Savannah Comedy Fest is about more than stand-up: there's sketch comedy, improv, musical comedy, and much more.
Brennan and Halverson are very excited to welcome headliner Michelle Buteau. In addition to a hysterical Comedy Central special, Buteau's been cracking folks up on popular shows like Key & Peele, The Eric Andre Show, The Late Late Show, or as co-host of VH1's Big Morning Buzz Live with Nick Lachey. She's is no stranger at VH1, having appeared on the I Love The... series and Best Week Ever numerous times.
Musical comedians Squirm & Germ bring high energy and lots of fun. Their videos have been featured on CollegeHumor.com and the NYC duo has shared the stage with Reggie Watts, Kristen Schaal, Colin Quinn, and Arden Myrin.
Charleston's Nameless Numberhead returns to Savannah with their brand of absurdist dark comedy.
Vernon Moses, a sketch duo featuring Jon Antoine and Deshawn Mason, blends pop culture references, life experiences, and eccentricity to their set.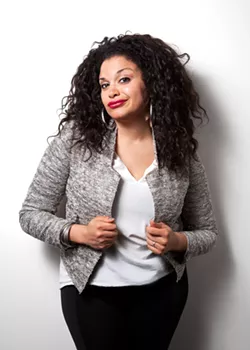 Savannah Comedy Fest is also home to several long-form improv teams, including Big Dicktionary, Selfie Schtick, and Storck & Carey.
Look for locals Front Porch Improv and Mobb Line, SCAD's mainstage improv company, reppin' the home team.
Selecting performers who represent a variety of comedy styles was a very conscious decision for Savannah Comedy Fest's organizers.
"Our vision is having interesting people who are doing all kinds of comedy—edgy, interesting, absurdist, weird, fun, cool comedy—that's the goal," Halverson says.
"Right now, I think the improv is all short-form in Savannah, and we're trying to do long-form like you see in New York, L.A., and Chicago. And we're definitely going after sketch, because there's no sketch scene in Savannah."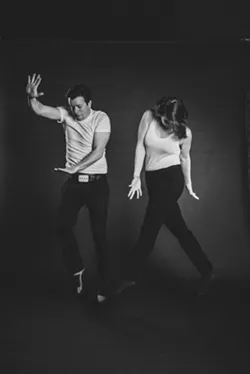 "To [the audience], comedy is just comedy," Brennan explains. "They don't care if they're doing standup, improv, or sketch, as long as they're funny. I'm excited to see the responses to the different variations of what improv, sketch, and standup is."
Both Brennan and Halverson hope that the festival is the beginning of something great for Savannah.
"This is something we'd like to grow and get bigger, but even if it doesn't, we want an opportunity for the out-of-town stuff to come here," says Brennan. "And the response has been great."
Halverson hopes that the event helps Savannah continue to grow as a creative hub.
"I love that Savannah is an artistic community, but a lot of it is very visual," she notes. "The music scene has come so far in the last five years, and I think it's time now for comedy. Why can't we have cutting-edge, funny comedy? We have really good comedians here, and it's time for a bigger scene, for the people who go to Charleston and Atlanta to come through Savannah. We want everyone to connect, celebrate, and be inspired."
CS