AUGUSTA, GEORGIA's Leonard "Porkchop" Zimmerman is an accomplished artist, graphic designer, and SCAD graduate.
He is also one of the most effervescent and buoyantly uplifting people you could ever know. But his is an optimism born partially out of hardship.
In a now-legendary TED Talk from 2014, Zimmerman says of his viral Happy Robot character, "I designed a yellow poster with a little robot head with a lightbulb on top and the word 'happy.' And people seemed to connect to that."
Directed by first-time filmmaker Michael McKinley, Happy: A Small Film With a Big Smile tells the story not only of Zimmerman's Happy Robots, but more importantly the story of how he overcame the tragedy of losing his longtime partner Brian to meningitis.
While most of the film takes place amid the perhaps surprisingly strong arts community in Augusta, there is a Savannah connection as well. It was here while attending SCAD in 1998 that Zimmerman met and fell in love with Brian.
One of Savannah's favorite local musicians and longtime Zimmerman confidante, Jon Waits, is featured in the film. His band Waits & Co. will play a special meet-and-greet for Happy at El-Rocko Lounge this Wednesday night at 7 pm.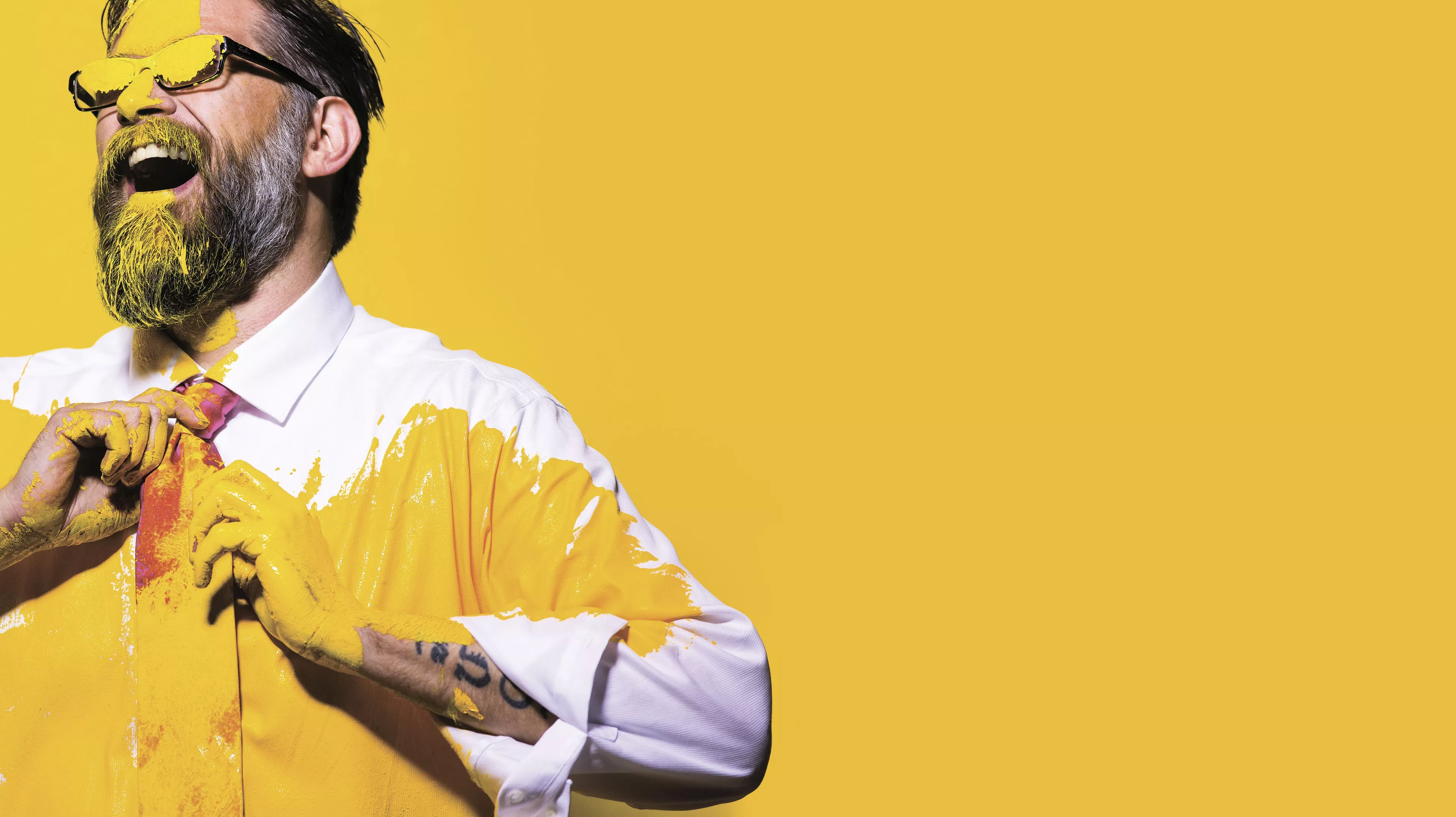 We talked to the also quite uplifting director Michael McKinley last week. He will attend the Thursday screening.
This film is so professionally made, and the vibrant, up-tempo pace is such a perfect analogy of Porkchop's own personality and art. Are you sure this is your first film? Hard to believe.
I've never made a film before! This is my first film.
All of my conversations with people about making this, I always said, "This is a film about an artist who makes very vibrant work. It has to be as vibrant as his work."
I wanted it to have a pace reflective of Leonard himself. I'm proud of the film.
The cliché would be if Leonard's religious, Southern family rejected him because he's gay. But in the film they are obviously quite supportive.
They obviously love and support him very much. You do get a feeling of family.
The real thing is that the whole community just adores him. I put out a call for extras for that parade sequence. We got 200 people to show up on a Sunday afternoon in Augusta, Ga. If it's for Porkchop, people will show up!
They don't have a lot going on there. Savannah's different because of the history and restaurants and SCAD. But in Augusta there's not a lot of culture outside of the visual arts.
So everybody turns out! If some artist opens a gallery, 200 people show up. There's a reverence and support for artists in Augusta that I find very admirable. I get the same feeling about Savannah.
How did you meet Leonard, and how did the film come to be?
Leonard and I started following each other on Instagram, then he friended me on Facebook. Through that connection I checked out his website. I was very intrigued by that point.
Then I saw a link to his TED Talk, which was fresh at that time. I was so incredibly moved.
The talk is 12 minutes long, and I cried most of the way through it. It has just stuck with me like oatmeal on your ribs in winter!
The real epiphany came when I was in Las Vegas working a trade show. At 6:15 in the morning, I suddenly woke up with the thought, "someone should make a film about this man's story."
Every hair on my body stood on end. I put on some jeans, went down to the lobby and got a big coffee, and I knew exactly what I heard in my head.
I knew instantly the only thing that could get in the way was if Leonard said no. I messaged him that afternoon. I said, "I have an idea about how we can get Happy in front of more people. Can I call you?"
I was asking him to trust his life's story with a relative stranger, so I knew I had to have a plan.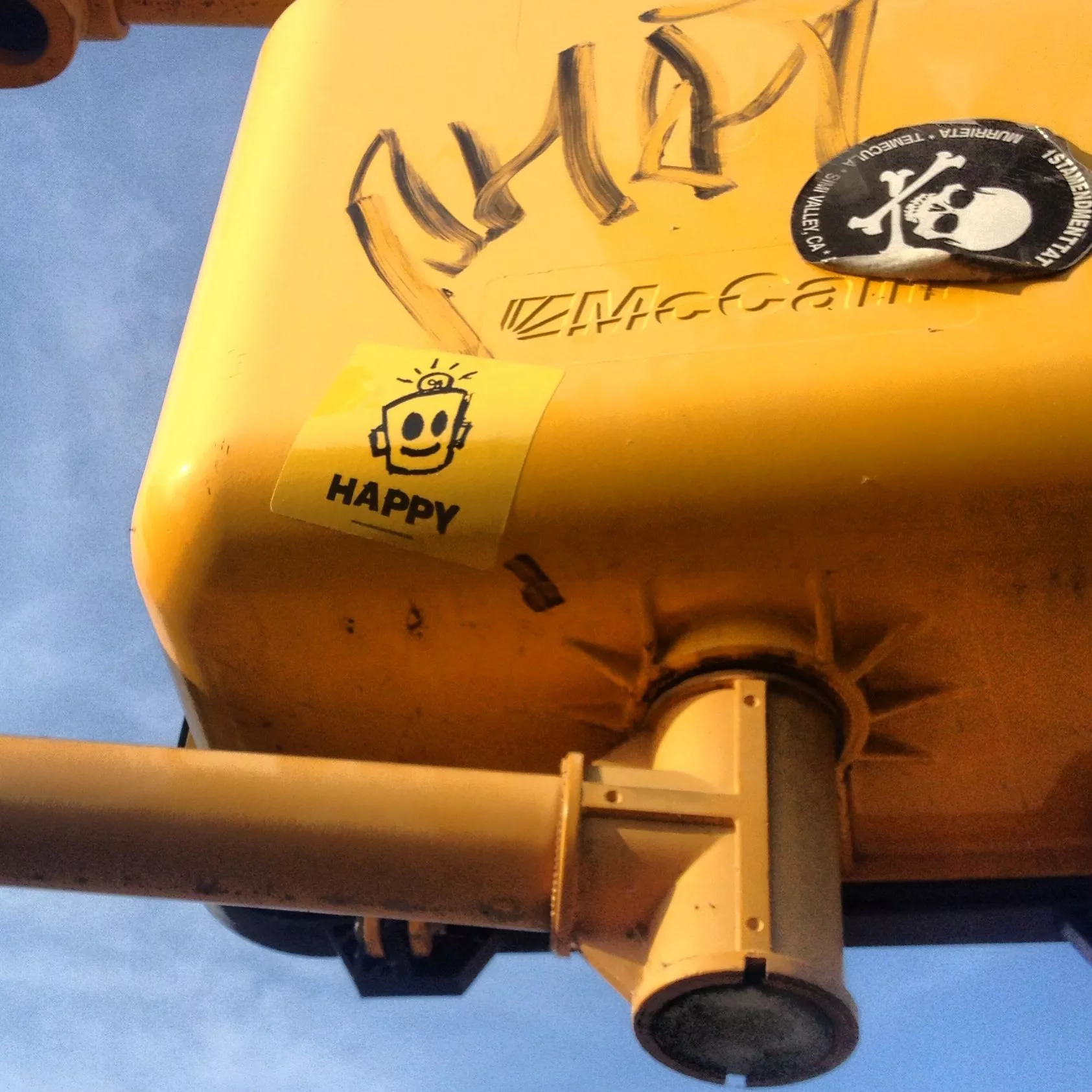 What was his reaction?
He was maybe a little shocked. Maybe he never considered it. I said I'm in no hurry, I understand it's a big consideration.
I followed up with an email with an overview of my idea. He didn't open the email for a whole month. It freaked him out a little bit. But he was like, "Yeah, let's do it. I have a good feeling about this."
Now that the movie's finished, I made good friends with lots of people I came in contact with and interviewed for the film.
They weren't sure how it would turn out.Here's this guy from the North who had never made a movie before asking people to put on a parade!
You made this film with great speed, didn't you?
We started filming last September. It took eight months from the start of the project to the premiere. I was on a mission. I had a real sense of urgency.
In order to finish raising money for the film, we had to arrange a world premiere screening in Augusta. I used the ticket sales to finish paying the editor.
It was the most thrilling evening of my whole life.
I enjoy that Leonard acknowledges Shepard Fairey's own viral graffiti/street art, which clearly influenced him a great deal. Yet, Leonard's work has no hint of hipster irony.
Yes, "Andre The Giant has a Posse!"
Leonard's work is a very simple statement of positivity. Its entire purpose in existing is when you stumble upon it, no matter where you are, it puts a smile on your face. Not just a smile when you might be having a bad day. It's also about when you smile it's contagious and the world's a better place.
To me that's what that little smiling robot is all about. Leonard didn't have a smile for himself for a long time. It was years. Years.
Tell us about the strong Savannah connection to the movie.
Leonard came of age in Savannah. He went right out of high school to SCAD on scholarship, he met the love of his life there. There was that connection to Savannah. It seemed impossible we could make this movie without filming on location.
We ended up only doing the one scene there with Jon Waits and with Leonard. There was some SCAD B-roll. We were literally in Savannah for only 24 hours. We were on such a tight schedule.
Its seems that you deliberately avoided overt political statements about LGBT rights and issues in this film.
That was absolutely a decision we made. I don't feel like this is an "LGBT film." There are access points for so many people. At its core it's a love story.
Now, there was some very political stuff going on regarding insurance and health care. Brian not having access to proper health care ultimately led to his demise.
But we cut that part out. We decided that's not what this story is about. It's a love story.
So is this just a special one-time deal, or will you make more films?
You bet. I've got the bug bad! With the epiphany about making this film, I just thought I'd been given very clear directives about what needed to be done. But the end result for me is I want to tell more stories.
I specifically want to tell uplifting, inspiring, positive stories. There is plenty of politics out there already. There's enough out there about what's not right.
cs