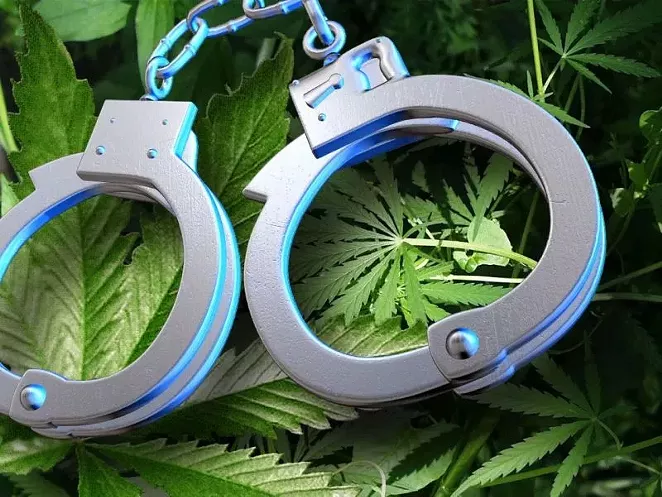 BEFORE anyone blows a gasket or busts a lung, let me tell you what Alderman Van Johnson's marijuana proposal does not do:
It does not condone pot smoking, pot growing or pot selling. It does not invite tourists to roll blunts in Ellis Square. It does not prevent the police from nailing folks for any other accompanying illegal behavior, including jaywalking while inhaling.
It other words, the proposed ordinance on this week's City Council agenda that would amend Part 9 of Chapter 1 of the personal conduct section of the city code does not legalize or even decriminalize weed in the City of Savannah.
It just makes holding a small stash less criminal than other crimes.
If passed, the ordinance would enact the city's right under state law to establish its own penalties for simple possession of under an ounce of weed: Rather than suffer the current Georgia punishment of up to a year in prison, a suspended driver's license and a $1000 fine, those busted in Savannah would mean a $150 ticket and no arrest.
The penalty would increase on the second offense, and if you're dim enough to get caught blazing a third time you're going to end up in court.
It's a pretty simple plan, similar to ordinances passed in Atlanta and Clarkston as well as dozens of other municipalities around the country in the minority (!) of states that haven't yet legalized the herb in some form. (Georgia's current law allows those with certain conditions to possess low-THC CBD oil but makes no allocation for a supply chain, basically rendering the legislation impotent.
However, Rep. Allen Peake (R-Macon) and the Medical Cannabis Working Group have introduced HB 645, allowing in-state cultivation and dispensation.)
I could go on about how 77 percent of Georgians and 60 percent of all Americans support comprehensive medical marijuana access and that federal legalization is on the way no matter how much Jeff Sessions blusters, but let's keep it local, shall we?
Everyone who loves Savannah and believes in its economic future ought to support this ordinance, whether you toke or not. Not only does it have the capacity to position the city in front of the inevitable green rush, it provides actual solutions to some of our most pernicious problems:
First, it unburdens our overworked police force from spending two-plus hours each time a stoner must be arrested and processed and frees on-duty officers to pursue the muggers, shooters, murderers and rapists in our neighborhoods.
By eliminating an average of 619 arrests per year for simple marijuana possession, the City stands to save tens of thousands of law enforcement department dollars in one fell swoop, which might keep City Manager Rob Hernandez from slashing any more cultural and social programs out of the budget.
It also disencumbers our super-stressed court system from the slog of these non-violent offenses.
"The city's interest is in keeping violent criminals off the streets. These aren't drug traffickers," says Jennifer Ozer, a local attorney who often defends those arrested for possession. "The nation's consciousness around marijuana is changing, and there just isn't the same stigma. I might lose business [from the ordinance], but I think it's a good thing."
Second, it disrupts the cycle that traps so many of our young African American men in the prison system. While smoking weed crosses all ethnicities and socioeconomic strata equally, black people are four times as likely as white people to be arrested for possession—potentially leaving citizens who did nothing but spark a joint unable to vote, get a job or contribute to society through legitimate avenues for the rest of their lives.
This is an easy social justice fix, and leveling this small corner of the field would have long range effects on poverty and crime.
"As we look at these issues of criminality, we have to look at the reasons younger people—and some older people—are prevented from becoming self-sustaining adults," argues Alderman Johnson, who presented his proposal to City Council on Jan. 18. "For many of them, that indiscretion, that spot on their record, is preventing them from achieving the Savannah dream."
He adds that giving out citations instead of carting burners off to jail can lead to better policing by building rapport and trust between officers and offenders. (Again, if you're holding less than ounce of ganja but you're also waving around a weapon, stealing lawn ornaments or otherwise acting afool, the rapport ain't gonna be so friendly.)
Interim Police Chief Mark Revenew agrees with those premises, remarking that "it puts a burden on these young kids, who, 20 years down the road, they're trying to get a respectable job and they find themselves with the scarlet letter... a lot of kids make dumb mistakes, and I don't think they should carry that burden."
On the other hand, Chatham County Sheriff John Wilcher isn't having it.
"Y'all can pass whatever you want to," he told the Council, "but if my deputies stop somebody with possession of marijuana less than an ounce, they are going to jail."
Technically, the Sheriff may not be correct in that assertion, as his jurisdiction could be superseded by the ordinance within City limits (demerging has its benefits!) Of course, according to state law, Chatham County's other municipalities and the county itself have the option to pass their own ordinances.
Last but not least, the ordinance enables a bona fide revenue stream at a time when the city is basically selling its own plasma to keep afloat (arts programming and social services are the bloodline of any successful community; don't make me say it again.)
And while it might not replace fire fees and $2/hour parking, teetotalers can appreciate that unique to the Savannah proposal is the allocation of 20 percent of funds collected to drug treatment facilities and programs to help folks get high on life.
Reiterating that the ordinance does not decriminalize cannabis so much as deprioritize it, Alderman Johnson offers it as an opportunity for Savannah to adopt this as a public safety solution instead of continuing to wring its hands over crime and budget cuts (or God forbid, pay another consultant.)
"We're a historic city, we can act historically," he reminds. "We can be progressive. We can be ahead of the curve."
City Council members are currently mulling it over for a vote this month, so now's the time to let them know what you think.
***
Damn it, another obituary. Our beloved community lost another way-too-good'un last week in Kim Evans, prolific writer, art lover, old soul, good witch and welcoming fixture at the Sentient Bean. The Bell, Unrung novelist had just finished the manuscript for her memoir, Hitch, Damnit, an account of thumbing around the country while dealing with MS. Her dear friend Xulu Jones is planning a memorial gathering for Kim on Feb. 3 at the Bean—see the XuluProphet Facebook page for details.
***
I don't like it when things are sprung on me without due notice, so I must let y'all know that this is my penultimate Civil Society Column for Connect Savannah. It's been a great run, and I've got a long good-bye planned for next week, promise.
cs