IF SUCH a mythical creature as "The Great American Novel" exists, F. Scott Fitzgerald's The Great Gatsby often gets the nod (though Moby Dick and Huckleberry Finn each have a claim on the title as well).
The 1925 novel is such a streamlined example of the storyteller's art that Roger Ebert, in reviewing the 1974 film version starring Robert Redford, famously said, "It would take about the same time to read Fitzgerald's novel as to view this movie — and that's what I'd recommend."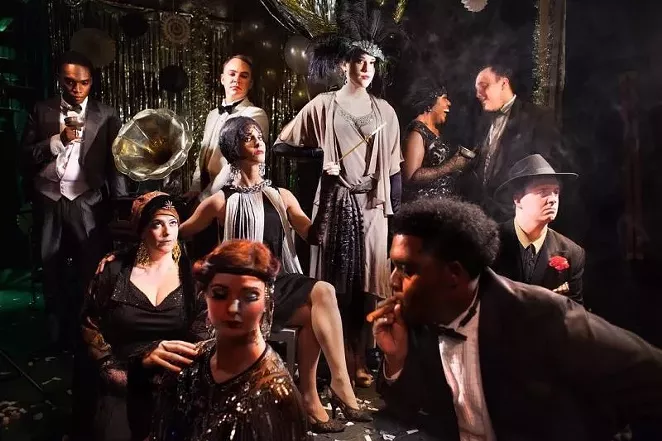 Fortunately, the stage adaptation of The Great Gatsby, by Simon Levy, "is very faithful to the original novel," says David I.L. Poole, Artistic Director of the Collective Face Theatre Ensemble.
Their version of the classic opens this weekend at the SSU Fine Arts Auditorium.
While there have been three film versions of Gatsby — five if you count a silent film and a made-for-TV edition — "people usually think of two," Poole says. "The one with Robert Redford, and Baz Luhrmann's version with Leonardo DiCaprio. The first is more traditional, with the more recent version maybe a bit more experimental. This stage version is pretty much between the two film versions."
Collective Face's choice of Gatsby is interesting, and a little counterintuitive.
"We like to devote each season to a particular theme," Poole says. "We chose to do Gatsby because it fits in with our theme this year of 'Marginalized Measures.'"
How in the world is a play about a bunch of rich people partying on Long Island in any way about marginalized people, you ask?
Poole has an answer.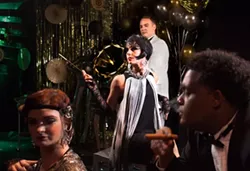 "Gatsby is on the outside looking in. He invented a new version of himself — he essentially created a new identity so he could fit into the world he wanted to live in," Poole explains.
"He created his own past. But his tragedy is he believed he could change the past. There's a line in the Redford movie, 'Rich girls don't marry poor boys.' In the end no amount of self-creation could help Gatsby get the thing he wanted most," Poole says.
The other main theme of The Great Gatsby is the setting itself, the Jazz Age — a phrase Fitzgerald allegedly coined himself.
"Fitzgerald not only captured the Jazz Age at its height, with its sense of excess, and hedonism, and everything going up and up and up. He also in a sense foretold its eventual demise in the Great Depression," Poole says.
This production by Collective Face promises more than flappers and ragtime, however.
"I'm very interested in the idea of experiential theatre," Poole says. "You hear people say, 'theatre is dying out, how can it compete with everything else.' The thing that theatre can offer that you can't get anywhere else is that experiential aspect, making the act of going to the theatre its own experience."
Poole says of Collective Face: "Our goal in our shows is to give you an experience you'll remember for years to come."
To that end, as in other shows by the troupe, the cast of Gatsby will "break the fourth wall a lot," says Poole. "With us there really is no fourth wall."
The entire show, a background cast of what Poole calls "party people" will literally keep the party going the entire time as the dialogue and action plays out onstage, sometimes serving as a kind of Greek chorus.
The party's soundtrack will be tunes from groups Postmodern Jukebox and Tape Five, jazz versions of modern hits.
The cast includes Collective Face veteran Michael Knowles as Jay Gatsby, Emily Rice as Daisy Buchanan and Travis Harold Coles as narrator Nick Carraway.
Tom Buchanan, Daisy's husband, is played by Philip Trosarello, while Casey Bessette portrays Daisy's friend Jordan Baker, a pro golfer and Nick's girlfriend. Julie Roundtree plays Myrtle Wilson, Tom Buchanan's mistress, who is married to the mechanic George Wilson, portrayed by Andrew Wortham.
Rounding out the cast are Travis Spangenburg, Bobbie Renee Lewis, Maya Caldwell, Jessica Grossman, Montrice Anderson Anna Claire Edenfield and Dennis Lopez.
The production is directed and designed by Poole, and lighting design is by Collective Face Technical Director Michael Moynihan.
cs