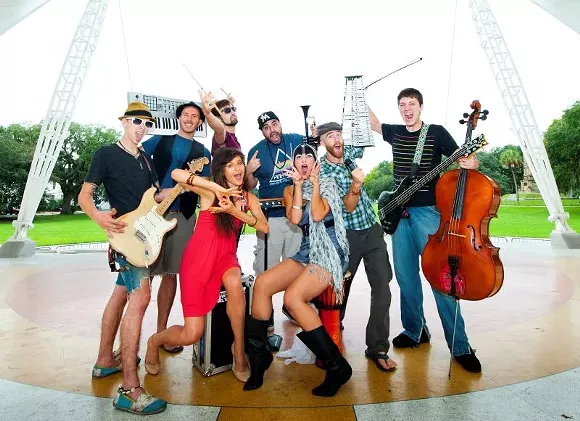 JEFF DEROSA slings drinks at Tree House most nights of the week, but the bassist and sound designer has been filling up the rest of his hours with something huge: crafting Record Store Day 2016's most innovative and risky release.
"This business model is financial suicide," DeRosa says with a cracked smile. "There's no doubt about it. It's anti-capitalist, it goes against an entire profiteering model."
DeRosa's band Word of Mouth (active around 2009-2013), which also featured Miggs Son Daddy (rhymes, trumpet), Taylor Locke (vocals, poetry, more), Melissa Hagerty (vocals, Theremin, more), Lucia Garcia (vocals, keys), Matt Duplessie (keys), David Ballantyne (guitar), and Mike McCoy (drums), isn't currently active, but they're ready to launch their highly-anticipated—we're talking five years in the making—album into the world.
During its reign, Word of Mouth (WOM) dominated the Savannah scene with vibrancy, eclecticism, and unpredictability. A loose collective of music makers and creators, many with ties to SCAD, WOM began as an experiment of sorts, evolving into a band fusing rock, jam, world, classical, hip-hop, spoken word, and psychedelic sounds into one collective groove.
In the early stages, the sound was totally improvised. After the group created music to accompany Locke's poetry at his thesis show, they officially became a band.
"It happened in stages," Miggs remembers. "Everyone got more involved in the writing, whereas the first couple [of songs] were Taylor's poems. Anything the girls were singing was literally taken from his words, and then we settled into saying, 'Okay, we're going to be a band now, we're going to make music.'"
After a successful gig at DexFest, WOM was offered a recording session at a studio in Nashville. They jumped on the opportunity and began tracking in the summer of 2011, living at engineer Chad Little's house during the process.
"It was a nightmare of production," DeRosa, who co-produced the record, recalls. "Of course it was fun and great, but it took two months to record, took me four months to edit and prep the mix, and by the time we were done, we had recorded 360 gigs of audio. If you extrapolate that, it's roughly four months of continuous time of recorded takes I had to root through."
As DeRosa mixed the album—a process that took six months with songs boasting between 40 and 100 tracks each—things were changing within the WOM community. Many members had graduated or followed opportunities outside of Savannah. Without ever officially disbanding, the group spread across the United States; members now live in Texas, California, Georgia, and beyond.
"The band didn't break up—we just kind of grew up," DeRosa says. "We couldn't realistically keep going as we were finishing college and bills were coming in. We couldn't dedicate the amount of time we'd like."
The question still remained: what to do with the fully-funded record on which they were sitting? After all that hard work, DeRosa knew he wanted as many people to hear it as possible—but how to do that when the band was no longer active?
"I wanted to incentivize it and let this be mutually beneficial to everyone," he says.
For years, DeRosa has been and preparing to stage a global phenomenon: an album release by the people, for the people.
"The release couldn't embody the message of the band or album any better. It's all about community, giving back, and the art of mutual gain," he says excitedly.
1,000 copies of Word of Mouth Speaks have been pressed onto a set of three, 180-gram, 45 RPM vinyl records. The band is giving away all of those copies for free. Some have gone to longtime supporters of the band, some to folks who may have never heard of WOM but have an interest in eclectic music. The rest have been sent out to record stores across America in anticipation of vinyl collector holiday Record Store Day. Employees are encouraged to give copies to folks who seem like they might like the style, collectors who dig rare pressings, or anyone who asks for it.
"So you receive this record," DeRosa explains. "You open it, and inside, there's a business card that folds up into a USB stick. You plug this in, and it launches you to the website, which then prompts you to get the app that goes with this. At that point, your record is registered. Each card, each record is unique, and you create an account, like a Facebook page. Then, you participate.
"On April 23, the online album release date, we're asking everyone to push—same day, same time—the rest of the world to do a pay-what-you-want download of the album. You can get it for free, or throw us a dollar or more.
"The kicker is: everyone who's registered their record—one share is all we're asking for—is entitled to their portion of the money that's raised. If it raises $1,000, everybody gets a dollar. If it raises a million dollars, everybody gets a grand. The sky's the limit on what everyone could make. We're creating a giant street team and paying them off the money generated."
"You're turning them into shareholders," Miggs adds.
"This is a reverse crowdfunding strategy," DeRosa explains. "Kickstarter, you go on and ask for money to fund your project. We're going to pay people to push our product."
As for the band members? They're getting their 1/1000th of the cut, too.
"We wanted that to be the biggest statement we can make with it," DeRosa says. "You're not pushing this so we can get rich. You're pushing this so we can all benefit. Even if you don't like the music, click 'Share,' and I'll write you a check. There's no telling how big this could be. It's a social experiment, really."
While a new WOM album or reunion show might not happen in the near future (though who knows what could occur), the release will certainly generate traffic for off-shoot projects: Miggs has his own solo hip-hop career and collaboration with Dope KNife, Happy Thoughts; Hagerty, also still in Savannah, is in Omingnome and Oh Ma; Duplessie releases music as Clandestiny; Garcia, now in California, still makes tunes as Electric Grandma; and Ballantyne plays solo as DCB Alchemy.
Though the financial possibilities are certainly something to get stoked about, DeRosa and Miggs are, foremost, excited for the record to be heard.
"This album is about you," DeRosa says. "There are no love songs on it, no personal experience songs. That's where it's drastically different than a lot of records: it's about you and how a group of people can come together and make something."
Savannah residents can request an extremely limited copy of Word of Mouth Speaks on Record Store Day, Saturday, April 16, at Graveface Records and Curiosities or Rody's Audio Warehouse.
CS