SINCE 2010, PERC Coffee Roasters has made a name for itself in Savannah by providing roasted coffee on a wholesale basis to all kinds of local establishments, gaining a lot of name ID in the process.
PERC will now expand gingerly into the area of retail sales at their spacious facility on East Broad, currently used for roasting, packing, and weekly free cupping events.
But PERC's restaurant and coffeehouse clients probably shouldn't worry too much about competition—they're only going to do so on Saturdays, and it will only be coffee, with no food items.
"We're really all about the coffee here —educating people about it and helping them enjoy it," says Jon Chandler, a PERC manager. "We'll have a specially curated menu of coffees each week. We'll talk about each coffee so people can know more about what they're drinking."
PERC is the labor of love of founder/owner Philip Brown, who came to Savannah drawing on his extensive experience with the Athens-based Jittery Joe's.
Chandler says no one will get PERC confused with Starbuck's anytime soon.
"There will be some milk-based drinks on the menu, but this isn't where to go if you want anything with a lot of sugar, or if you like to request five Splendas or something like that," he laughs.
"The menu will focus on bringing out the individual flavors of each coffee offered. Any milk product we use would be to enhance or bring out those flavors, rather than mask them."
For example, this weekend's menu will comprise an espresso, an espresso over milk, a pour-over coffee, a cold brew, and the weekly special, based on the freshest and/or most interesting bean in the shop that week.
Right now, the Saturday hours of 10 a.m.-2 p.m. are sort of a beta test. "We're going to just start out with the four hours now, and see how it goes, if we need to tweak the hours," says Chandler.
The East Broad facility will remain one big open space, but with the front portion dedicated to retail. The rear portion will continue to serve as PERC's roasting and packing area.
If you've been to PERC, you know its location is pretty far out of the normal tourist circles, to say the least. Chandler says the heavily local character of the neighborhood suits them fine, because they aren't seeking the tourist market, but rather locals who themselves are seeking great coffee.
"Plus, more and more things are coming this way," he says. "Green Truck is already nearby, Cotton & Rye is here. And more activity will continue to move this way."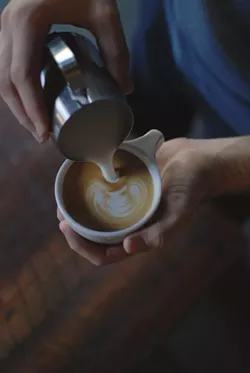 And if you've been to one of PERC's free weekly cuppings each Friday at 11 a.m., you probably know barista Taylor Wyrosdick.
Wyrosdick will run the show on Saturdays, and will be main curator of the menu.
"There are a lot of great coffee places in town and a lot of places doing it very, very well, like Foxy Loxy and the Collins Quarter, just to name a couple. We are a coffee roaster and a wholesaler first and foremost, and that won't change," Wyrosdick says.
"So when we started talking about doing this, we talked about a more condensed, small menu, and offering people coffee in a way that we want it, in a place where people can sit down, have a really good cup of coffee, and have it made in the way that we feel it should be made," he adds.
Wyrosdick says his goal is "for people to taste the coffee for what it is, as opposed to ordering it and having it altered. Just a really good honest expression of the coffee itself."
And for those accustomed to Wyrosdick sharing his expertise at the cupping events, "You can also sit down and ask us questions. It will be a learning experience at the same time, as well as drinking great coffee."
cs