WHEN THE entire Lucas Theatre staff was fired in April, questions began to arise.
Who would snatch up those hardworking and passionate employees?
What would happen to the family-friendly movie nights that became synonymous with the historic building's programming?
And, among Savannah's live music fans: what would become of Onstage Cabaret?
Established in 2013, the Onstage Cabaret series showcased the unique talents and personalities of Savannah's finest musicians in an intimate, cabaret-inspired environment.
Singers like Trae Gurley would belt mere feet from the crowd; the warmth of Jared Hall's piano playing was tactile. And the shows were selling out.
Tickets were so in demand that Onstage decided to offer a presale months in advance of the program.
Fans were already snatching up passes for Summer 2017's series when the Lucas news started circling.
"Presales had happened at the box office, and they were refunded," says Onstage organizer Natasha Drena. "The next day—I never get this many emails—so many message from patrons who were not sure what was happening, their ticket was refunded."
"Everyone wanted answers," she remembers, "and I honestly didn't know."
The fans had spoken: Cabaret needed to stay.
Drena and teammates David Harris and Lauren Schwan got to work with a smaller team and a big vision.
"It's totally a lesson in understanding the jobs everyone was doing," Drena says.
"It's been a whirlwind to get it back up and running with no notice. When you start something as a group, as a collective, it's kind of like, 'Who does this belong to?' We just had to answer some questions for ourselves. It's a lot of work."
At the former venue, audience members entered through the back door of the theatre, giving it an exclusive feel, and the show took place onstage with the performers' backs to the theatre seating.
It was a picturesque, cozy affair, one that felt distinctly Savannah in its blend of old and new, elegant and laidback.
As Drena began looking for a new venue, she knew "it had to be special."
"I didn't want us to sit onstage and people sit below us in the audience," she says.
"That wasn't at all what we were about. If a venue couldn't be found this summer where we could create something different and unexpected—I kept referring to MTV Unplugged—then I didn't want to do it. That's not what we had created or what people had liked about us."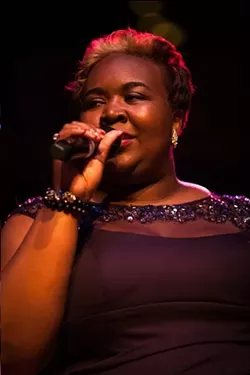 Throughout the hardships—Cabaret organizers were scrambling, looking for new jobs, considering moves out of Savannah—the community and Cabaret fans rose to the occasion.
"Savannah is amazing," Drena marvels. "It just seemed like every other day, people were like, 'What about here? So-and-so opened this place, let's look.'"
The Cabaret's new home, Ben Tucker Memorial Pavilion at The Club at Savannah Harbor, is vastly different than The Lucas.
The greenhouse-style glass building offers a view of the golf course that bassist Tucker enjoyed, and the sunset vista is to die for—but it's the perfect place for Cabaret stars to raise their voices.
"It seemed like kismet," says Drena. "The Westin has always been great about sending us patrons and telling their guests about us while they're in town. And it's strange, but Ben passed away the same month we started the Cabaret. I didn't know [the Pavilion's] name, and I got there: Ben Tucker Memorial Pavilion. 'Oh, hello, old friend. Thanks. We needed a space.'"
Once the new venue was confirmed, the Cabaret team revisited their lineup; there was a full schedule in place from The Lucas, but with the cancellation, some restructuring had to occur.
"Some shows gracefully exited the program, and some got renamed," Drena explains. "We wanted to have a story. We had a soul show—it's now called 'RESPECT.' The Fleetwood Mac show didn't have a title—it's 'Go Your Own Way.' Johnny Mercer's, 'Any Place I Hang My Hat Is Home.' You can tell our story through the titles."
The series kicks off with "RESPECT: An Evening of Southern Soul." As the name promises, the audience will get to hear favorite songs from the 1950s and '60s from the catalogs of Otis Redding, Aretha Franklin, Ray Charles, and more.
The cast includes vocalists Laiken Williams and Cecilia Tran Arango, pianist Eric Jones, bassist Darius Shephers Sr., and drummer Robert Britton Saunders. Plus, as the Cabaret hints, stage favorite Trae Gurley may stop by for a few numbers.
There are four more opportunities to catch a show this summer. On July 13, check out "Get Happy: A Tribute to Babs & Judy," "Mercer: Any Place I Hang My Hat Is Home" on July 20, "Havana Nights Savannah" on July 27, and "Go Your Own Way: A Tribute To Fleetwood Mac" on August 3.
With a new stage and a fresh outlook comes a new name: Key Change Cabaret.
"The key change is usually the most exciting part of the music," Drena explains. "It's where everything kind of kicks into gear. And I think after four years, going into the fifth year feels like our key change."
CS