HOW DO you improve your community?
Does it start with a complaint? Do you post fliers and corral your neighbors together for a meeting?
Do you sit in silent discomfort until somebody else utters the rallying cry?
The local activists behind Emergent Savannah and their community partners Step Up Savannah and Chatham Savannah Citizen Advocacy have a different proposal: Start by listening.
To help residents learn the art of listening with intention (the intention being to better understand the social and cultural assets around you), Emergent has brought in DeAmon Harges, Indianapolis's resident "Roving Listener."
In his community, Harges' role is to listen to citizens, find out what their passions, dreams and gifts are, and then find ways to utilize them in order to build the community and its economy.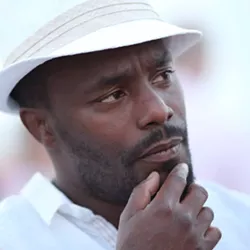 Starting on Thursday, October 27 until Saturday, October 29, Harges and two other Roving Listeners from Indianapolis (Wyldstyle and Ag) will join eight Savannah residents in leading six walking tours through six of the city's eastside neighborhoods.
Walks will be held in Twickenham, Live Oak, Gordonston, Avondale, on Waters Avenue and on Pennsylvania Avenue.
Here's how it's going to work: You show up for a walk; Other people join in; You follow your Roving Listener and resident tour guide down the street; You listen to the activity on the street and watch what's happening.
If you're wondering how that experience translates into an understanding of the community's assets, just cast your mind back to the recent aftermath of Hurricane Matthew.
Neighbors saw opportunities to help one another, so they did. Local businesses knew others were in need of electricity, so they organized charging stations.
People saw needs, so they fulfilled them without expectation of anything in return.
"Our goal is to harness that laser focus that people had after the hurricane in making sure that their community's needs were met, that people were okay and that people were sharing resources" Courtnay Papy, Lead Organizer for Emergent Savannah, says.
"Our goal is to always harness that in whatever capacity we can. This walk is a way to do that on a really micro level."
Isn't that the kind of community we all want to live in all the time?
"My whole thing is, I have no mercy for dream-killers and I have no mercy for people who want to tell me what's wrong with Savannah," Papy continued.
"I think everyone in Savannah is very cognizant of the issues that we face–and we face a whole lot of issues. Savannah is not an easy place to live... I think we think of ourselves as not having a lot or not having enough or not having the things we need, and that's true but we also have so much within each other and within our communities," she says.
The Roving Listener program aims to put people at the forefront and to shift the way neighbors relate to each other, focusing on the value of connection and the exchanges that happen within relationships as a new kind of social currency.
In fact, this strategy has a name: asset-based community development (ABCD).
The Asset-Based Community Development Institute (an organization which Harges actively works under), describes the strategy on its website, explaining, "ABCD builds on the assets that are already found in the community and mobilizes individuals, associations, and institutions to come together to build on their assets–not concentrate on their needs... Identified assets from an individual are matched with people or groups who have an interest or need in that asset. The key is to begin to use what is already in the community."
When implemented, this strategy not only helps people in individual neighborhoods get help where they need it, it turns neighbors into allies. Communities that understand themselves, their needs and their assets have stronger voices in the fight against unwanted change.
Raine Blunk, one of the residents leading a Roving Listener walk, emphasized the intense importance of that neighborhood bond.
"As neighborhoods East of Bull Street continue to develop around Starland coupled with a revived interest in Waters Avenue and the Victory/Bee area, I hope that these walks will unite neighborhoods on a grassroots level to stand up for their community assets and long-standing culture regardless of pressure to "clean up", assimilate or gentrify community and business areas," they said.
For others, it's simply an opportunity to get to know their community better.
"I've lived in my neighborhood all my life and I only know a few people. That's a glaring irony to me," Liz Rhaney, another walk leader, told me.
Regardless of individual motivations, the Roving Listener program is a chance to change our local vocabulary. Through the art of listening with care and intention, maybe we can begin to see the things we label "problems" as something different: opportunities to become stronger together.
cs