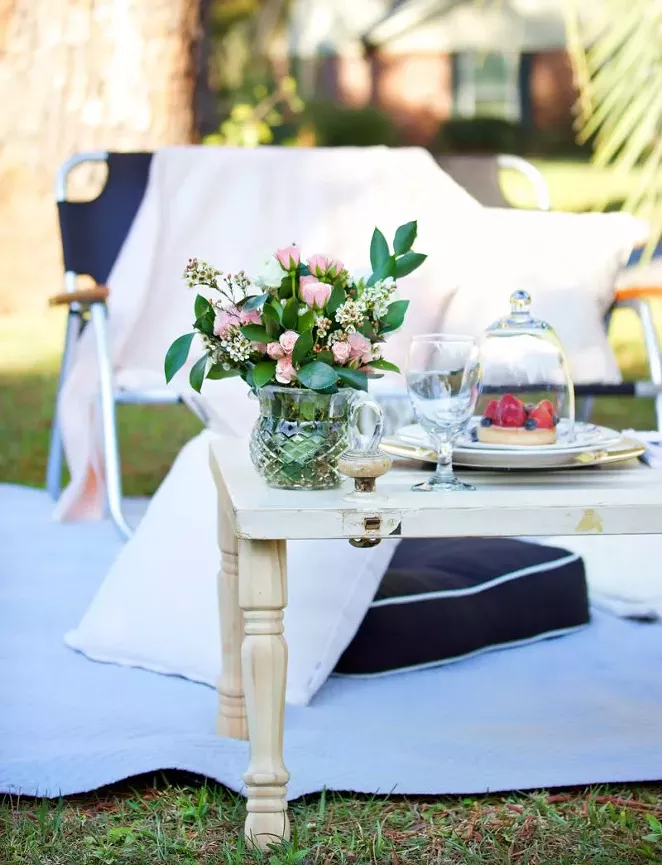 IT'S springtime in Savannah. The birds are chirping, the azaleas are blooming, blankets of yellow pollen cover the city, and daylight savings has kicked in.
For those of us who live here year-round, we can all agree that spring in the South measures up to Goldilocks' preference, not too hot and not too cold, it's just right.
Since the frosty winter has finally melted away, people have begun to shed their outer layers, spending more time in the great outdoors. While some may stroll around downtown, weaving in and out of squares, others can be found jogging laps around Forsyth Park.
These are classic ways to inaugurate the warmer weather, but if you're looking for a unique experience, The Savannah Picnic Company has got you covered.
The Savannah Picnic Company is Savannah's only full-service luxury picnic service. Owner Chelsea Rowe designs lavished Parisian picnics in parks and yards all across Savannah.
Her love for nature and eating beautiful food as well as her creative innovation inspired Rowe to develop this personalized picnic amenity.
There is something so intimate and peaceful about a picnic. From the dewy grass and warm breeze to the lush blankets and snug pillows, noshing al fresco captures the perfect moment. A picnic is intentional and effortful, perhaps that's the reason why it is such a special event.
The Savannah Picnic Company started from humble beginnings in March 2016. Rowe went from booking 4-5 picnics in 2016 to over 50 last year.
She explains that most clientele utilize The Savannah Picnic Company for celebrations such as anniversaries, birthdays and bachelor/bachelorette parties.
"I want to help people celebrate something. I want to be apart of their memory in Savannah," says Rowe.
Whether Rowe arranges a picnic for two, to set the scene for an epic proposal, or composes a Gulfstream company picnic for 200 employees, attention to detail is top priority.
Each picnic is a personalized representation of the celebration and of those experiencing it. After consultation, Rowe designs color palettes and arrangements to suit her guests.
The foundation to every picnic is a cozy blanket. To guard picnickers from a soggy bottom, Rowe places a tarp underneath the blanket. Layered on top are plush pillows, silky blankets, and lounge seating. Distressed vintage low-legged tables, only a foot or two off the ground, are adorned with fine stoneware dishes, golden chargers, wine goblets and silverware.
Glass cloches are cloaked over French patisserie fruit tartlets, beckoning you to sit and stay a while. Vases of freshly arranged flowers perfume the site. Baskets of scratch-made croissants and baguettes sit alongside a marble charcuterie board of cured meats accompanied by local cheeses and seasonal fruit.
Rowe partners with local purveyors to provide the most seasonal and freshest menu items. Handmade croissants, baguettes and French fruit tartlets are from Le Café Gourmet, an authentic French café in Savannah.
Cheeses like southern goat cheese with bourbon and pecan or Havarti with dill are sourced from Smith Brothers Butcher Shop. Other pastries and confections are procured from Café M and Two Smart Cookies.
"I like to give my guests lots of food. I do not want them to walk away thinking that they didn't get enough to eat," Rowe explains.
Patrons can choose from a variety of menu options ranging from baskets of cheese and charcuterie and gourmet sandwiches to desserts and French pastries. Selections of locally bottled sodas, scratch-made marmalades, herb butters and pâte de fruit (fruit gummies) complement the goods. Rowe personally picks up each component of the menu.
It wouldn't be a Savannah picnic without some bubbly or a brewsky, so if the picnic is set up at a residence or downtown, picnickers can bring their own alcohol. Rowe hopes to obtain a wine license soon, as most clients request wine glasses as part of the package.
As a busy mother of four, wife, local children's book author and business owner, Rowe counts her blessings every day. Since each picnic lasts two hours, Rowe remains no more than 15 minutes away from the site, in case her guests need anything. She utilizes this precious downtime to spend quality time with one of her children.
"We get coffee or have lunch together, just me and them for two hours. God has blessed me in a way I was not expecting," says Rowe.
cs