IT'S about that time, y'all: Savannah Stopover is approaching!
Before March Madness smacks us all upside the head, let's all take a moment to get our footing and (gasp) plan ahead to make the annual weekend of indie music discovery the best yet. Here it is: the Stopover planning guide.
Get your tickets
If you haven't already, go ahead and get tickets at savannahstopover.com.
A three-day general admission pass to Stopover is $79—a bargain for a music festival—and gets you access to every single festival concert.
If you can only attend Friday and Saturday, snag the Weekend Pass (access to all the shows on March 10 and 11 for $59).
Swamped but still wanna get in on the fun? Opt for a single day pass—you can get one for Thursday, Friday, or Saturday and go to all the shows you like on that particular day.
If you're planning on hitting the fest Thursday, Friday, and Saturday and can swing it, the additional $70 for VIP is worth it. Not only do you get to jump to the front of the line at all venues, making it easier to show-hop, but there's reserved seating waiting for you at Ships of the Sea Museum and Trinity UMC.
If you just want to go to opening night, featuring Kishi Bashi, The Dig, and Garden Giant, it's just $25.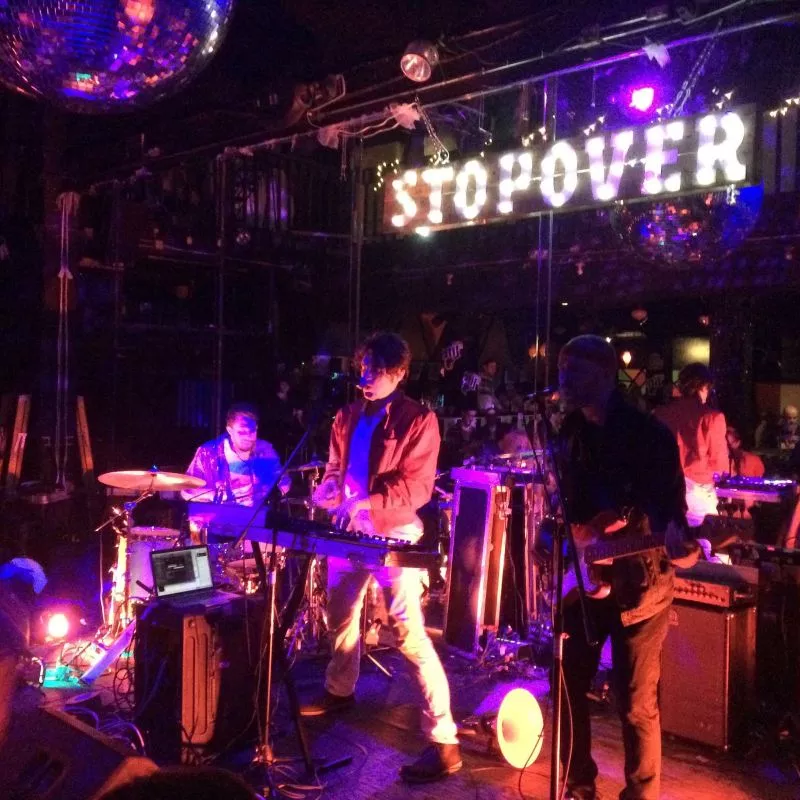 One of the VIP package's most unique assets is access to the Artist's Lounge all weekend, where you can mingle with the musicians, dance all night with surprise DJs, drink free beer, and more. Consider this: The Artists' Lounge is open during festival hours, conveniently located right near all the venues, and you're in Savannah, so you can pop in for a breather between shows and take your drink to go. And you get access to the private parties, after-parties, and the big, exclusive wrap-up party on Sunday, too. And a swag bag!
Whatever package you choose, you'll pick up your wristband and/or badge at Stopover Ticketing & HQ at 38 Barnard St. (the old Kitchens on the Square).
The spirit of Stopover
Have you been intrigued by headliner Kishi Bashi since he was playing in of Montreal? Did you spend 2005 driving around blasting JEFF the Brotherhood's Heavy Days in your best friend's car? Rad! If you've got your heart set on an act, plan to get there early, but keep in mind, Stopover's also all about discovery. You spent your hard-earned money on a pass—use it to its full potential to check out something new!
"Hit the opening acts," advises Stopover founder and CEO Kayne Lanahan. "We don't always put bands in traditional lineup orders, and it's a great way to see rising acts."
Stopover Director of Publicity Michelle King has been coming to the fest for years.
"Go with the flow," she advises, "and catch some acts you might not have known coming into the festival."
Stopover, much like Savannah itself, has a laidback vibe to it, and approaching it with an openness allows for new discoveries. That's where the magic happens.
Downloading the free Savannah Stopover app is a great way to plan your schedule and see what's up. This year, you can crank up a playlist of bands, follow a map of venues, view the full schedule, and create a custom schedule of your own.
Make sure Twitter's cued up and you're following @SavStopover—secret shows, held at The Owens Thomas House Garden and Emmaus House Soup Kitchen, will be announced on that platform an hour before the show.
What to pack
Savannah Stopover is a downtown-centric nonstop weekend of musical mayhem and magic, and you've got everything you need right there: coffee! Great lunch spots! Beer! Lush squares to laze about in while admiring the blossoming azaleas before the next gig! There's a lot to take in and plenty to do, so make the most out of it and bring your necessities with you.
Consider packing earplugs, water, a portable phone charger, sunscreen and sunglasses (Congress Street Social Club and The Grey are outdoor venues), cash (Club One is a cash-only bar; plus, if you're venue-hopping, it makes it easier to get in and out instead of having to wait around and close your tab), and a paper map and schedule (you'll get one when you check in and get your pass at Stopover HQ).
March is a wonderfully unpredictable month in Savannah: one moment, you might be baking in the sun with sweat puddling under your shirt. The next, you're wishing you brought a jacket. The forecast predicts highs ranging from 63-69F with lows going down to 46F on Stopover weekend. It gets hot in our packed clubs, so bring an easy-to-tote jacket or sweater with you on your beat. Current predictions aren't calling for rain, but you never know in the spring; if you don't wanna get wet, bring an easy-to-pack poncho, or make sure your group has an umbrella or two, just in case.
All the venues are within a few blocks of each other, but you'll be walking around lots on cobblestone and crowded streets (and dancing, too!). Comfortable shoes are a must. And don't stress about parking.
"Park south of Liberty [Street] and walk, grab an Uber with friends, take a Pedicab within the Historic District, or rent a bike for the weekend," Lanahan suggests.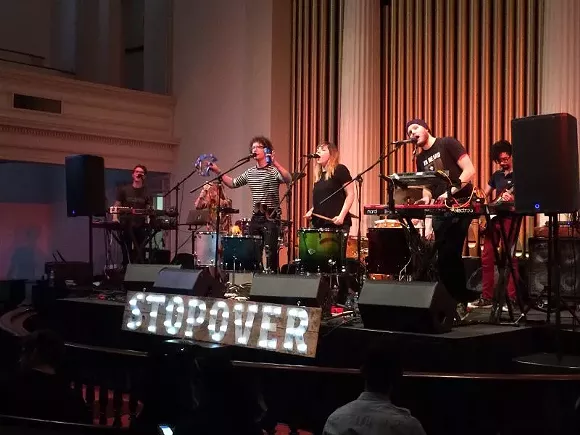 Not 21?
You won't be able to access some venues if you're not of legal drinking age, but you can still catch some amazing shows.
Ships of the Sea's North Garden is open to fans of all ages and hosts the big opening night party (Garden Giant, The Dig, and Kishi Bashi comprise the bill, food trucks will be slinging grub, and artwork from the annual Band Poster Exhibition will be on display), with headliner Lee Fields & The Expressions on Friday and Lewis Del Mar finishing it off on Saturday.
Congress Street Social Club remains all-ages until 9 p.m, and catching bands in the sunshine on the outside patio is a distinctly Savannah experience. Performers include Upright Man, McLeod, The Paperhead, Lyn Avenue, Cicada Rhythm, and Nellie Pearl.
Trinity United Methodist Church is one of the most unique venues in Savannah, and all shows held within it are all-ages. Julien Baker's Saturday performance there is sure to be a memorable, intimate affair, and Ruby Amanfu headlines on Friday with great opening acts on both nights.
Kickstart your Saturday at The Grey in the yard with lunch and music from Kelsey Waldon; Stopover in the Yard is always an all-ages fete.
Above all...
Hydrate, explore, meet new folks, dance, and enjoy! Stopover comes but once a year!
CS