AS A saxophone mouthpiece maker, Jody Espina is an intrepid leader in Savannah's small business circles.
As a jazz player, he's indispensable to the live music scene.
The former Jazz Department Director at the prestigious Hoff Barthelson Music School, Espina arrived in Savannah in 2008 with years of experience, a fresh passion, and a business called JodyJazz.
Since 2000, JodyJazz has created a beautiful line of state-of-the-art saxophone mouthpieces, earning the business and praise of world-class musicians far and wide.
Right here in Savannah, Espina is a must-see with his trio, featuring Bill Smith on guitar and Mitch Hennes on bass. Their next performance is a season kickoff for Unitarian Universalist Church's concert series "Sounds and Spirits."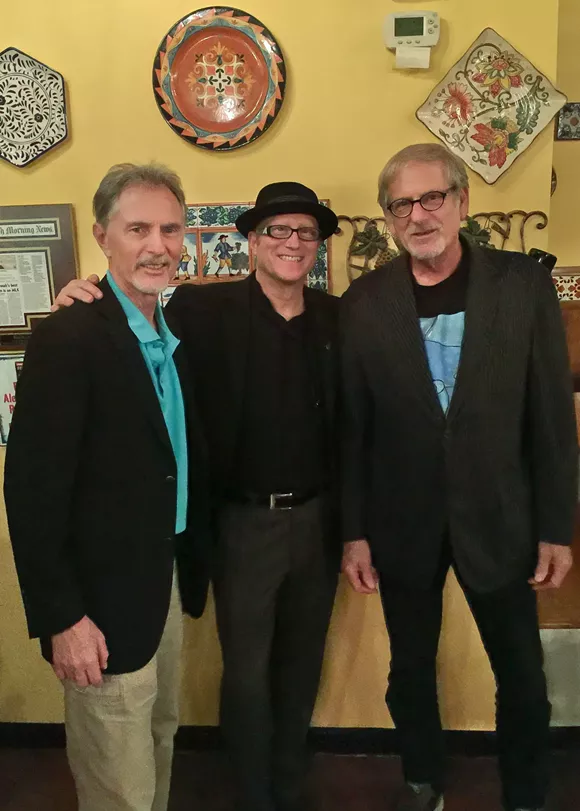 We chatted with Espina about his transition from New York to Savannah, performing in the downtown sanctuary, and the unique blend that he, Hennes, and Smith create.
When did you begin collaborating with Bill and Mitch?
About five and a half years ago. I'd been playing with Bill at Rancho [Alegre Cuban Restaurant] and Mitch came into town about three and a half years ago from Saint Croix. He worked right in. He's a composer as well; we just started working on some stuff that's different than other stuff we've played with other people. It kind of got into a thing where it had more life than just a restaurant.
What will your program consist of on the 20th?
We'll be doing some jazz standards, we'll be doing some Brazilian folk music, called choro, and I play clarinet on those—I play saxophone on most of the other things. We'll be doing some originals. A cool feature of the trio is that Bill, on guitar, is able to sing with his guitar lines. So he can sing in unison the way George Benson is famous for doing, and Bill's been developing this over five years and has gotten amazing at it. Sometimes, he'll be another voice in the melody with me, and we'll do harmonies, but he'll also do solos where he's singing exactly what helps give our trio an extra voice.
Everyone comes from pretty eclectic backgrounds. How does that meld?
I went through Berklee College of Music...Bill taught music almost all of his life in Valdosta. Mitch was in Chicago playing gigs and writing music for ads and jingles and TV and stuff. Mitch's background has a lot of rock 'n' roll—he's still in the same rock band he's been in for 20 or 40 years with his brother! Mitch and I have similar jazz backgrounds.
How long have you been in Savannah now? Did you move to relocate the JodyJazz business?
Eight and a half years, moved in 2008. I moved the business down—my brother lives here and he wanted us to bring my mom here, she was living in Tampa. We needed to take more care of her. So I had a loft in Tribeca, I had no reason to leave, my business up there was doing great, we had access to all the great players—everyone comes to New York—but the thing was, we couldn't really mount a factory there.
So we came down here and slowly built our factory up to where we have three machines, 12 employees, and we make everything right here in Savannah. The move ultimately worked out—it took me out of the cradle of jazz, but it got the manufacturing going.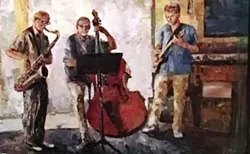 What's it been like as a jazz musician to transition from New York to Savannah?
The steady Friday and Saturdays at Rancho Alegre have been a great thing. I've met the key, best players here. They're world-class. It's just not as deep a pool. You've got an A-team, and that's it. And Rancho makes it so easy—my gig is close to where I live, it's been very nice, and we love it there. The owner, Juan, has been great to us, and it's been steady for five years.
Upcoming releases or performances?
I'm coming out with a record that Howard Paul and I did. It should be released in a month or two. It's called Presidents, since Howard Paul is president of Benedetto Guitars and we get to play together a lot.
What do you like about performing in Unitarian Universalist Church?
It's a great place to hear music and, for us, it brings out the most sensitivity. I get to play with lower volume, which can bring out much more nuance and beauty in the sound. We don't use microphones or anything, but you can hear everything. It's an acoustic performance; it should be very pretty.
CS