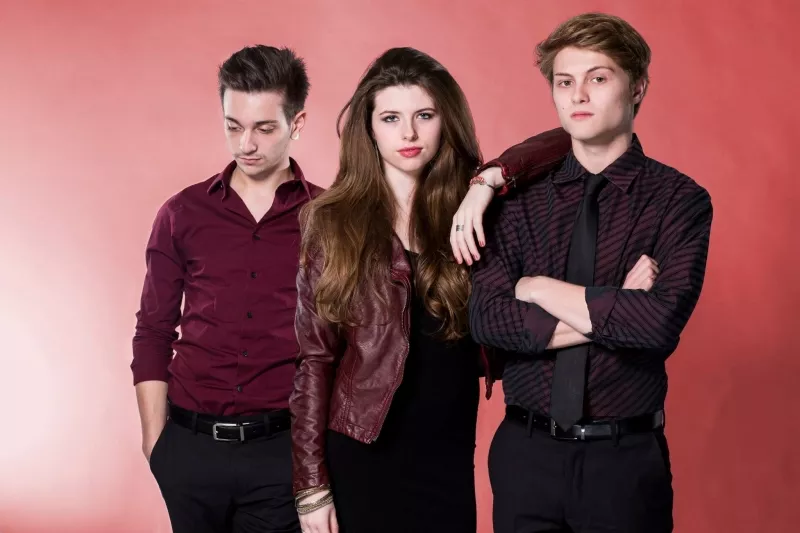 THE Steppin Stones have been working on their self-titled LP since August. Recorded at Echo Mountain Studios in Asheville, North Carolina (where Cusses and many noteworthy talents have created stellar work), guitarist/vocalist Hannah Wicklund is thrilled to reveal the results of their hard work.
"It was incredible," Wicklund says of their Echo Mountain experience. "This is our first super-official studio album—we were working with a producer, Jonathan Ashley, and it was by far one of my favorite musical experiences."
Wicklund particularly enjoyed wielding a 1953 Telecaster and plugging into the studio's old-school Vox, Marshall, and Supro amps.
"I've never gotten a chance to play vintage instruments, so I was playing vintage guitars, vintage amps, stuff that was four times how old I was," she laughs.
With a slew of gear their fingertips, the band was able to explore entirely new tones for the record, approaching each song as an individual entity while keeping the big picture in mind.
"We really played it song-by-song," says Wicklund. "We were under a really big time crunch, so our producer helped me out tremendously when dialing in tones and stuff. Once we got a feel for how each guitar sounded through different amps, it got a bit easier and faster. We were really trying to dial in the unique tone to each song; we didn't stick with the same guitar-amp combo for the whole album."
In her initial call to Ashley, Wicklund explained The Steppin Stones' love of Led Zeppelin and big, raw production.
"I said, 'if we could get that Bonham drum sound, then man, that'd be killer!'" she recalls.
Simply put: the results rip. Wicklund's full-bodied voice tears through her searing guitar solos. Andrew Ottimo's bass and Ryan Tye's drum work add a heaviness to the sound hearkening back to aforementioned Zeppelin, early Black Sabbath, and Tom Petty.
Just try to listen to standout track "Givin' into You" and not stand up and clap for Wicklund's vocal performance. Just when you think she's reached the height of her range, she tears through the wall and keeps on climbing.
With a repertoire built on classic rock covers, Wicklund isn't shy about her influences.
"I kind of like to think that we're bridging the gap between classic rock and today's music," she explains. "We really are kind of like a classic rock kind of band, and this album is no exception. This new album is a bit bluesier and a little more rock...it's a bit dirtier."
"Stranded" is a fine example of that dirt, with Ottimo taking lead vocals for a punchy refrain that evokes the brash shouts of Mötley Crüe and Van Halen choruses.
The Hilton Head band celebrates its LP release with a two-night celebration at City Market. The album will be available digitally on April 6.
"The local community there is so receptive and supportive," says Wicklund. "Savannah has kind of adopted us."
Saturday, April 4, 8 p.m., free