THE moment is always now, but many forget the true value of that offering from life.
When I sat in my hairdresser's chair one afternoon in Dec. 2015 I had no idea my life was about to drastically change. I noticed a Facebook post from artist Melinda Borysevicz, a SCAD alumni who has since moved overseas but at the time was the owner of The Studio School, a small independent art school in downtown Savannah.
I wanted to attend their classes since I learned they existed but made excuses: "one day" I'll make time. The opportunity for "one day" ended the day I was in that hairdresser chair, as the only line I recalled from the online post was, "The Studio School is closing permanently."
Within a second my heart dropped immediately into a painful feeling of loss and regret. Suddenly an inner voice yelled, "Oh no! It can't close! You have to buy it!"
I sat for a moment fully stunned at this brave and crazy suggestion from the wildest part of my imagination. While I had been a small business owner in one form or another since my early 20s, I had never even attended art school and now I was going to buy one?
The audacity of my dreaming self, I thought. "I didn't even go to art school!" I yelled back and tried to not think further.
Five years later I am proud to say that I not only bought that business within 48 hours of that Facebook post but I doubled business in a three year span and stayed strong growing until COVID-19 hit.
I am deeply saddened and pained to announce the official closure of a business that has served the community since its founding year of 2012. While The Studio School art programming has transitioned to a Zoom online platform for an indefinite period, it would be wonderful to reopen in the future in a better space and location.
I dream that, but realistically, the future for us all is unknown and the moment of what "now" brings today will be different than a year from now because the point of all of this, this thing called life, is to grow, change, improve, reach further than we did before, impress ourselves and our God and not necessarily those around us who do not understand the work we put into our journey, those who judge our passions, crazy ideas and jumps into "the now."
What is better than a moment of gratitude for your own success and all that it brought to others? This has been my greatest gift. If closing the studio location on Bull Street could be bittersweet like chocolate, this would be easier to handle.
I cannot extend a greater thank you to those who have stepped into my business, who believed in me, my art instructors and The Studio School enough to give us a try.
I wasn't the best or the most qualified for the job initially but no one could beat my desire to provide a service to the community that I wanted to keep alive, specifically for others like me who didn't go to art school, who didn't have money to go to SCAD or Georgia Southern or didn't really know where to go without a large investment of time and money.
That's what was special about The Studio School. It was a place that provided instruction as top notch as any high-priced college but without the weights.
That's a novel idea right there and COVID-19 has changed the way we view our education process and the way we will spend our money on it.
Different levels of artists taught at The Studio School, from newly emerged SCAD grads to seasoned local working artists to masters in their field such as Jeff Hein and Angela Cunningham, artists with incredible skill and training.
We provided weekly life drawing sessions for artists for 8 years, job opportunities to many local models and artists, hosted art shows no one else in the city would invest in, and we built a small community for people who truly empowered each other.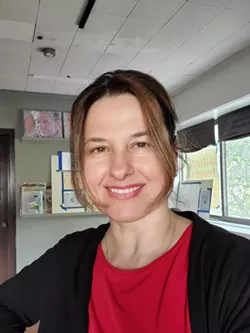 My goal had always been to provide a little bit for everyone because Savannah has a very broad group of artists and I wanted to offer the best I could with what I had to those who wanted what I served. The greatest measure of success is the success of others via your offering.
To know The Studio School's existence helped someone smile, make a new friend, learn, grow, become inspired, or go out of their comfort zone to find a sense of success within themselves, while I maintained the opportunities and location for others to congregate and discover each other as well as uncover their own hidden talents, is to claim success.
Through the ups and downs of running an art school, I became a better person, businesswoman and artist and I know others have been positively affected too.
I didn't think the school would last a year when I bought it and I certainly didn't think a pandemic would be what finally closed the brick and mortar business, but that's the interesting thing about life: we never know what tomorrow holds for us or what we can accomplish until we must.
Jumping into the unknown is scary but it's also thrilling if you have faith in the good rather than fear the bad.
The past five years have been the most rewarding experience of my life, and it was the people themselves, the community that made it worth all the struggles. The Studio School was there for them, never me personally, and I have been blessed to serve the community.
COVID-19's reality has forced much unwanted results for many small business owners in Savannah. To those who are closing and having to start new or choosing to modify their business like I am, opportunities are always abundant if you are open to them and all you have is this moment of now to see it, dream it and do it.
The pandemic, social unrest, financial burdens of millions, the hundreds of thousands of families hurt from COVID-19 casualties, all this is heavy. We must move forward if we are to survive.
I give thanks for all I've been able to learn and give and to the people I've come to know as students and friends, but I also shed a few tears because just like that day in the hairdresser's chair when I didn't know my life was about to drastically change, the same is true for myself and The Studio School's future.
In this "woke" world there will be chances for new opportunities for all of us. Life is consistent on change and the sooner we embrace it, the sooner we attract rather than repel the goodness that is there for us when it feels like there is no hope.
The Studio School still lives on virtually so we can social distance, trade face masks for a smile and still connect with others while we learn how to nurture a creative soul. Now is all we have.
If you missed your chance to attend The Studio School, I empathize. Online learning is a good option and for many, the only option.
You've heard it before: feel the fear and do it anyway. This is what I teach my students, just make the mistake.
Make that incorrect mark or line. Do it! Stop judging yourself. Stop expecting perfection. Expect to mess up but also expect that through that process, you will find ways to succeed and as you do, your self-confidence and skill sets grow.
Jump and go for the Now in life while you still have your breath and life, respectfully.
CS