BY NOW, Annie is as much a part of American pop culture as anything. Originating from a comic strip and becoming one of the most performed tales of all time, whether it be on stage or on film, Annie is a heartwarming tale of what it means to be a family and continues to resonate with people of all ages. The Savannah Children's Theatre production is no different, with a large cast in tow and even some family co-stars working together.
This particular production features two actors in the titular role, rotating performances. Amelie Steffen and Molly Bass – who have both been part of the theater for seven years - tell Connect that they're both thrilled to be playing such an iconic and culturally significant role, and there are quite a few things they're most excited about when it comes to being involved in the show.
"For me, it's all the dance numbers and the fun songs that everybody knows," Amelie says. Molly agrees, saying with a laugh that she and Amelie "both love the dog, of course."
"And I love getting to be in the show with my dad, which is really fun," she adds.
Molly's dad is Chris Bass, who plays the role Oliver "Daddy" Warbucks alongside his daughter. Bass has been part of the Children's Theatre family for many years, making Annie somewhere around show number 14 for him.
"I started here with my son – he came to camp here. And while I was here they asked me to audition for a show, and that's how this whole thing started," he explains.
"[For Annie], I was just excited to play this part with my daughter being my fake daughter [laughs]. We haven't had that chance on stage, so I was really excited about that. Plus, it's a huge role. Daddy Warbucks is over the top – a cartoon character. Annie is as well. I always thought I was a cartoon character anyway [laughs]."
Molly says she feels that being in the show with her dad gives her a bigger sense of encouragement, and that "sometimes it's good to just work side-by-side as actors and not like daughter and father." Her dad says that the dynamic changes slightly when they work together, which is intentional, and he has to decide "to be just an actor and not so much a father."
"As a father, I direct her all the time. So I have to take a back seat to that while we're on stage, but it's added another level to our dynamic," Bass says.
For the girls in the lead role, their favorite songs differ slightly.
"My favorite is 'I Think I'm Gonna Like It Here,'" Amelie says. "It's just such an upbeat song and I love the dance to it."
"I love to sing, 'Tomorrow.' It's just such a classic, and you hear it everywhere," Molly adds.
For everyone involved, Annie Is a show that's as much about the positive message as it is about it being a powerful story.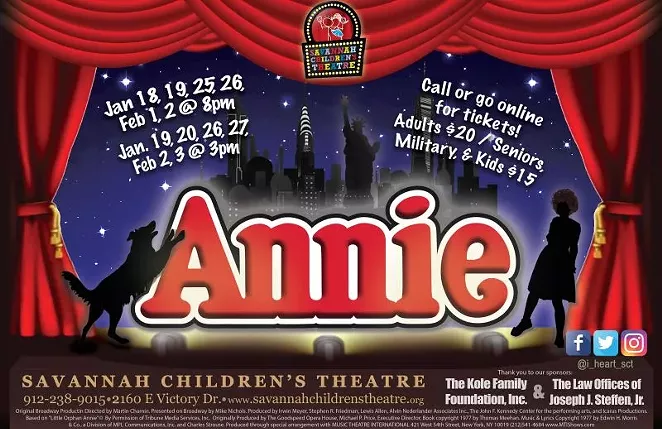 "I think it shows how even through a lot of rough times, you can still find happiness and optimism in the end," Amelie says. "I think that's the main purpose of the show."
"And she always finds a way to make things positive and have a good time," Molly adds.
cs